Sadly, the Lambeth Conference was cancelled due to the pandemic but we hope to welcome visiting Bishops in 2022.
---
As part of 'The Big Hello' welcome being extended to around 1,000 bishops attending the Anglican Communion's Lambeth Conference in Canterbury in July 2020, we expect to host up to 20 at St Martins Lodge in Leicester.
We are delighted that this occasion will bring together Christians from around the world, united in worship of Jesus Christ.
---
We hope to have help from churches around the diocese to assist with the following:
Providing a 'Meet and greet' at Heathrow or Birmingham airport on Thursday 16th July
Help with practical support, directions and local info whilst our visiting bishops are in Leicestershire
Volunteers for a Welcome Evensong service at Leicester Cathedral on Friday 17 July
Help guiding visitors and guests to an evening reception on Friday 17 July
Volunteers to help us put on a World In A Dicoese assembly for all our churchgoers and visitors, at Rawlins Academy, Quorn, on Saturday 18 July
Praying for the visit and the conference. You can download a prayer leaflet here.
To find out more about any of these volunteering opportunities, please email lynn.phillips@leicestercofe.org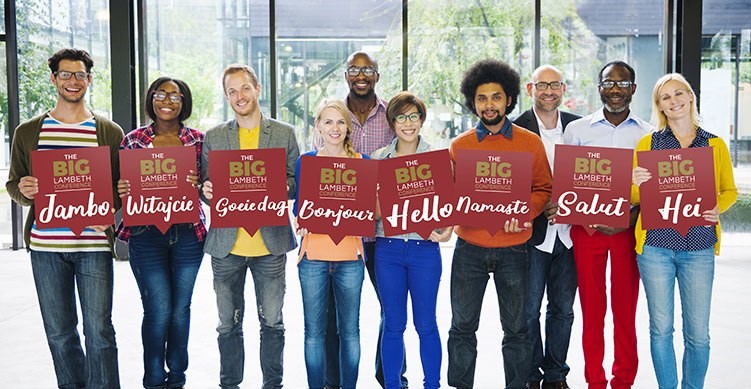 ---
A working group is co-ordinating our participation in this hospitality Initiative. We want to offer our visiting bishops scope for rest and refreshment following international travel but also for mutual blessing of the body of Christ as we serve the bishops and they serve our communities.
We are planning various ways of celebrating 'the world in a diocese' both with our visitors and residents, reflecting the fabulous variety of God's world.
On Saturday 18 July we will be hosting a diocesan assembly day for everyone in the diocese to come together and enjoy worship, food and various activities. We will share more details about this in the new year.
On Sunday 19 July we will be inviting each of the visiting bishops to join in morning worship, be hosted for lunch and enjoy the early part of the afternoon at one of our benefice church or fresh expressions of Church communities.
This will provide an opportunity for each bishop to contribute in some way to a worship service (eg interview, sermon or testimony) as well the church community enabling the bishop to experience something of their local context (and perhaps mission activities) through the lunchtime and early afternoon, but without exhausting them! Most importantly, for both hosts and bishops, we hope the Sunday visits will deepen mutual learning and delight in our membership together of the Body of Christ!
---
If your church or fresh expression of Church is interested in hosting:
If your church or fresh expression of church is interested in hosting, please click here for an expression of interest form that you can complete.
We want to learn from each other different ways in which our Everyday Faith is lived out and God's love is shared. We hope that each church community visit might:
create opportunities to listen to and learn from one another, blessing and serving the body of Christ
reflect the Lambeth Conference theme: God's Church for God's World: walking, listening and witnessing together
align with our Shaped by God strategy, sharing aspects of Everyday Faith whether prayer, witness, or action
---