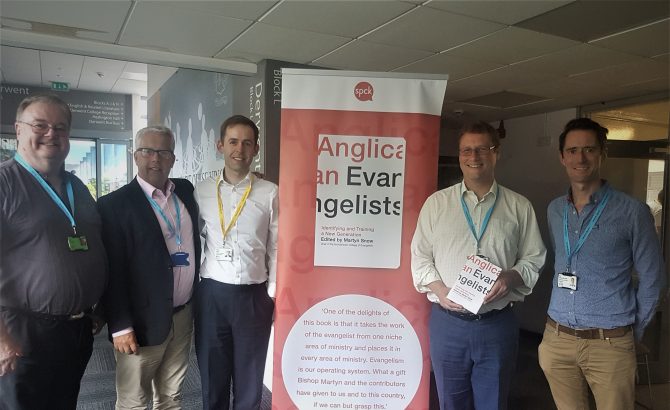 A new approach to evangelists is needed according to a book edited by the Bishop of Leicester, lead Bishop for the Church of England's lay ministry and Chair of the Archbishops' College of Evangelists.
The Archbishops of Canterbury and York have both supported the book in which 13 authors each contribute a chapter, setting out the need for evangelists to be identified, trained and supported in their various churchmanship traditions from Anglo Catholic to evangelical.
In the book entitled ANGLICAN EVANGELISTS Identifying and Training a New Generation, the Bishop of Leicester Martyn Snow is calling for evangelists in every Anglican tradition to be better trained but also for them to train other evangelists as well.
Archbishop of Canterbury Justin Welby said: "One of the delights of this book is that it takes the work of the evangelist from one niche area of ministry and places it in every area of ministry. Evangelism is our operating system. What a gift Bishop Martyn and the contributors have given to us and to this country if we can but grasp this."
Archbishop of York Dr John Sentamu said: "I've got a particular motto: 'evangelise or fossilise'. Without evangelists a church could easily become a fossil so any book that's written to help rekindle the fire of God's love in the hearts of people and for them to hear the calling and the blessing as evangelists is important."
The book's publication follows the February 2019 General Synod motion on evangelism and discipleship in which its ambitious plans on establishing 1,000 new evangelists were set out.Bishop Martyn hopes readers will be motivated and resourced to identify evangelists within their own local church and to prioritise the training of those evangelists, as well as to honour and affirm their work.
"I hope that readers will see what the authors in this book are highlighting as relevant to their own church tradition and impacting everyone," said Bishop Martyn.
"I hope they will be encouraged to identify new evangelists in their own church and to prioritise the training of those evangelists, and through them, grow the confidence of the whole church in witnessing to Christ.
"This is about increasing the confidence of churches and individual Christians in having everyday faith conversations; enabling people to talk to their neighbour, their work colleague, whoever they meet, and simply share something of what their faith means to them and the work that Jesus Christ has done in their life. My prayer is that every baptised Christian will grow in their confidence to have everyday faith conversations," said Bishop Martyn.
For 20 years, the Archbishops' College of Evangelists has affirmed and supported Anglican evangelists. This book, ahead of the College's re-launch in autumn 2019, highlights the College's new, clear focus on identifying and training new evangelists.
Publishers SPCK say that the book marks a significant transition. The 13 authors work in a range of contexts and come from different traditions within the church and their focus in this book is less on the nature of evangelism and more on the calling and gifting of the evangelist. In different ways they reflect on the questions: what is an evangelist? How should the church identify and affirm evangelists? How do we train evangelists? How do we enable evangelists to equip all God's people to witness to the kingdom of God?
The 13 contributors are all practitioners, and this is reflected in their range of experience and writing styles. Some take a deeply biblical and theological approach. Others reflect on their personal journey and learning. Others offer practical insights and a helpful reframing of the initial questions. All of them are fervent in their plea to the church to recognise the unique calling and gifting of the evangelist and reflect on how this gift is received and passed on within the church.
You can watch a video with some of the book's authors by clicking here longer videos on the links below:
The book is available from Christian bookshops and is currently available at the special discounted price of £10.99 from Christian Resources in St Martins House, Leicester (contact: 01162615222 or enquiries@ChristianResourcesLeicester.com) or from SPCK online: https://spckpublishing.co.uk/anglican-evangelists-462