Hundreds of people from churches in town and country came together in worship and fun at our Discovering Rural Gems day, which marked the publication of our Rural Commission report.
Barefoot-walking, BBQs, bellringing and a bouncy castle were just some of the activities that brought us together at Brooksby Hall.
We shared worship for all ages, ideas for prayer and creative church of many different kinds, played games and ate together, making the most of the fresh air and green spaces.
Called Deep Wells and Green Pastures, the report was launched last month and you can read more about it, as well as watching a video about it by clicking here.
The Diocese of Leicester has one of Britain's most diverse cities at its geographical centre but more than twice as many of our 320 churches are situated in the countryside than in towns. More Church of England weddings happen in Leicestershire's countryside churches than in urban ones, and almost 80 per cent of our schools are rural.
One key recommendation of the report is that we should shift from seeing ourselves as an urban diocese with a rural edge, to a rural diocese with urban heartlands which all work in partnership.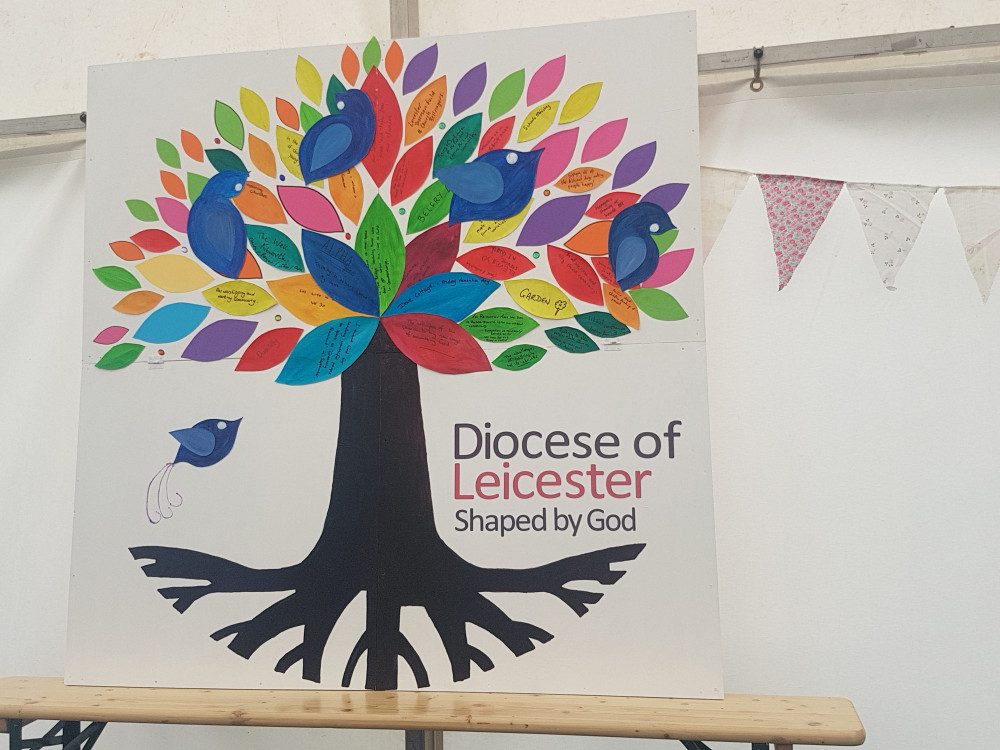 Bishop of Leicester Martyn Snow, who commissioned the report, said: "Today has been a really good celebration of our rural life and rural church and this, together with the Rural Commission, means that we have built a good sense of momentum in being able to celebrate all that God is doing among us. My hope for the future and next steps is that we can use that momentum to build a sense of confidence in who we are as a diocese. We are predominantly a rural diocese and I want that to be celebrated but I also want our rural churches to be confident in being able to share their faith within their communities so finding the right language to do that and the right approach to do that is the task that faces us in the coming years."
Dean of Leicester, David Monteith, who chaired the Rural Commission, said that he was struck by the sheer amount of innovation and new things that rural churches are trying: "All kinds of little things people are having a go at, and they don't seem to be afraid to give it a try, and that's wonderful.
"The single biggest challenge relates to one of the real strengths of rural church communities. They have great relationships but the challenge is how to turn those relationships into committed development of faith. How do you speak to the people you know really, really well about the profoundest thing in your life; your faith in Jesus Christ, and how do you help them to journey that for themselves? That's the real challenge," he said.
The day included a range of workshops, worship, stalls, prayer, and entertainment from farm animals to a plant sale, as well as lawn games, forest walks and activities to try like Godly Play, Open the Book Bible -reading initiative, Messy Church crafts and artwork, a visit to the Reality Youth bus and more.
National Rural Officer for the Church of England, Jill Hopkinson, who has been part of our Rural Commission, read Psalm 23 at the main service, which was opened by Malcom Britton, Brooksby Church Warden and a part-time member of staff at Brooksby Melton College which hosted the day.
Malcolm was one of the Rural Commission members and told the congregation in a packed marquee that we had come together to celebrate the very good news of the stories from our rural churches but also to recognise the realities and challenges they face, like the church only a few miles from there which has no roof, noone volunteering to be warden and a dwindling and aging membership.
In singing the first hymn, 'We plough the fields and scatter', Malcolm said he hoped we would recognise the good seeds the Rural Commission had sown through the recommendations in its report, and that we look forward to bringing forth a good harvest through living them out together.
Bishop Martyn preached on Deep Wells and Green Pastures (we hope to be able to publish his sermon notes shortly) and prayers were lead by David Monteith and other members of the Rural Commission.
Bishop Guli brought the service to a close saying we should rejoice in our wide diversity and express our commitment together as faithful disciples of Christ with this commissioning prayer:
"God our Father, in the name of Christ and the power of your Spirit, we commit ourselves to you and one another, to live, work and pray as one body in Christ, to trust each other as fellow workers in your Church, and to give ourselves with body, mind and spirit to the discipleship and ministries to which you have called us. Give us vision, give us courage, and give us joy, that the world may believe that Jesus Christ is Lord, to your eternal glory. Amen."
During the service, vicar of Brooksby, David Harkness and some of the children created a giant version of the Diocesan 'Shaped by God' tree logo using brightly coloured leaves on which visitors to the day had written about how they were seeing God at work. Contributions included: the presence of a welcoming spirit in church; recognition of diversity bringing unity; God opening doors at a time of transition.
Some of those enjoying the day spoke to us for our video and their reactions to the day spell out the joy of uniting people from two and city church communities.
A young couple from Hinckley said they enjoyed the friendly atmosphere and that they valued the range of different kinds of churches to find the one that worked best for them with their young son.
Susan from Sapcote, said: "It's been lovely catching up with people I haven't seen for a while doing something that we enjoy together. It's been a real social get together."
Rose, from St Peter's Highfield Church in Leicester, said the great thing about the day was people coming together: "I think it's a good idea to get together because they re all different nationalities, different ways we pray, so come together and pray together. It's the same one Lord, creator,"
Gordon from Smeeton Westerby near Market Harborough said: "It's been wonderful to come to this lovely place, with people from all around the diocese, both in the city and the county and had a great feeling of togetherness and that was particularly so when we had our act of worship. We felt together, united. I think Bishop Martyn's point about the Diocese being a rural diocese with urban heartlands is very true. We need to come together both as urban people, suburban people, rural people and we're all aiming towards the same goal. We can do things together."