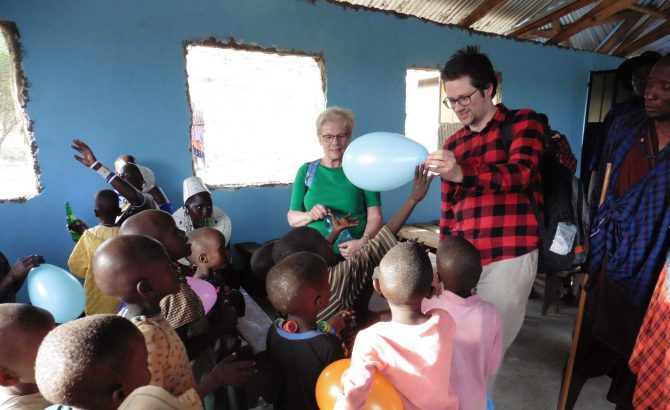 Accompanying Bishop Martyn and Bishop Guli on a visit to Tanzania to meet up with others from all four of our link Dioceses (Wyoming in USA, Trichy in India, Mount Kilimanjaro and Kiteto in Tanzania), two Leicestershire Pioneers learned much about church planting and church growth.
Luke Fogg, Pioneer Development Worker for the Diocese of Leicester, and June Ainge, Licenced Pioneer in The Four Saints Benefice joined other lay and ordained representatives of all five Dioceses for a conference aimed at learning from our different pioneering approaches (across four continents) to growing healthy churches in the twenty-first century.
After the conference they visited 10 churches, driving nearly 400 miles across the diocese of Mount Kilimanjaro, seeing a wide variety of types of church, style of service and size of congregation. They saw many different contexts from suburban churches to ultra-rural churches. Evangelism and church planting looked different in each location, as the geography and context changed.
Their visits included: a Masai church plant of more than 200 people; a congregation that meets in the back yard of a home; a large suburban church with a church school of more than 150 pupils; and a church plant of 14 who gathered underneath tarpaulin on the side of a mountain at 2000 metres above sea level.
Luke and June said: "Despite the range of experience and styles we found, one of the things that joins all of these contexts was their desire to meet together and worship God. There was a clear longing to have a spiritual home – many people that they met shared their plans for expanding to new locations. However, it was clear that ultimately these buildings were a means to an end – to grow the Kingdom of God. In this way we stand united with them – as people of everyday faith we work towards this same goal; regardless of context, location or culture."