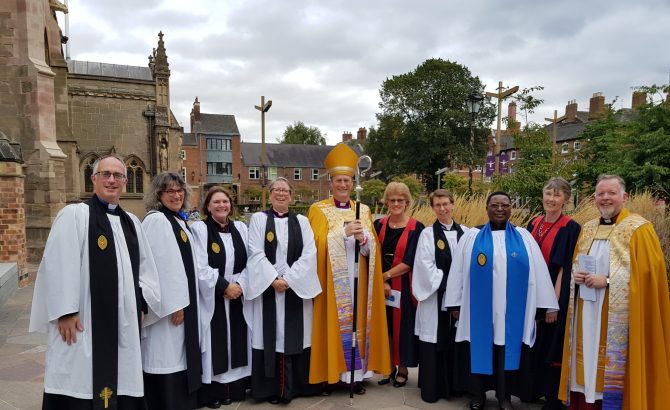 Leicester Cathedral will welcome seven new honorary Canons on the afternoon of 16th September at their service of installation. A mixture of ordained and non-ordained ministers, six are already actively pursuing their vocations within the life of the Diocese, while Dr Cathy Ross, an Oxford-based theologian who specialises in contextual mission will be taking on the role of Canon Theologian. The service will be at 3pm and will be conducted by Martyn Snow, Bishop of Leicester and Dean of Leicester David Monteith, with the sermon to be preached by Dr Ross.
In the video below Dr Cathy Ross speaks to Jon Barrett about theology, mission and 'life hacks'.
The new Canons, whose appointment is a recognition of their work in both the Diocese and wider church are:
Revd Emma Davies
Emma spent much of her childhood in Scotland where she came to faith as a member of the Scottish Episcopal Church. After gaining a degree in English Language and Literature at the University of St. Andrews, she worked as a braillist for The Royal National Institute for the Blind before working in the careers guidance and training sector in Lincolnshire and Rutland where she held roles in training, diversity management and the support of learners with learning difficulties and disabilities. Following ordination training at Ripon College Cuddesdon Emma was ordained in Leicester Cathedral 11 years ago. Emma served her Curacy in the Market Harborough Team and for the last 7 years has worked in The Avon-Swift Benefice, a large rural group of churches in the South West of the Diocese. She has an interest in developing worship – she is a member of the Diocesan Liturgy and Worship Group and the Midlands Praxis committee, and she enjoyed working at Leicester Cathedral for 3 months last year covering some of the work of the Canon Precentor. Her main hobby is singing and she is a member of several choirs. She is delighted to be invited to be an Honorary Canon and is looking forward to continuing to support the mission of Leicester Cathedral in this role.
Revd John McGinley
Ordained 1996, John came to Leicester Diocese in 2000 following a curacy in Hounslow, West London. He served as Team Vicar of St John's Hinckley before being made Team Rector of Hinckley West, moving to his current role as Vicar of Holy Trinity, Leicester in 2009. John is a member of Bishop's Council and is also on the national New Wine Leadership team. Passionate about enabling the church to become the missionary, disciple-making movement Jesus called it to be, John is the author of the book "Mission Shaped Grace: Missional Practices for Missional Disicples."
Married to Bridget, father to Bethan and Alice.
Codra Spencer
Codra Spencer was born in Zimbabwe and moved to the UK in 2000 to continue her postgraduate studies. She is married and has three children and a grandson. For the past 18 years, Codra has been a member of Emmanuel Church, Loughborough. Following completion of her training for Reader Ministry she was licensed in October 2014. Codra is actively engaged with parish, deanery and diocesan life. Passionate about evangelism, drawing others to Christ and connecting the community with God, she is the Lay Chair if Akeley East Deanery, serves on the Diocesan BAME Programme Board and is a member of the Mothers Union.
Revd Nicky McGinty
Nicky grew up in London and moved to Leicestershire 30 years ago. She originally trained as an electrical engineer and went on to work in production management and people development. She set up her own business 12 years ago and works as an independent consultant, coach and facilitator specialising in organisational development, leadership and change management.
She has been as a consultant to the Mission and Ministry team for the diocese for 10 years. She also works throughout the Church of England and in several other organisations. She was ordained 9 years ago and spends her Sundays supporting churches across the diocese, often in interregnum. She has recently been part of the Bishop's rural commission.
To relax she enjoys walking and growing her own vegetables.
Revd Louise Cork
Previously a Maths teacher, Louise was ordained in 1997 in the Worcester diocese. She came to Leicester in 2001 as a Team Vicar in Groby, Ratby and Newtown Linford and served there until 2017. In addition to her parish ministry, Louise also shared in the training of curates and colleagues. In 2017 she moved to the Kegworth and Hathern Team Ministry (House for Duty) and continues to work part time as a tutor in the Mission and Ministry department of the Diocese. She is also the Diocesan Non Stipendiary Ministry Officer.
Revd Alison Booker
Alison is Vicar of The Coplow Benefice of East Leicestershire villages and Area Dean of Gartree I and II deaneries.
Alison is passionate about Rural church and its flourishing believing that Village churches are a joy and delight, that both their buildings and the community who inhabit and surround them are a witness to the glorious love of God shown to us in Christ Jesus.
Alison loves long distance walking, reading, theatre and ice-cream on a sunny day!
Dr Cathy Ross
Originally from Aotearoa, New Zealand, Dr Cathy Ross lectures in Contextual Theology at Ripon College, Cuddesdon, in Mission at Regent's Park College, Oxford and is MA Co-ordinator for Pioneer Leadership Training for CMS. While with NZCMS she worked in Rwanda, Congo and Uganda and has authored a number of books on the subjects of mission and pioneer ministry. Noted for her research in contextual theology, World Christianity, hospitality and feminist theology, Cathy was a speaker at the 2017 Leicester Diocesan Conference. A past General Secretary of the International Association for Mission Studies, Cathy is married to Steve, with whom she has three children and two grandchildren. She enjoys tennis, swimming, coffee, travel and supporting the All Blacks. On accepting the invitation Cathy said "I am excited to be invited to be a Canon at Leicester Cathedral because as a diocese, you are creative, alive and outward focused. You believe that God is active in our world and that is evident in your outward facing posture and new initiatives. I look forward to being part of you and learning with you as you share the Gospel in your diverse contexts, engage in the world and continue to be shaped by God."