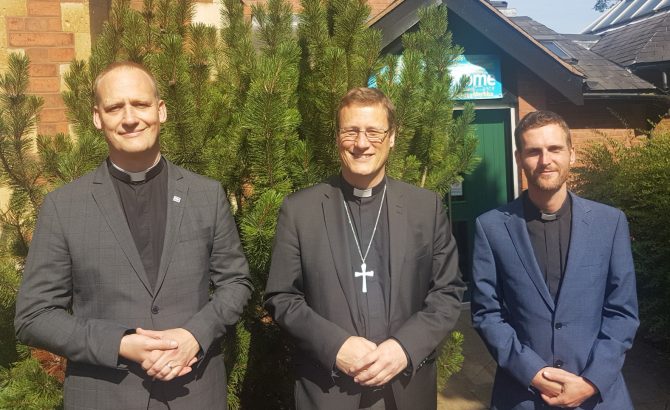 Both of the Leicester city universities are welcoming new people to their chaplaincy teams.
The Bishop of Leicester, the Rt Revd Martyn Snow, has just licensed the new Anglican Chaplain to the University of Leicester (UoL), the Revd Luke Briggs, formerly Associate Rector of Leeds (St George) in the Diocese of Leeds.
Talking about his calling to work alongside the staff and students and serve them by showing and sharing God's love for them, after the service Revd Luke said: "I am here to pray and to pastor, to love and to learn."
Fr Johannes Arens is beginning a year-long secondment from his role as Canon Precentor at Leicester Cathedral to be Christian Faith Advisor at De Montfort University (DMU).
Fr Johannes looked ahead to his work at DMU said: "I'm looking forward to explore together with colleagues from different denominations and faith communities how we can chaplain to DMU, both to staff and students alike; and how we can build bridges between the university and faith communities in the city."
At Revd Luke's licensing service at University of Leicester's Gatehouse Chapel, Bishop Martyn welcomed both priests to their new roles.