Bishops Youth Council has been meeting in Leicester Diocese for 15 years! During that time, it has constantly evolved, changing members and focus for changing times. The Youth Council have organised an online climate change conference, met with Archbishops, hosted youth events, attended General Synod and visited link Dioceses in Tanzania & Trichy, South India. The constant thread has been having a voice.
We are reimagining how we listen and respond to the voice of children and young people in the Diocese of Leicester and what our children and youth council looks like…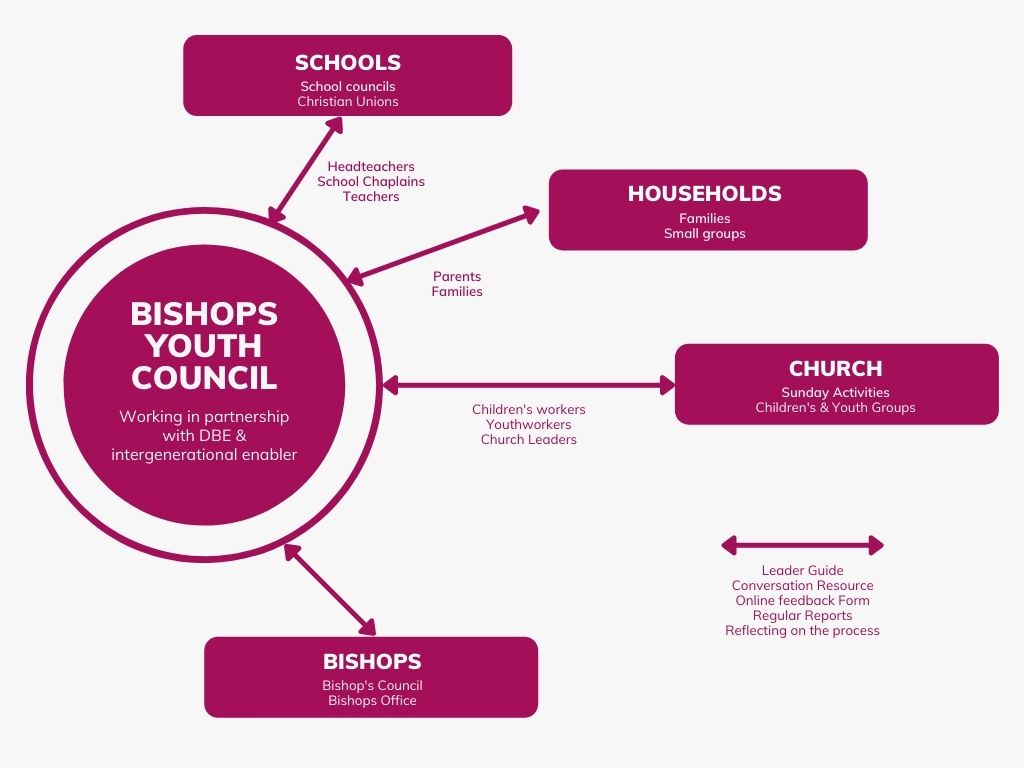 Experimenting…
Each academic term we are experimenting with a process of child-and-youth-led agenda setting, listening, sense making and reporting.
Agenda Setting
We ask children and young people what issues they would like to talk about. We work with a group of young people to discern agenda and design a listening resource to use with our listening groups.
Listening
We work in partnership with local schools and church-based groups to run a series of listening groups. Listening groups are made up of children and/or young people who are asked to share their thoughts, ideas, and stories, in response to a series of conversation prompts and interactive activities.
Sense Making
We ask a group of young people to make sense of feedback received from listening groups and to identify key threads, questions, and asks.
Reporting
We create a report outlining the results of our listening. View / download our first BCYC report, including the three key questions children and young people decided to ask Bishop Martyn here.
View / download Bishop Martyn's video response to the BCYC Report here.
---
Get involved.
We want to hear more young voices from across the diocese! Could you facilitate a listening group with children or young people in your context? Contact Matt or Tracey to find out more, receive updates and resources.
Matt Long, Intergenerational Communities Enabler > Matt.Long@leicestercofe.org
Tracey Manns > Deputy Director, Board of Education > Tracey.Manns@leicesterdbe.org