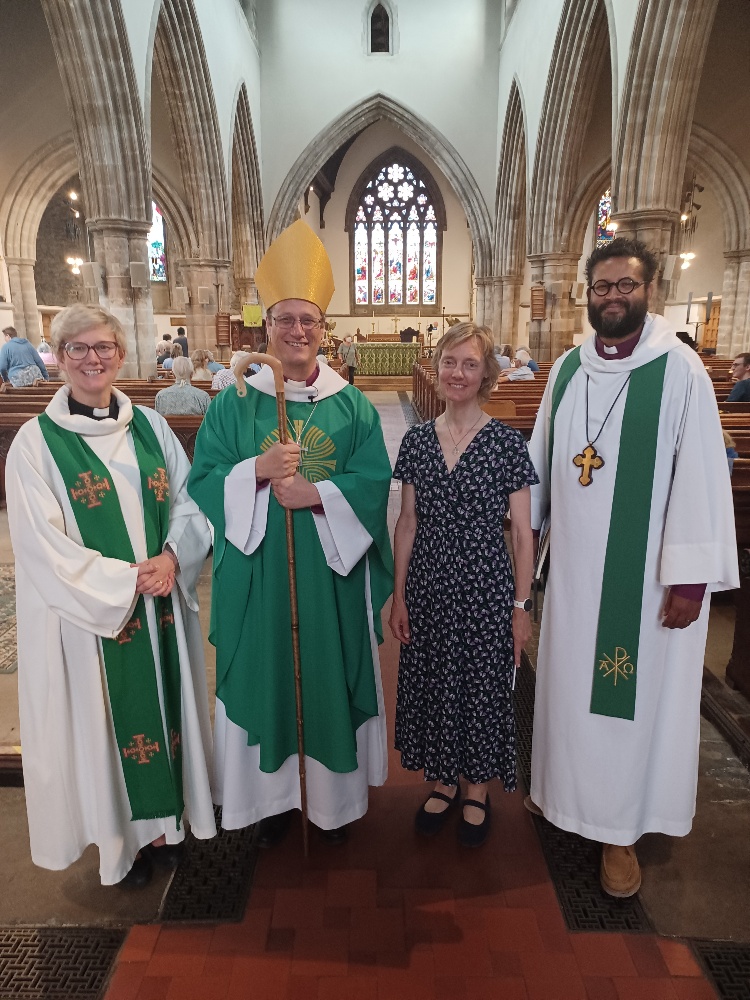 Recently, All Saints with Holy Trinity Church, Loughborough, welcomed Bishop Martyn and Bishop Saju for a very joyful and special service as Janine Fair took her First Vow to the Single Consecrated Life (SCL), surrounded by family and friends.
This was only the second service of its kind in the diocese, and was the culmination of a long journey of discernment for Janine. The video recording of the service can be viewed here and the order of service booklet can be viewed and downloaded here.
The Single Consecrated Life is one of the least well known vocations within the Church of England. A form of new monasticism, it is essentially a call to remain single for God, and therefore has similarities with other monastic vocations. However, those called to the SCL usually live in the community in general, rather than in a specific faith community, and are not called to be nuns or monks.
The SCL calling can be expressed in a wide variety of ways, depending on life stage, giftings, personality, and other commitments. Each person called to the SCL must discern the shape of their own vocation. More information can be found here.
For Janine, the call to the SCL came very suddenly and unexpectedly in November 2018, in a time of great personal angst. Janine had been a widow since June 2004 when her husband, Richard, associate minister at All Saints Thorpe Acre with Dishley, died suddenly and unexpectedly in his sleep, leaving her to raise their two children (then aged one and three) on her own.
After 14 years of single parenting, she was exhausted, and was desperately clinging onto the promise of remarriage that she felt God had given her several years earlier. As she poured out her heart to God, she heard him say four words: 'Will you marry me?' Her yes to this invitation was immediate and life changing. She felt overwhelmed with joy as she realised that this was the fulfilment of God's earlier promise.
At this point, though, she had not heard of the SCL, despite being in the Church of England for more than 20 years. It took several conversations with wise others, particularly her spiritual director and a sister at the Convent of the Holy Cross (CHC), Costock, to point her in the right direction.
The process of discernment has involved working with Sr Mary Luke, CHC, and several Bishops (Guli, Rob and Saju) over the last three-and-a-half years. Through it all, Janine has been on an exhilarating journey of discovery which has led her away from her evangelical roots to embrace a more sacramental and anglo-catholic spirituality.
Janine sees her vocation as a call to be a living witness to God's all-sufficiency, and regards it as an immense privilege. By taking her First Vow, she has made a public declaration of her willingness to depend on God for everything, on every level, including her sexuality. In line with other monastic callings, this Vow will be renewed in three years when she makes her Life Vow.