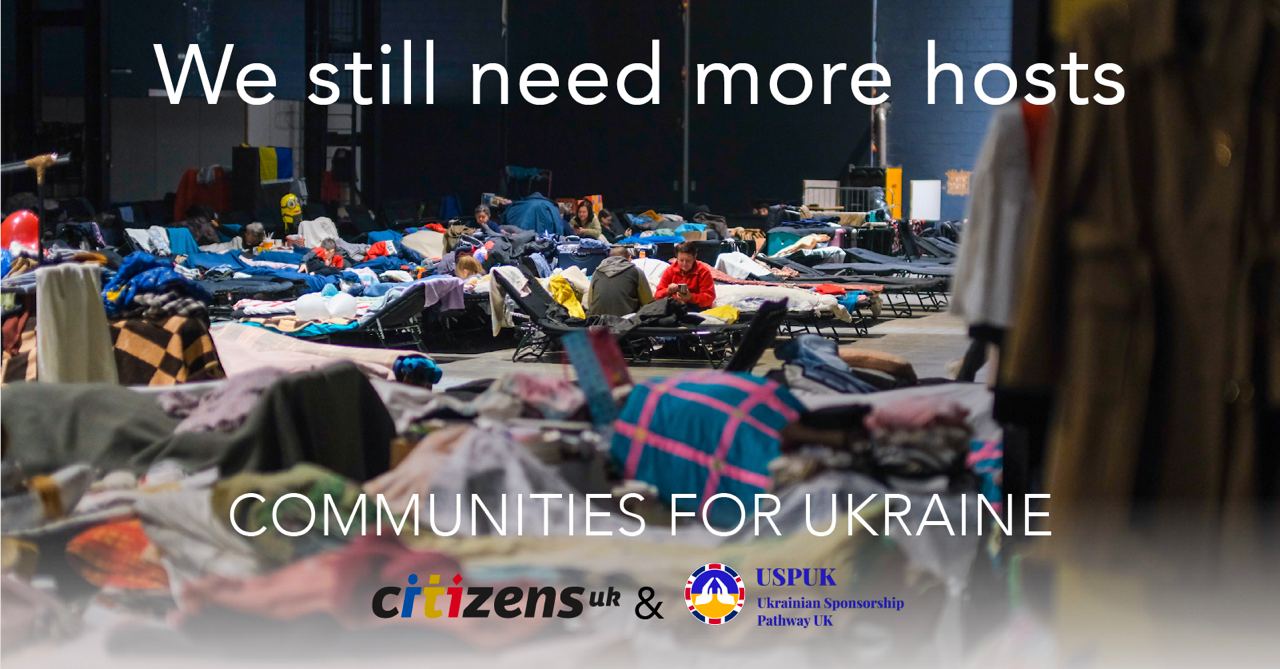 Last year we reported on the partnership between the Diocese and Citizens UK to find hosts for Ukrainian families through the Communities for Ukraine scheme. One year on, here is an update.

The Diocese of Leicester has been working in partnership with Citizens UK and Ukrainian Partnership Scheme UK on the Communities for Ukraine Scheme since about April 2022. Our role as Strategic Partners in the scheme is to recruit hosts and their supporting communities (we ensure the hosts build a Welcome Team around them) from within our institution who have already signed up to the government's Homes for Ukraine scheme, and match them with Ukrainian guests that we connect with through Citizens UK. Since April 2022, we have matched 9 hosting communities with Ukrainian families – a total of 14 adults and one child.
Support and Training offered
The main strength of the Communities for Ukraine scheme is the extra levels of checks, training and support offered to host families throughout the matching process.
Reality check: once a host has expressed interest, we will have a 30-minute conversation with them making sure that they have thoroughly considered the reality of hosting Ukrainian guests: the language/cultural barriers, supporting people who have trauma, practicalities of sharing your home, their understanding of the experiences/conditions of refugees and asylum seekers. We will also ensure that they have built a Welcome Team around them to support the guests with paperwork, travel, language, integrating into the community etc.
References: We will ask the hosts for two references, usually from their clergy. The council will do a separate police check and house inspection.
The matching process: The hosts will provide us with more detailed information about the sort of accommodation they are offering, and what kind of guests they think would be suited to it. Out of the cases sent to us by Citizens UK, we will send the hosts potential matches. We then support the hosts through exploring the match, accepting/rejecting from their end. The hosts will then apply for a visa and arrange travel with their guests.
Lunch and Learn: Citizens UK run weekly Lunch and Learn sessions in partnership with Sponsor Refugees. These cover topics from supporting those with trauma to planning ahead to beyond the 6-month hosting period and helping their guests to find work and independent housing.
Shared learning: The scheme allows us to build up a network of hosts in the Diocese who have been able to share learning/tips/advice with one another along the way. We meet occasionally on zoom to check in, providing the hosts and Welcome Teams the opportunity to ask questions.
Testimonies and Stories
Julie and Russ: "We signed up immediately with the governments scheme as our hearts went out to the plight of the Ukrainian people. We found our guests through the rigorous partnership scheme run by Citizens UK and UPSUK. This was an excellent route for safety of all concerned. The many preparation sessions were very helpful.
We have been hosting for two months. We had to wait a long time for a missing visa. We gelled with our two guests via Whatsapp video and zoom calls to Ukraine. We struggled for months to acquire visa so by the time they arrived in this country they were already "family"! Our relationship is very close and they are excellent house guests."

Dymtro and family: "I believe that this scheme is very necessary to help Ukrainian families. We have found a new family who has supported and helped us both with housing and with settling in a new country and new people with a different culture. We have felt supported and cared for while far from our relatives and home in such a difficult time."

Liz and Colin: "We decided to sign up to become hosts for displaced Ukrainians because we saw desperate families fleeing a war of not their own making with very few belongings and realised that we have so much, including spare rooms. Through the Communities for Ukraine scheme, we were given advice as to where we could connect to a guest family and also what we needed to do when they arrived in the form of paperwork. Our guests have been with us now for two months on 25 December 2022. I would like to think we have a good relationship with our guests - we eat together at tea time, I cook four or five times a week and they cook two or three times. It is a rewarding experience but you need to think carefully about it before committing."

Maria and Inna (host and guest): "We were matched through Citizens UK in the summer of 2022. Once we were matched, we both had the opportunity to find out more about each other, meet on Zoom, and then decide if we wanted to proceed or not. Once we had decided, Citizens UK supported us to make transportation arrangements and it was great to have a wider community to share information with. We felt that the matching process really provided a good start, where we both had a good level of control and input, and the relationship we have formed over time has been a real blessing in challenging times."

There is still a need to find host families for Ukrainians fleeing the conflict, for more information Anna.Bland@LeicesterCofE.org.