If ever there was a bigger and more prominent prompt for everyday prayer, it's these carved praying hands in the front garden of St Peter's Church in Oadby.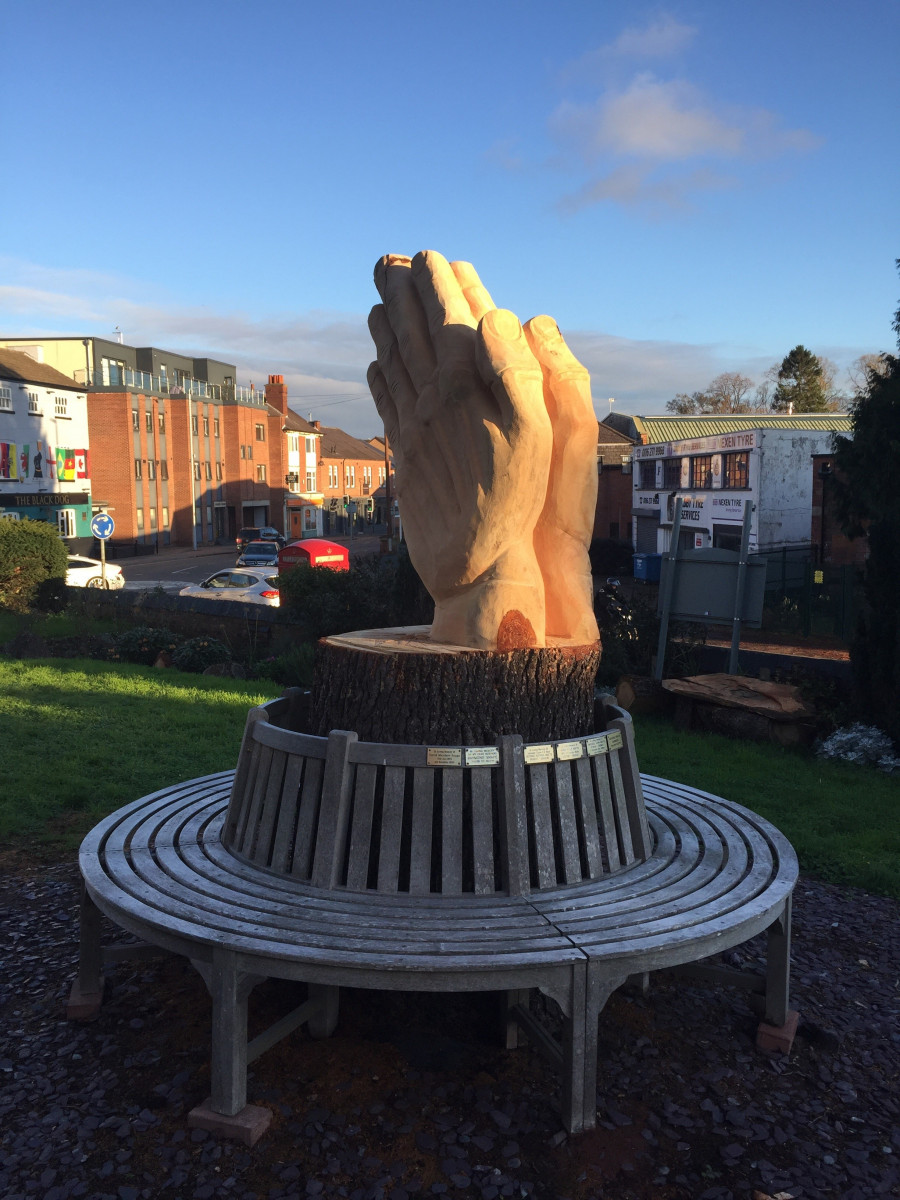 Those who live in the town or regularly pass through via the roundabout, are sure to have noticed the impressive wooden sculptures which have been taking shape over the last few months.
The works of art came about paradoxically because there was a chance the trees could become dangerous. The heavy, 80-year-old cedars were at risk of dropping wood and, though that meant chopping them right back, the need to retain something of the tree to prevent ground heave meant they could actually make a feature out the suitably sized trunks.
After much discussion, research and reflection, the PCC and church family decided upon praying hands surrounded by the longstanding memorial bench, and animals associated with St Peter.
The striking sculptures were carved by Peter Leadbeater, a Leicestershire-based wood sculptor who specialises in chainsaw carvings, and whose work can be found in parks, gardens and schools UK wide, including Beacon Hill in Loughborough.
The hope is that the wider community will connect with the wooden art, and ultimately with God, in an environment away from the distractions and busyness of everyday life. They're also a great prompt for prayer for dog walkers, pub goers, and whoever passes by – on foot or in a vehicle.
"Many of those remembered on the memorial bench around the hands have been a significant part of St Peter's Church over the years," explains Jon. "We really are at the heart of Oadby and amid whole generations who were baptised, married, and had their loved ones' funerals here. It's quite fitting that we've created this place for people to pray, reflect and remember here."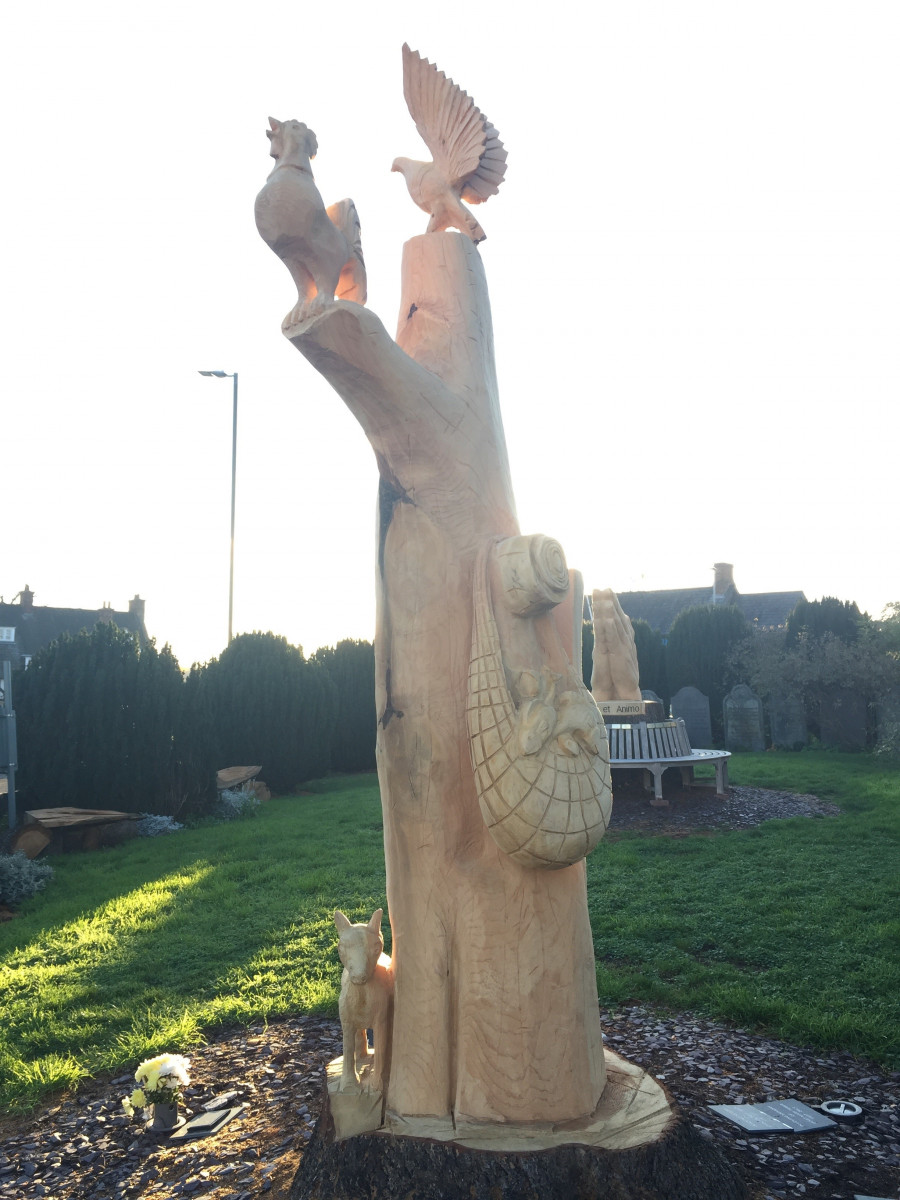 The second tree connects with the life of the church patron, St Peter, and the animals associated with him in the Bible, and has been designed with children in mind. It features a cockerel, representing the cock crowing three times when Peter disowned Jesus; a dove for the holy spirit Peter received at Pentecost; a donkey, as Peter would have been with Jesus when he was led into Jerusalem in Holy Week; a lamb as Peter is called to feed Jesus's sheep, and finally, the miraculous catch of fish in Luke 5 and John 21.
Jon explains "We wanted something interesting and welcoming for the children in our community and a focal point that could be a teaching aid for school visits and our children's work. I'm very much looking forward to making it part of our worship as we welcome local school children into the church this Christmas."
Jon says getting the trees cut down was a lengthy process of back and forth with the council – a job patiently managed for a few years by church warden Martin Ward - but it has encouraged and enabled the church to formulate future plans for replanting new trees in the church grounds.
He says: "The environment is of great concern, and we will be taking advice on how we can replant to replace and enhance the trees in our outside space."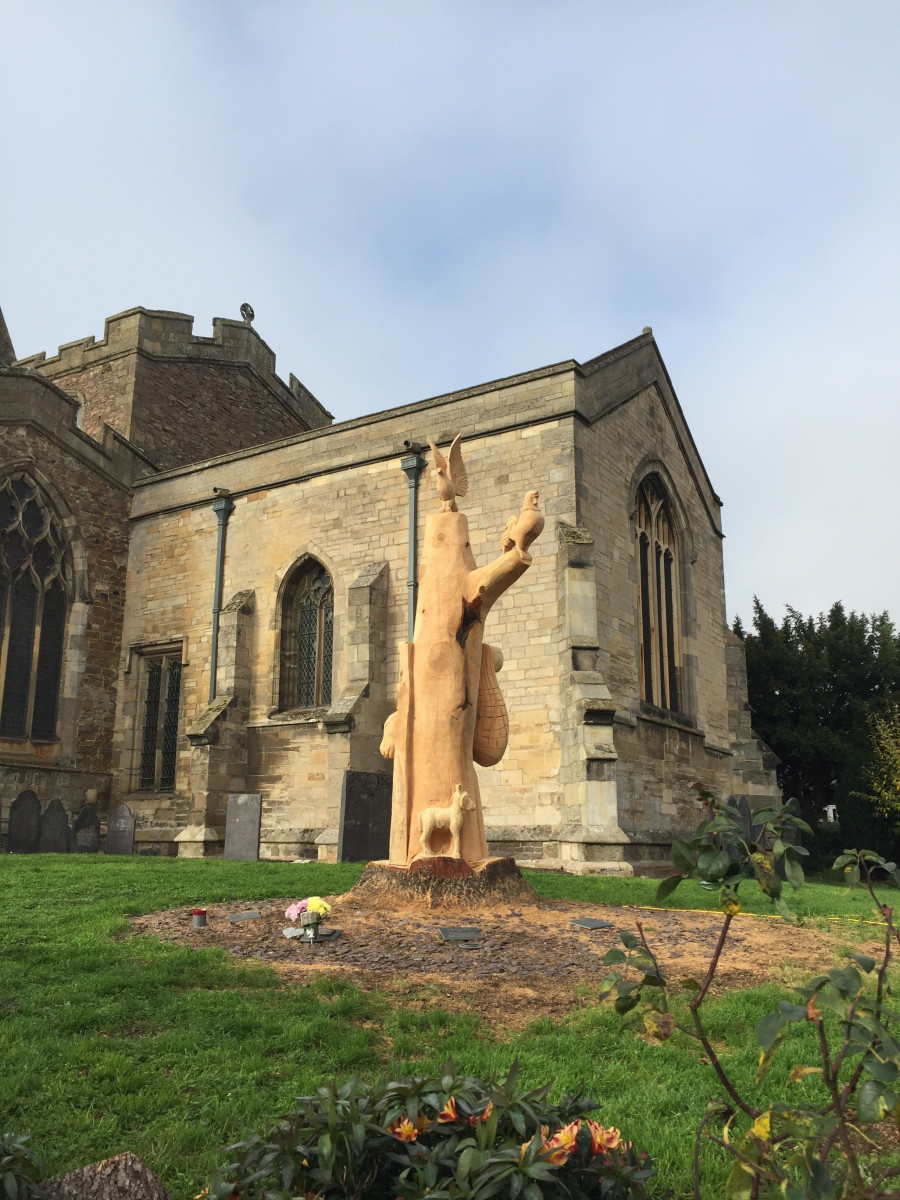 Though it's always going to feel uncomfortable when trees are chopped, removing them has made the church more visible from the road, and is allowing light to stream through the stained-glass windows – a particularly beautiful sight at morning prayer.
According to Jon, the carvings have gone down 'quite nicely' in the area, despite a few grumbles about the trees having to come down, to begin with. He says: "Once people understood why we had to remove them, and then started to see the carvings taking shape, there was a positive hubbub on Facebook and generally around the community.
"They've been chatting about how much they like them across the road in the local pub, where we're planning to run an Alpha course in the New Year."