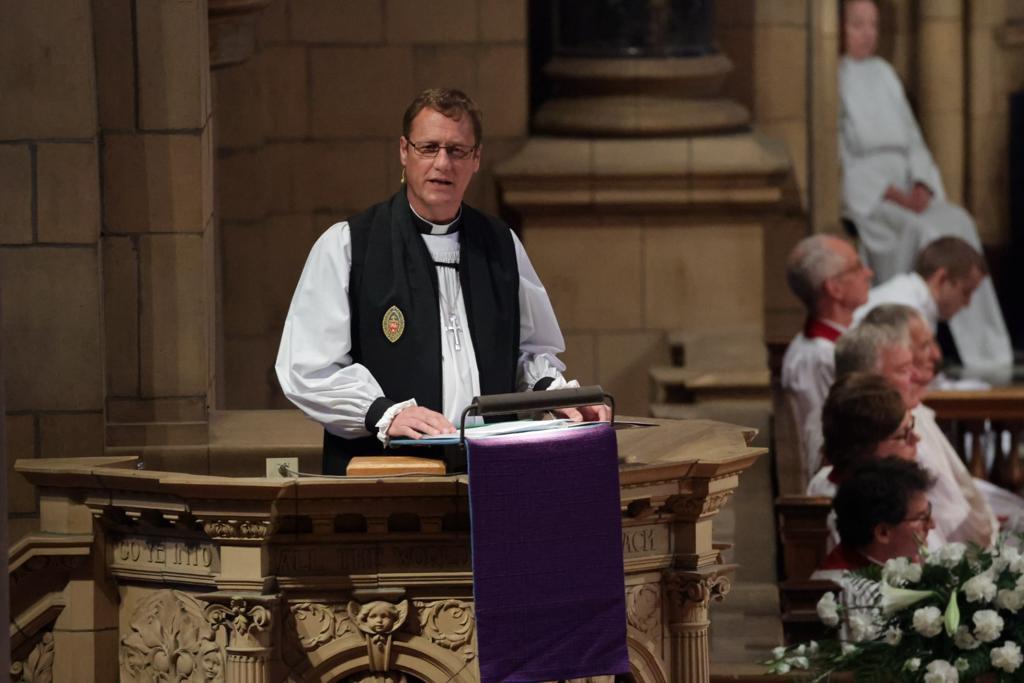 Bishop Martyn gave the address and Dean David led our Cathedral's Service of Commemoration and Thanksgiving for Her Majesty Queen Elizabeth II, with the Lord Lieutenant of Leicestershire and his Cadets, who shared wisdom from different faiths, uniting our comunities in shared remembrance.
Bringing together members of the public from communtiies across the city and county, as well as civic dignitaries and guests, the service was held at the beautiful St James the Greater Church, Leicester (due to the Cathedral building work for Leicester Cathedral Revealed).
You can watch the whole service again by clicking on this link to see and hear the Bishop's address, the wonderful Cathedral Choir, a reading of the Poet Laureate's poem 'A Floral Tribute' by High Sheriff Mehmooda Duke MBE DL, a Bible reading by Lord-Lieutenant of Leicestershire Mike Kapur, MPs presenting two Books of Condolence representing thoughts and prayers from people across the city and county, Bishop Saju leading a time of reflection, Cathedral Sub-Dean Karen Rooms leading prayers, and Director of the St Philips Centre Tom Wilson introducing the Lord-Lieutenant's Cadets who shared some wisdom from some of the different faith traditions in our city and county.
Bishop Martyn said the queues in London had been likened to a spirirtual pigrimage and was a stark visiual reminder of how grief affects us all differently. But he said it's also been a sign of all we share in common, for our late Sovereign Lady held such a strong place in our collective imagination that we grieve for her like a close relative. She has been a source of inspiration and encouargement, an example of sevrice and dedication to duty, a symbol of continuity and stability in a fast-changing world and a constant reminder that faith and Christian values are what has shaped this country over the centuries and are what must be the foundation on which we build the future.
He spoke of the beautiful picture painted by the Bible passage read in the service by the Lord-Lieutenant which inspires hope and features even those who suffer here on Earth finding a place of comfort before the throne of the one who Himself knew such suffering.
Bishop Martyn said: "They will hunger nor more, we are told, and thirst no more... The sun will not strike them nor any scorching heat. This world, with all its pain and all its divisions, will one day be completely transformed. Such a hopeful vision can inspire us today because it says there is something that we can all work for, something to which we can dedicate our lives and lasts even beyond the grave. That something is the building of a just and peaceful society where every nation, tribe, people and language work together as one, where every individual and community can flourish and noone lives in loneliness and fear; (sometimes called in the Bible the Kingdom of God) that may never be fully realised in our lifetime, and yet, it is what we prayer for 'your Kingdom come, your will be done on Earth as in Heaven' [quoting The Lord's Prayer]. It is what Jesus demonstrated in actions and words and it is what He calls us to work for here and now. This is something our late Qeeen understood and increasingly in her later years she spoke more and more of this vision which inspired her, and the faith which guided her in good times and bad."
He quoted some of the things she has said in public addresses in recent years. You can hear those on the video recording: by clicking on this link.
Bishop Martyn quoted the Queen when she had said: "The most happy, contented and fulfilled have always been the people who have lived the most outgoing and unselfish lives. We may hold different points of view but it is in times of stress and difficulty that we most need to remember that we have much more in common than there is dividing us. Everyone is our neighbour, no matter what race,creed or colour. I know of no single formula for success but over the years I have observed attributes of leadership that are universal and are often about finding ways of enouraging people to combine their efforts, their talents, their insights, their enthusiasm and their inspiration to work together. Let us not take ourselves too seriosuly. None of us has a monopoly on widsom and we must always be ready to listen and respect others' points of view."
Bishop Martyn continued: "Her Majesty fulfilled what she believed to be her own vocation, her calling from God... The Queen has many legacies. One of the most important, I believe, is her work in bringing people together, uniting us around a common focus; uniting us in something more than our peferences, our anxieties or our prejudices. We need this in Leicester at this time, in all our diversity, across all our faith traditions and we need this in our world. So let us commit ourselves to living out this, her legacy, not only by coming together to mourn our former monarch but also by coming together under the authority of a new monarch. Today as we gather here we are united in our grief. Tomorrow the whole nation together with many other peoples around the world will be united in watching her funeral. So, as we give thanks for her life and for all she gave to us, may we be inspired to work for that same vision which inspired her. And may we place our trust in God, just as she did. Amen."