Another Christmas interrupted by Covid did little to stop our churches and fresh expressions from sharing the Good News with their communities over the festive period.
It never fails to make us smile at the new and innovative ways Christians within our diocese find to engage with one another, no matter the restrictions in place.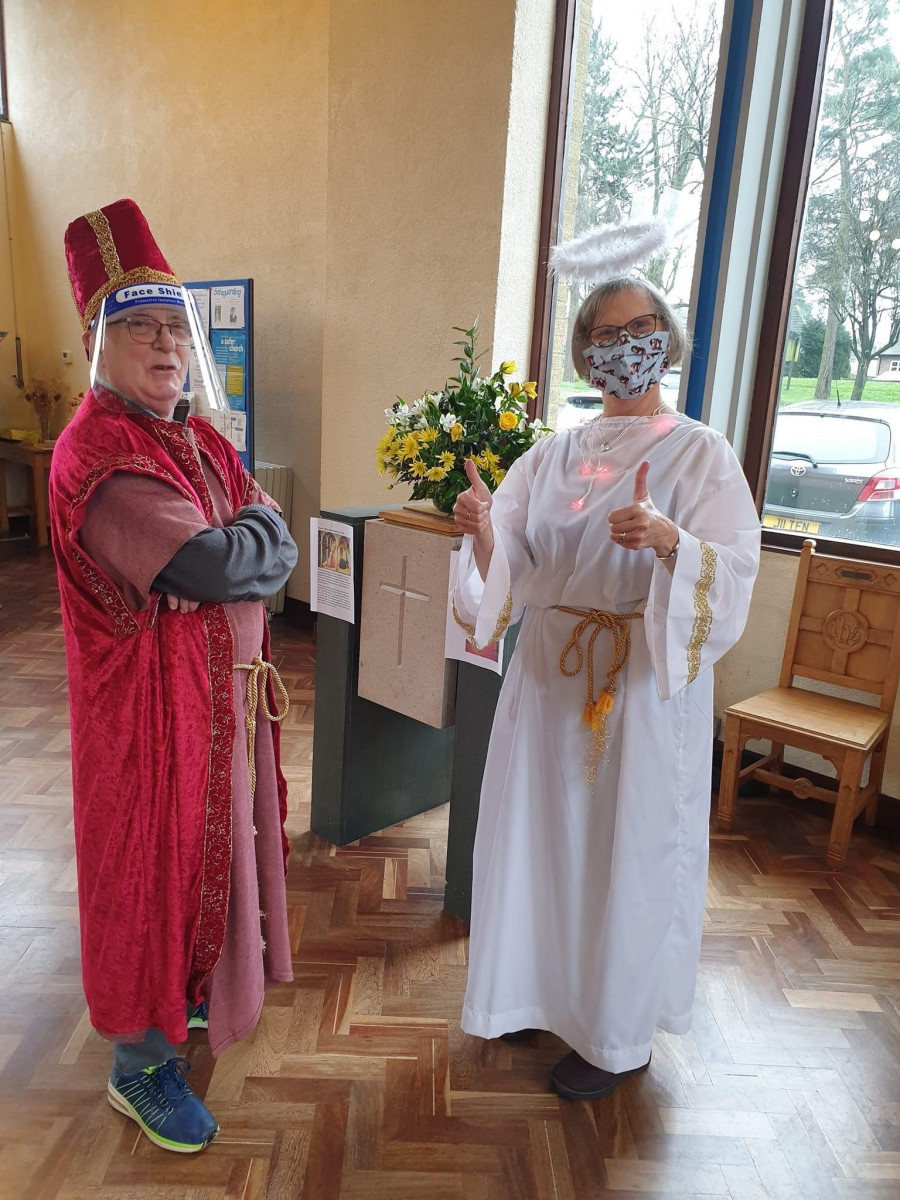 Over in Leicester Forest East, St Andrew's Church invited their parishioners to celebrate Christmas with a walk-through Nativity.
It was a twist on their popular Christmas Eve service, where families would dress up as characters from the Nativity story and participate in a live-action re-telling during the service.
Instead of members of the community coming along and dressing up and packing into the pews, members of the church family got dressed up - including several of their talented 'Open the Book' Team, who dramatically present Bible stories regularly in the local primary schools - and interacted in character (at an appropriate distance) with those who came in.
Worshippers followed a signposted route around the church in their household groups, meeting the characters and reading the corresponding Bible passages; receiving the Annunciation from the Angel Gabriel by the font, being turned away by a vexed Innkeeper and sent to a stable round the back, passing a tableaux of angels and shepherds on a Judean hillside, before encountering some Wise Men following a star and looking for the new-born King.
Finally, those who had followed the story through, arrived at the stable and were able to spend time in personal prayer and to make their symbolic offering to the Christ-Child, represented by a Christmas bauble they had been given when they came in that they carried with them on their journey.
An audio-visual display was also projected playing Christmas carols and Bible Society videos telling the Nativity story, with accompanying booklets available for people to take home with them.
Reverend Dave Hover, Priest-in-Charge for St Andrew's, said: "It was a huge amount of fun to do and those who attended very much enjoyed being drawn into the wonder and excitement of Christmas.
"It was wonderful to have the time and space to have conversations with Christmas Eve worshippers about the Christian faith and what Christmas meant to them - something we rarely get to do at a packed-out Nativity service in more 'normal' times.
"Originally born of necessity, this new way of bringing the Nativity alive has brought unexpected blessings - there is even talk of bringing the Nativity alive this way again next year."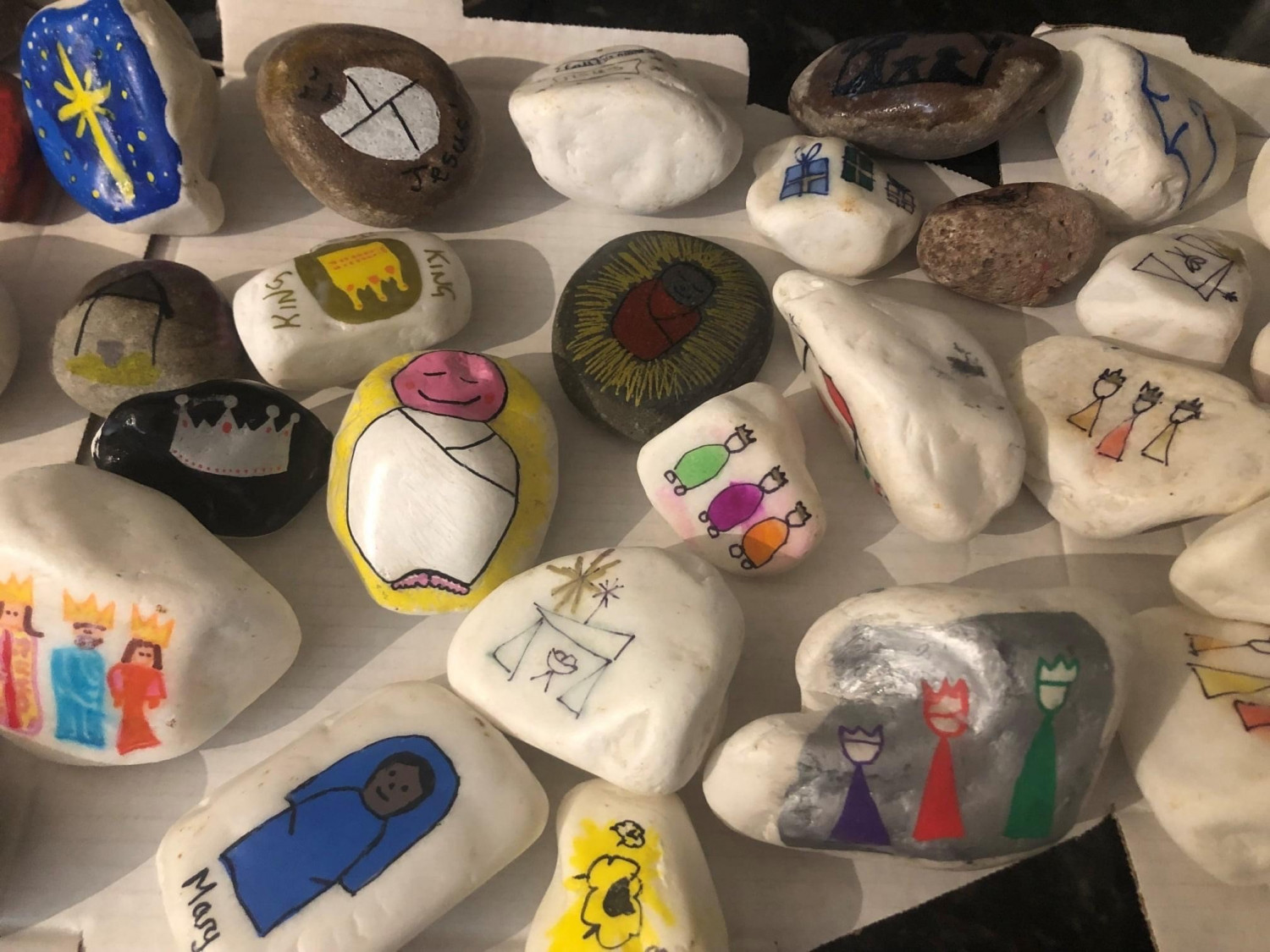 Another community, in the Vale of Belvoir, discovered 'Nativity Rocks' just before Christmas, when members of Windmill Contemporary Church in Bottesford hid 90 beautifully decorated rocks around the villages of Bottesford, Normanton, Muston and Easthorpe.
The Fresh Expression of Church, based near Melton, encouraged the community to seek out these stones, which were covered with images from the Christmas Nativity story, with nine of them being special Jesus rocks which could be exchanged for a chocolate prize.
A card left with each, shared messages, including: 'May you know God's blessing, love and peace this Christmas time,' and 'God loves you – today and always.'
Members of the community who found the stones, including smiling children and dog walkers, shared their discoveries and delight on the church's Facebook page.
The valuable and ever encouraging work of our churches within local schools, is echoed in the range of ways we can engage with young people, particularly at this time of year.
We were heartened to see the flourishing relationship between St John the Baptist Church in Billesdon and the village's Church of England primary school, with the school's participation in a number of services and collaborations, particularly the 'Journey to Bethlehem' and Christingle, with Reverend Alison Booker taking her final services in parish, before making the move to Oakham.
Though we cannot begin to acknowledge or even know every little moment of everyday faith, prayer, witness or action, being made in our Diocese, the one thing we do know is that God is faithfully at work within, and among us, always.