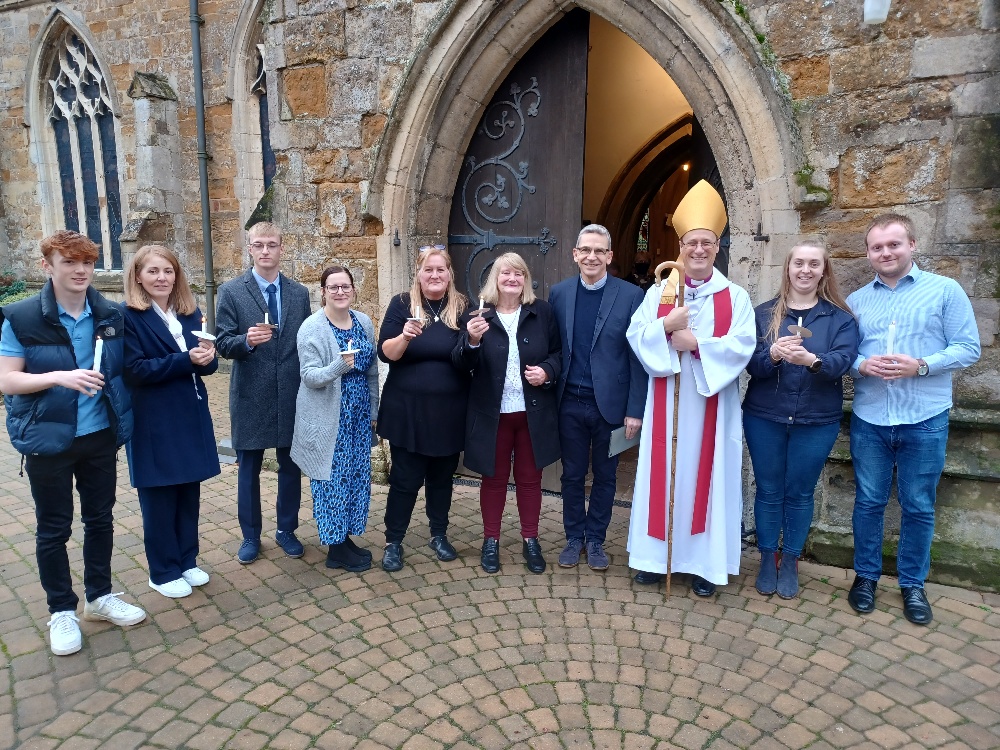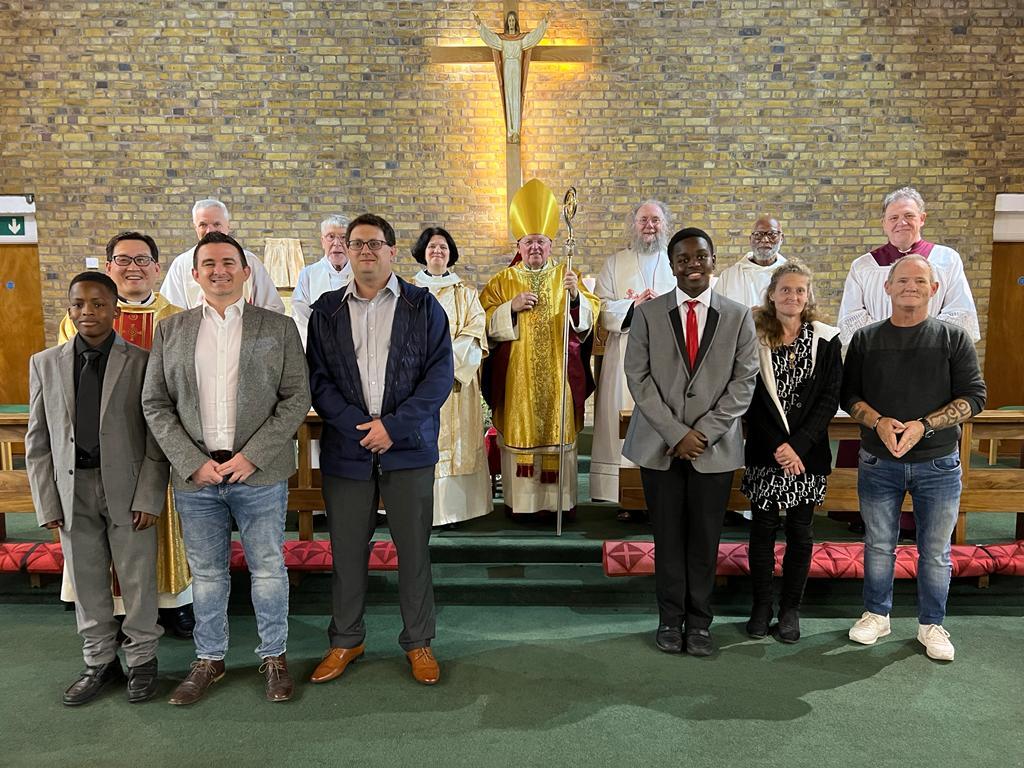 On Sunday 4 Decemeber Bishop Martyn attended the 9:30 Express Service at St Wilfrid's Church in Kibworth and the 10.30 service at which Oscar and Christopher were baptised by full immersion. There were also seven people confirmed, Christopher, Megan, Tammy, Keira, Marilyn, Mark, Alison and Oscar. During the service the candidates shared their powerful testimony and you can ready Christopher's and Keria's below.
On Sunday 27 November a confirmation service took place at St Aidan's Church in New Parks, led by Bishop Norman Banks, The Bishop of Richborough, during which four candidates were confirmed. On Friday 18 November 2022 Bishop Norman led a service on Confirmation at St Hugh's Church, Eyres Monsell and confirmed Karl, Michael, Tracy, Thomas, Gideon and Mark.
---
Keria's Testimony:
When Ludger asked if we wanted to do a testimony I was quite hesitant, if you know me I'm not one for public speaking. But when I really thought about it I realised it was quite important to share my experience. I grew up in a loving non-Christian household. It wasn't until I was around 12 years old that I met my friend Alice. We were in the same form together at school and I instantly felt like I needed to know her. Alice is really important as without her I don't know whether I would be doing this today. Alice is from a strong Christian family and it wasn't long before her parents accepted me and took me under their wing and I started going to church with them. Alice's mum would pick me up every Sunday and take me home.
I loved going to church and had the opportunity to go to camps like Barnabas and made friends with some really lovely people. When school finished and I got my first job I stopped going to church for quite a while, I don't know why it was it just happened. I didn't lose faith but I probably didn't realise how important it was to me.
I feel that throughout my life God has always been there and it's certainly true when I look back on some really tough times, he has been right beside me. God has shown up in so many ways for me. I hear him especially when I'm listening to music, or reading scripture I feel his words really resonate with me over certain situations.
I was baptised at the age of 28 to show my declaration of faith in Jesus.
Throughout the pandemic I enjoyed online church groups and even got the chance to do an alpha course which helped answer questions I didn't know how to ask.
I moved to Kibworth with my family just over a year ago and was pregnant with my little boy. The church runs a lovely mums group on a Monday for news mums so I decided to go along and I was met by a familiar face. Megan who runs the children's activities greeted me and I realised that I used to go to a Christian youth group called Knight Life.
Megan has also played an important role as I felt comfortable to bring both my children to the family express service, which we all love. Megan, Gill and Eunice love the children and my children love them. I feel that I'm still at the beginning of my faith journey and they help teach the most important values of life.
Because of the family express service I have met some really lovely people. From there I went on to come to the church services as often as I can. I feel that when I don't go I really do miss it.
One of the things that I have learned by accepting God is that I need to stop trying to do things by myself, I'm the kind of person that likes to plan things or set myself life goals. I worry when I'm not achieving them and a lot of the time it doesn't work, but when I let God take over and pray about my current situations, whether things happen straight away or take time things always work out, maybe not in the way that I saw it happening but it's always for the better.
People are so important in my faith journey, as we all have a connection and that is why I felt that it was important to share mine story today.

Christopher's Testimony:
Before I came to church, I was an atheist. I believed quite strongly in nothing, that we are all star dust, that the most real things were material, and that consciousness and experience of life itself was an illusion. That we are all as good as dead already. People who know me well would probably be very surprised to hear that I am a Christian now, and getting baptised and confirmed.
When Megan and I were planning our wedding, we went to the prospective venue and they asked whether we would get married in a church or at their venue. And they said, reassuringly, that 90% of their couples get married at their venue now, without a church. I had been against getting married in a church because I thought it would be wrong without being a Christian. But it seemed sad to me somehow that the church just wasn't important to people anymore.
We asked the local church if they would wed us. Because I didn't want to be a hypocrite, I decided I would attend church at least, thinking that not everyone would overly-spiritualise it, and that it could be just a healthy outlet or social occasion.
We attended our first service. The sermon was quite interesting. We enjoyed some tea and biscuits afterwards, and I remember most talking to David and Ludger. I told David I was new and he prayed for me, and Megan, laying his hands on us. I
knew he was sincerely trying to help us so I appreciated this genuine act.
Ludger had a deep conversation with me about miracles, science and all that. I tried to be open minded although I was very sceptical of his beliefs. But I was struck by his sincerity and strong belief in things like healing, and the supernatural qualities of Christianity. He wasn't ashamed to say exactly how he felt about these things, to me or anyone.
I knew I wanted to keep coming, but also that I would have to take it seriously to do that.
I could tell that this was my chance, if I ever had one, to get into Christianity. I started reading the Bible, starting with Matthew. I found myself reading through and researching every other verse, it was more interesting than I thought it would be.
I also started reading the bible to Megan.
I was looking for signs, as I had done before in my life. But now I was starting to receive them.
Over time I came to believe, first in God. I think I found Jesus the hardest thing to accept. But eventually I asked myself, why believe all the scary things and none of the reassuring things? I started to pray and continued reading the Bible, and even started listening to it in the car on the way to work.
I felt at one point it was all rubbish, that it was just wishful thinking. I went downstairs disheartened, unable to sleep, and opened the Bible. The first thing I read was Jesus explaining the parable of the sower:
"Listen to what the parable of the sower means: When anyone hears the message about the Kingdom and does not understand it, the evil one comes and snatches away what was sown in their heart. This is the seed sown along the path. The seed falling on rocky ground refers to someone who hears the word and at once receives it with joy. But since they have no root, they last only a short time. When trouble or persecution comes because of the word, they quickly fall away."
This spoke to me, to my core, and I was renewed. And with a purpose, to not be like those seeds.
My friend Matthew told me after he had been regularly praying for me to come to Christianity, so I thanked him for that.
I pray regularly. I read or listen to the Bible often. My wife Megan and I attend church whenever we are able. We were married in here by Ludger on the 23 September this year.
Many of you will have heard in the news that Christianity is no longer the majority religion of this country.
Well, in the census I said I was an atheist, so here there is one more Christian and one less atheist for the next count.