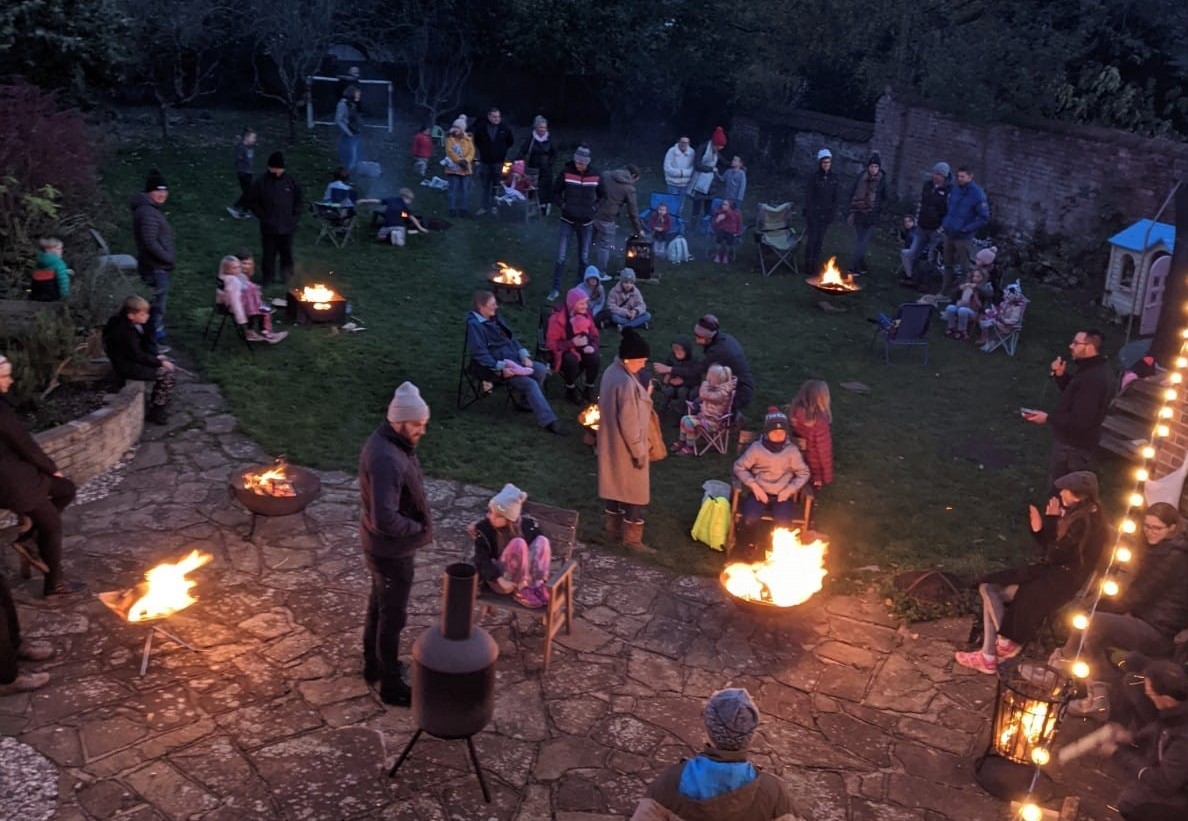 Little fires warmed the hands and lit the hearts of members of a fresh expression of Church in Houghton on the Hill recently, as they gathered in the vicarage garden to hear the Good News of Jesus.
Under the instructions of Graham, who used to be in the Paras and is Houghton's answer to Bear Grylls, 'Explore' came together to build fires from scratch, sharing in fellowship, fun, faith and food.
According to Revd Steve Ransley, vicar of St Catherine's Church, the fires were "rocking and raging" within a few minutes.
With the little fires burning brightly, group helper Tim then led a reflection about 'Jesus the Light' from John 1, before everyone tucked into barbequed hotdogs and hot chocolate with a range of toppings.
Alongside a few church members and helpers, the gathering was made up mostly of families with primary aged children who live in the village.
Explore was set up a few years ago to help connect with families in Houghton, who would not normally attend a Sunday morning service. It all began when they decided to stop doing Messy Church, says Steve. "It just wasn't going anywhere," he explains. "It was good for a season, but the adults never listened and the children grew up and stopped wanting to come. We needed something intergenerational with a wider appeal."
A survey carried out among the church and community revealed that what mattered most to them was family and being together, and that learning a new skill or doing something they wouldn't ordinarily, was what they needed.
And so Explore was born. This fresh expression of Church comes together once a month to do activities such as fire building and fitness, hear the good news of Jesus, explore faith and life and share a meal together.
Bringing people together has been a core part of Explore, and is part of what draws people back again and again - spending time together as a family, but also having fun and learning something as a community.
"Since launch we've consistently had between 50 and 70 people turning out each month," says Steve.
Over the years, they have gathered in the village hall, the local pub and the big vicarage garden. After a pause during the pandemic, they've met three times, including a rather chaotic pizza making session in the pub last month, with around 65 people showing up, 90% of whom are not Christians.
"It almost feels like we've never been away, but this was also a good chance to start again and welcome new folks – and we have two new families that have joined us, which is great," explains Steve.
Explore has evolved over the years and people of little faith or none have become more and more open to receiving the Good News, Steve says: "We began by adopting more of a subversive fulfilment theology, with the idea of subverting people's desires and pointing them to Christ, without them actually knowing that was happening. But someone from church said, 'let's just make it more overt,' and so we did, and it was actually the first time we lit fires that we talked about how 'God remembers our sins no more', and it was a clear Gospel message. It really was a case of, this will show what people think and they'll listen and either not come back, or they will. And they have come back – time and time again."
Steve says he is struck by how much people listen, but what has always been hard is to peak any spiritual interest. "The challenge for us is to provide somewhere where people can think a bit more deeply and be encouraged to examine themselves and their priorities," he explains. "We want to create a place where we can have deep conversations about what's going on in people's lives - a place where people can explore things, become Christians and make more of a commitment."
"I'm planning to run a new three session course called Hope Explored, on a Sunday afternoon.
"Part of my hope and heart is to start an afternoon congregation at St Catherine's – a church family who would meet at 4pm, worship and eat together, at a time that gives families the chance to come along."