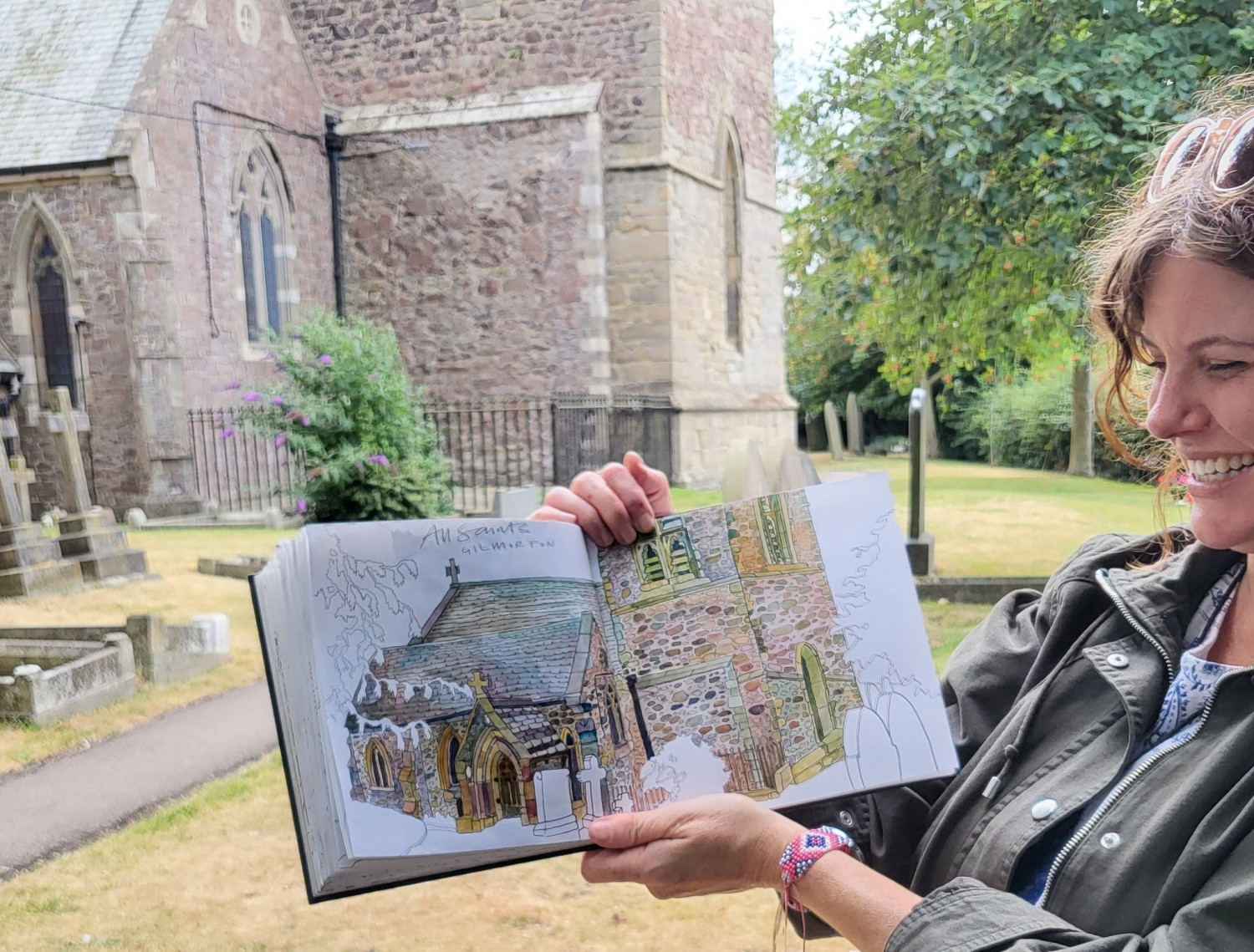 'Hayley Draws Churches' is taking social media by storm here in the Diocese of Leicester and capturing attention even further afield. We caught up with artist, Hayley Fern, who is on a mission to draw every one of our 310 parish churches, as an expression of her everyday faith and calling…

It's a beautiful sunny morning and we're hanging out with artist Hayley Fern in the graveyard of St Botolph's Church in Shephed.
There's a bustle around the building, a little exterior repair going on, it appears, flower arrangers coming in and out with their blooms, and dog walkers strolling back and forth along the path.
Everyone smiles and says 'hello' as they pass by. Some even stop for a longer exchange, commenting on the weather. But mostly people just want to know what Hayley is up to.
Today, Hayley is drawing St Botolph's Church.
In fact, today and pretty much every day during the school summer holidays, this art teacher will be found watching the world go by and sketching in the graveyards and gardens of our wonderful diocesan church buildings.
"For some mad reason I've decided to spend the next few years drawing every church in the Diocese of Leicester as a personal challenge and arty pilgrimage!" explains Hayley.
It all started last summer, rather accidentally, following a meeting at St Martin's House - the diocesan head office next to Leicester Cathedral - and the purchase of a new sketchbook that needed filling.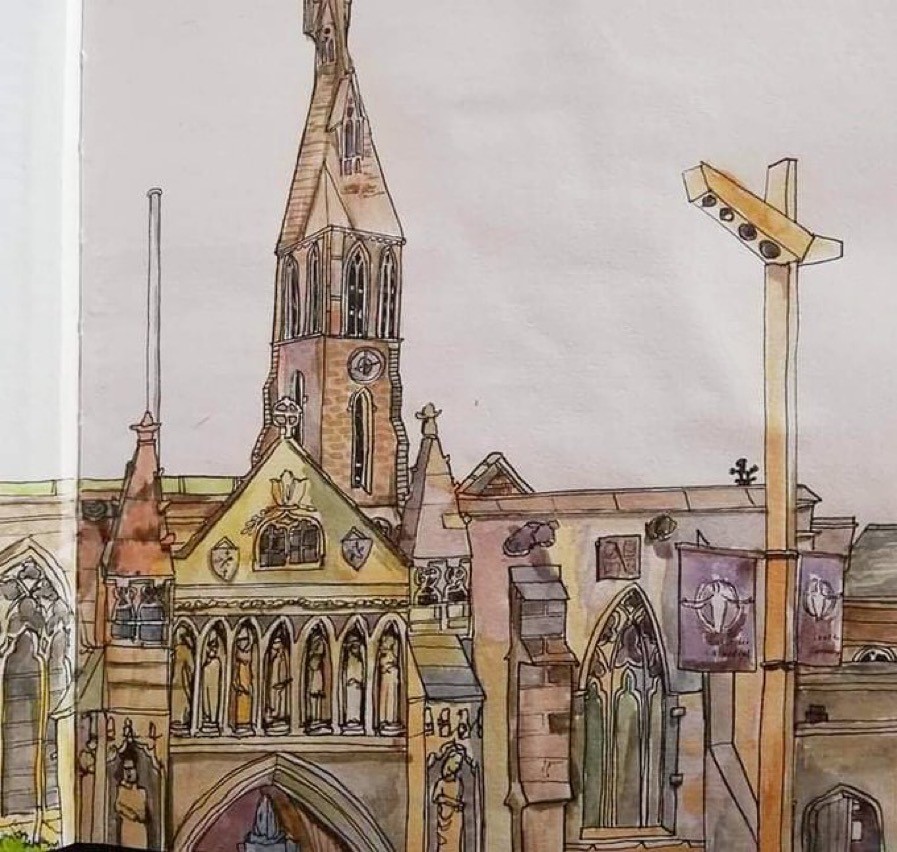 "After the meeting, I just sat in the Cathedral gardens looking around and noticing what a great collaboration of nature, architecture and history dwelt in this place, and I started to draw," remembers Hayley. "A really helpful man kept coming out every now and then, giving me fascinating snippets of info about the building and the things I was sketching."
From there, Hayley decided to keep a theme to this sketchbook and, every now and then, sketched a church that meant something to her. But last month, something changed.
"I didn't want to just drift through the summer or give myself too much to do or think about – including work – so this seemed like a great thing to take on, if a little nicely selfish," she smiles. "It really feels like a holiday, taking trips out to places I would never normally visit and discovering churches I didn't even know existed."
Today is church number 34. "I'm only drawing outside of term time, and now I've got my teeth into it, I'm determined to draw all 310 parish churches," she says.
As a former caricaturist, Hayley is keenly observant. "It can take a while for things to come out at you, but it's fascinating as they reveal themselves," she says, pointing out a little cross carved into a joist stone over the door. "Taking the time to stare and listen, is so rewarding."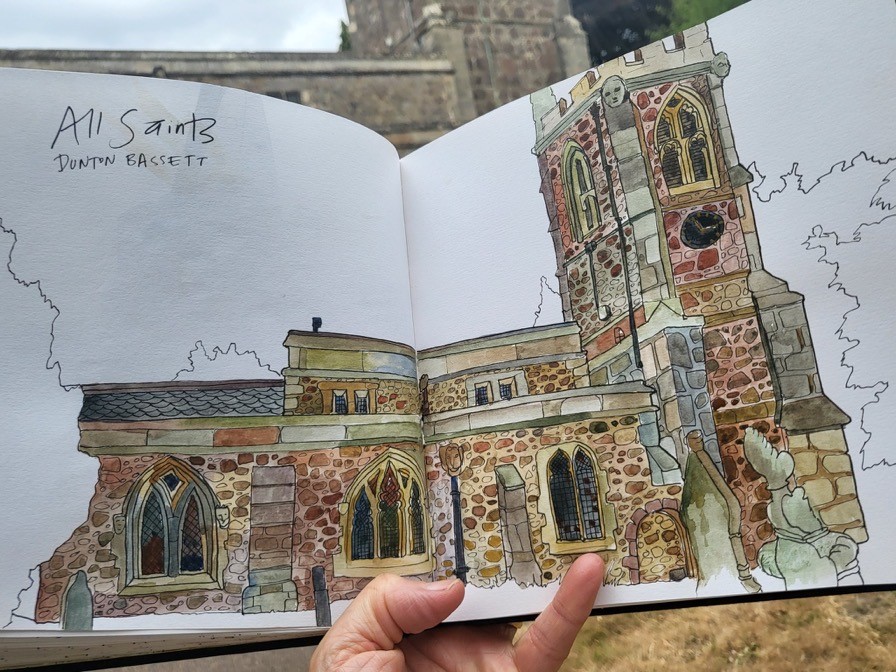 And that's just what she has done. At All Saints Church in Dunton Bassett, which is covered in gargoyles.
At St Peter's in Glenfield, where she had a chat with a nice chap about art and the church. At All Saints in Kirkby Mallory, drawing to the roar of engines at Mallory Park. And at St George's Church in Swannington, with its fabulous bell tower, to mention but a few.
The chats have also been significant, says Hayley. "One evening, I met a man who was visiting his wife's grave. He told me all about her, and how he was a little bit lost now she was gone. It felt such a God-given privilege to be a listening ear for him."
Hayley's style has been likened to that of an adult colouring book, she says. "I don't draw in perspective, it's rather more an interpretation, and I go straight in with fine-line ink pen, so there's no room for mistakes - but I'm relaxed in this way, and instinctive, especially in my use of watercolour, which is tertiary."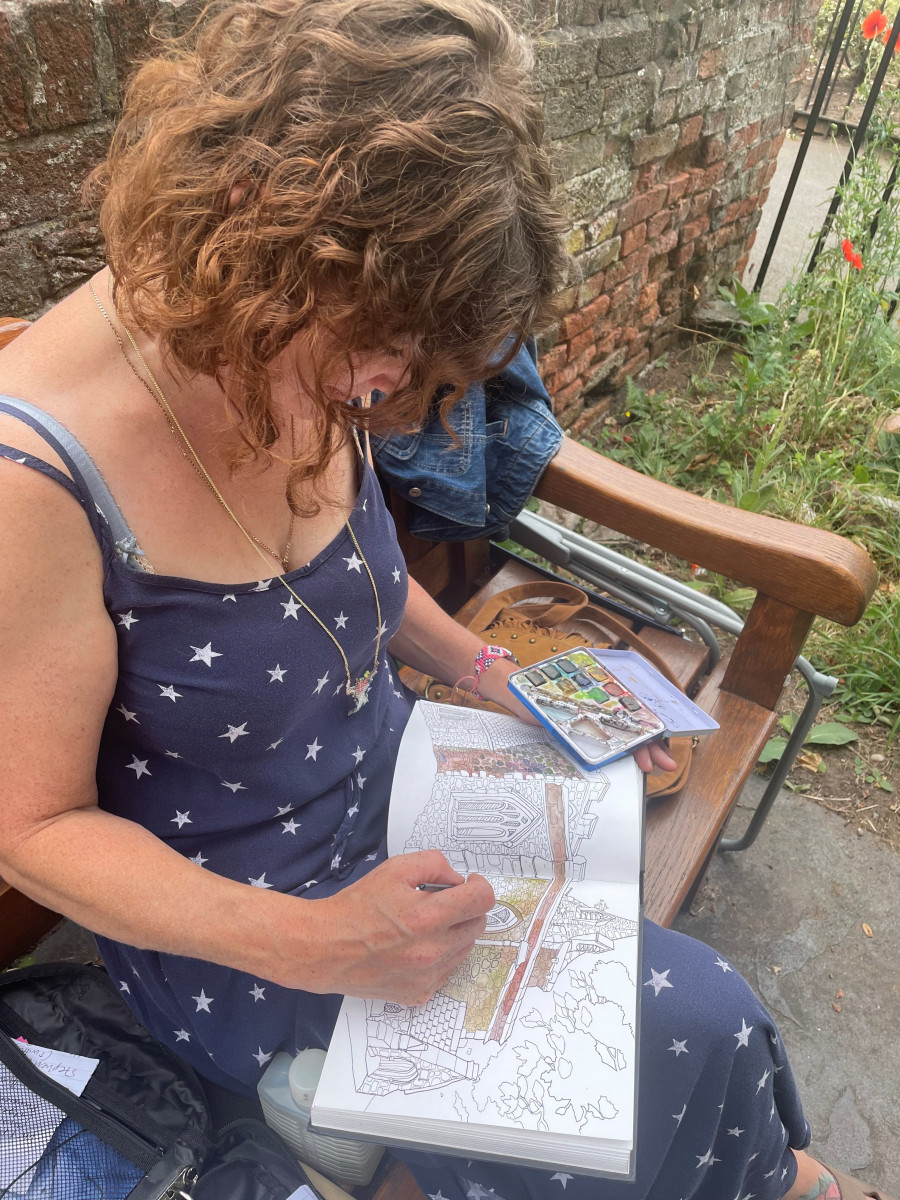 Hayley is humble in her discipleship. It's this laid-back, quiet-yet-accomplishing approach that makes her engaging and inspiring – the kind of Christian friend you want to have by your side on this life-long journey in faith.
"Art is intrinsic to my faith - art starts conversations," says Hayley. "I've been asked more about my faith through art than I ever was before by friends who knew I was a Christian and went to church but didn't know where to begin asking questions."
Hayley decided to share her project when she realised how much people were engaging with her.
"What I'm doing is visual and people want to see and ask and talk about it, and that conversation might encourage them to go into their church, perhaps for the first time, and that could be the beginning of their relationship with God," she says. "It's raising awareness of our churches, and that's why I decided to set up the Instagram and Twitter accounts. It hasn't been long, but I'm getting lovely feedback and support."
In just a couple of weeks, Hayley has amassed more than 300 followers on Twitter and many more through Instagram.
Alongside church accounts and clergy, people following Hayley's journey include academics, historians, architects, and fellow artists. She's even caught the attention of esteemed cartoonist, Dave Walker.
With her observations and anecdotes, Hayley is becoming something of a celebrity around the diocese, as clergy and church families wait in anticipation of her visit. A few have even contacted her, eager to know when she might be drawing their place of worship and assuring her they'll have the kettle on.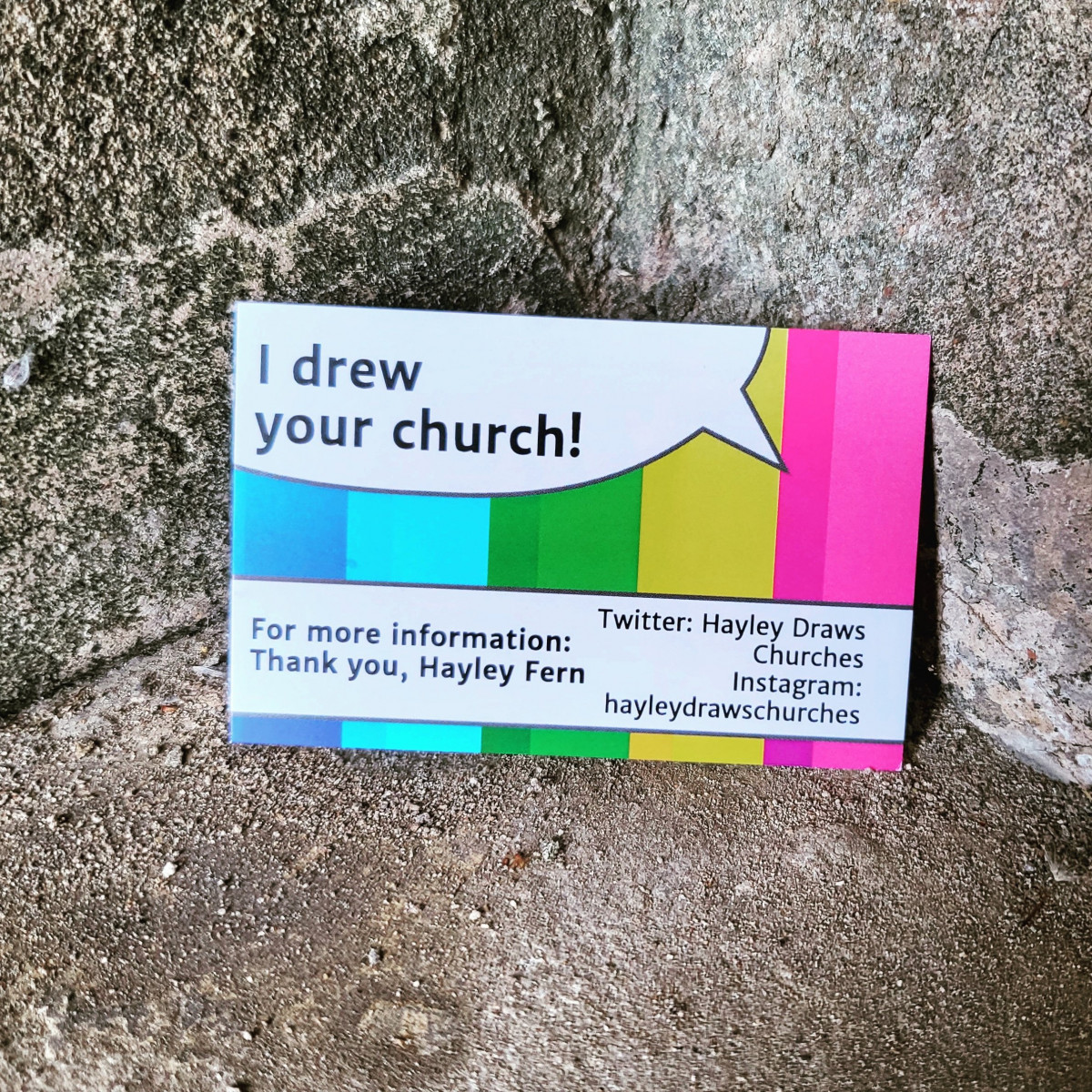 She's also had calling cards printed, so she can drop them off in church porches, or give them to people who are wondering what she's been doing in a graveyard for two hours!
"It seems to have captured people's imaginations and made them feel proud of their churches," says Hayley.
Eventually, she says she will scan all the images and put them onto a website, and perhaps even create a book, but for now, she is simply enjoying her pilgrimage.
Those who have long followed Diomail will know that Hayley is no stranger to our pages. We featured her at the beginning of the pandemic in June 2020, when she was transforming her sketches from a pre-lockdown Holy Land pilgrimage into symbolic paintings, while using her art to encourage others in their faith. She also read the entire Bible during that period, making extensive notes as she went.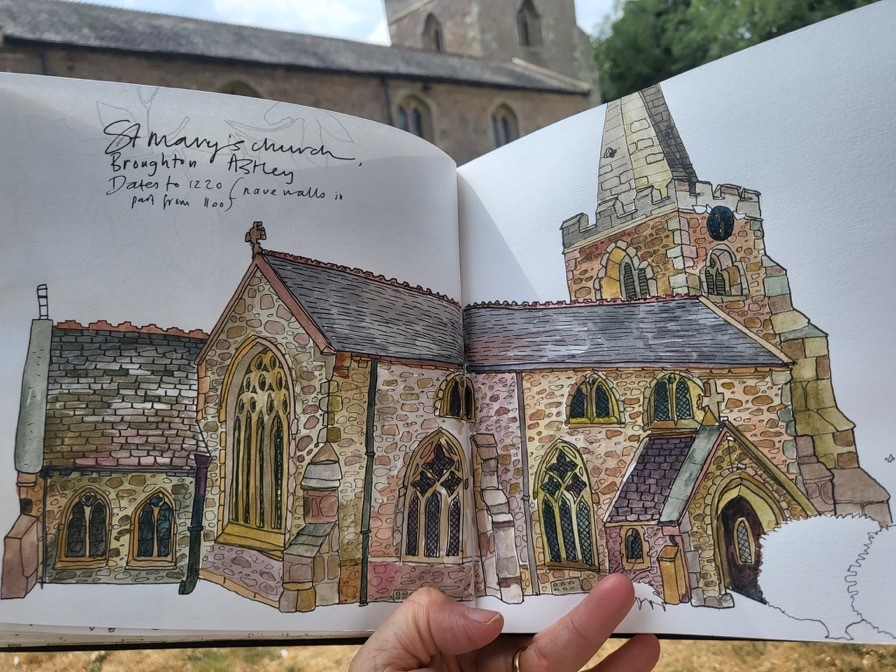 Hayley worships at St John the Baptist Church in Hugglescote, and recently completed the diocesan Journey in Faith course. "It gave me so much," she says. "I made news friends and grew in confidence.
"I'd been helping with family services and leading the intercessions, which is an absolute honour, and my church family are such a brilliant group of people, but I would pray myself brave every time I did anything! Completing the JiF course has given me a stronger foundation and the training I need to be able to confidently deliver scripture and teach through the Bible.
"With JiF we really talked and heard one another's perspectives," she continues. "I've read the Bible on my own, but reading it with others and talking about it, opened up so many questions and challenges and I was in awe of people's knowledge and experience and just wanted to learn everything!"
As a result, Hayley ended up teaching RE in her school for a while. "I have no problem in talking about my faith to the children, particularly if they ask the sort of questions they have no other grown-up to ask," she says. "I guess art is vocational for me, it's not just a job, it's a calling. I feel it's a way of living out my faith and I think this project is just another reflection of that."
And so, Hayley's drawing of St Botolph's is finished: another church completed, and another tick in her trainspotter-style notebook.
"I love drawing churches," she pauses. "They're a symbol of our faith embodied and embedded in our communities.
"This is my quiet, prayerful time to reflect. It's time and space with God, to be mindful and heal. I become absorbed in it, and I am on the most wonderful journey."
*To share in Hayley's progress, you can follow her on Twitter: @Hayleyfern4 #hayleydrawschurches and Instagram: hayleydrawschurches