There are many churches across Leicestershire and the world running a successful Messy Church. If you've never some across it before, visit the website, which explains the core values and who it is for.
Louise Warner is the regional co-ordinator for Messy Church, working with all churches running Messy Church in Leicestershire. If you are part of a Messy Church, please let Louise know about it, and also register on the Messy Church website if you haven't already. Registration is easy and it means that people can find your Messy Church easily.
Messy Churches run throughout the country and overseas. The time, day and location need to fit the place that you are in, so there is no 'one size fits all' perfect time. You will find that food varies according to the facilities people have access to, so if hot food isn't possible, provide it cold, (which often tends to be sandwiches and cake, but can be as creative as you like!)
---
These Messy resources may also be useful:-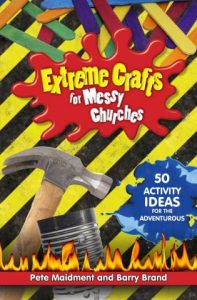 Extreme Craft For Messy Churches has arrived
There are so many great ideas in this which you can adapt to your situation. Follow the link above to read more.
Paul Moore's book Making Disciples in Messy Church is worth a read, and is available through Christian Resources in Leicester: telephone 0116 2615222 or email Enquiries@christianresourcesleicester.com. If anyone is interested in discussing the issue and the book then please get in touch, as it would be great to get a group, or even groups in different areas, together.
Messy Church Theology features chapters on a number of themes and from a variety of contributors.
Messy Celebration is a short easy to read book designed to help you make the most of your Messy Church celebration time.
Messy Meetups are a chance to get together with other people involved in Messy Church. There are usually some resources to look at, plus good conversations. Contact Louise Warner for details of meetings.
Get Messy is a quarterly magazine that includes a range of articles and reflections, including a 'Dear Jane' page plus some session outlines and can also be purchased in pdf format.
The Messy Church Facebook page is worth following.
Baker Ross – this national craft supplier is doing more crafts linked to Christianity. Orders placed on behalf of Messy Church can get a 15% discount. You will need to set up a specific account i.e. Messy Church Your location, and then use promo ref BRF15. Each time you spend, Messy Church also benefits, so it is great for everyone.
Infinite Resources – also offer a range of craft materials, including a Messy Prayer Tree. They do a great range of wooden shapes including crosses and sheep, although you have to have a good look around to make sure you don't miss anything.