Week 5 – Diocese of Kiteto
Sister Sarah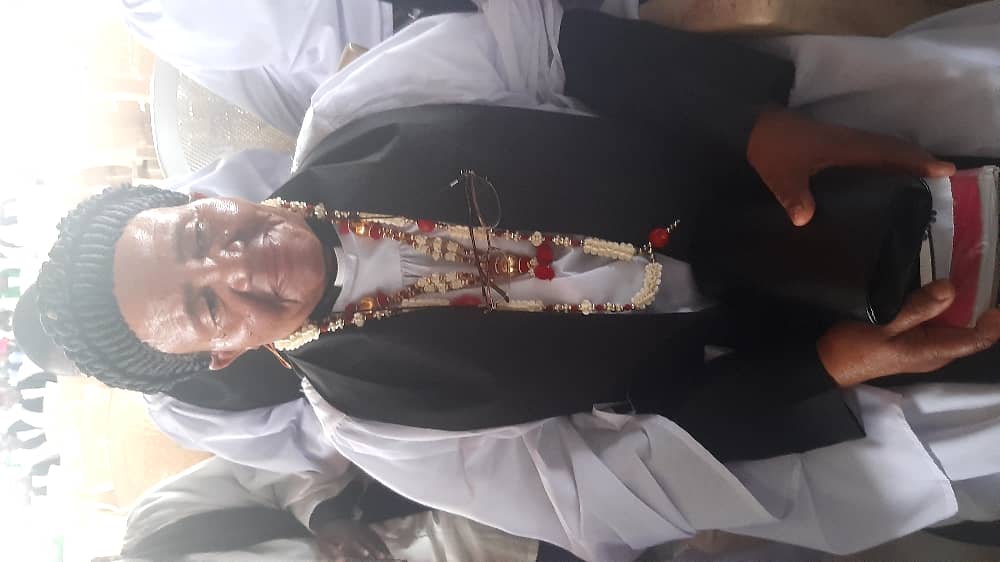 What is your ministry?
First and foremost; let me introduce myself to you. I am Saraweki Stephen Mbelwa. Female 76 years old, A widow, born again Christian. Registered Nurse by profession but specialized in Ophthalmologic Sciences. Lately; from 2015 to date by Grace of God I was more exposed to Evangelistic doctrines, I was given the opportunity to attend short courses to lead and assist my congregation spiritually and last Year 2022 I was ordained as a Priest serving at St. Michael Parish in the Anglican Church Diocese of Kiteto.
Both Departments a) Ophthalmology wherein I attend patients affected by blinding conditions from all causes there is a big space in my heart as I deliver the services fully motivated without reservation. B) On Evangelistic services I am growing spiritually more and more each day, I have high passion to serve the students in our Diocese schools on Morning devotions and preaching at church services on Sundays as assigned by my senior Pastor. I love teaching health education to community on prevention of diseases and treating them as well as counselling the needy audiences.
What in creation reminds you of God?
By reading Gen.1:1 – 25 God made the Universe and placed all that is contained in it by His WORD and it remained perfect up today.
Gen. 2:7.The word of God explains how wonderfully He made man from the dust, breathed into his nostrils the breath of life and the man became a human being.
Gen.2:18, 22, God was Compassionate; he made a helper from the man he had made from dust. (24)God allowed the man and his wife to unite and become one flesh; this fact of becoming one flesh led to a miracle of forming a new human being in the body of a woman.
Gen:2:15 – 17 God's love to the Human being from the beginning , He showed them a place to stay(the Garden of Eden) (16) They were free to eat from the trees in the garden (17) He ordered them and warned them on the consequences of disobedient of God's order.
Due to Adam and Eve disobedient, Gen 3:15 – 19, Eve, Adam and serpent were cursed and each was given a lifelong punishment. Also the human being was driven away from God's Garden of Eden to live and serve their punishment which extended to their offspring's.
Our God is Merciful and full of compassion to the man He made of His own image. He made a breech for reconciliation, by giving His only son to die to serve the sinners as predicted by many prophets, to mention only one Isaiah 9:6 – 7 he predicted birth of Jesus. His Governance, and that the zeal of the Lord Almighty will accomplish this. Lk.2:1 - 21 we read on the birth of Jesus Christ, our Lord and savior. We are new generation living in God's grace after birth of Jesus Christ Lk 24.1 - 53 His Death on the cross, resurrection from the dead, assent ion to heaven has completed the breech and His HOLY SPIRIT he promised is helping by strengthening our faith until he comes again to take the righteous to stay with him forever Revelation 22. 12 -14.
What passage from scripture inspires you in your life as a Christian?
ISAIAH 6:8 (whom shall I send? And who shall go for us? And I said, 'here am I send me) this verse has inspired me most, when I look back on what God has done for me in my lifetime I feel very much inspired to serve his people to show my appreciation towards His Everlasting Grace.
How can we pray for you?
I believe distance is not a problem for you to bring my name before the Lord by requesting Him to sustain my ministry, my life and health. Let God make provision of the basic needs which we are seeking to facilitate the performance of the services which are most needed through this health unit at ACDK DISPENSARY. Let the Lord inspire some professional Doctors, Nurses, Laboratory experts to volunteer to come and work with us in turns. Up to now I am seeking for donors to assist Ophthalmologic Surgical Equipment and other supplies.