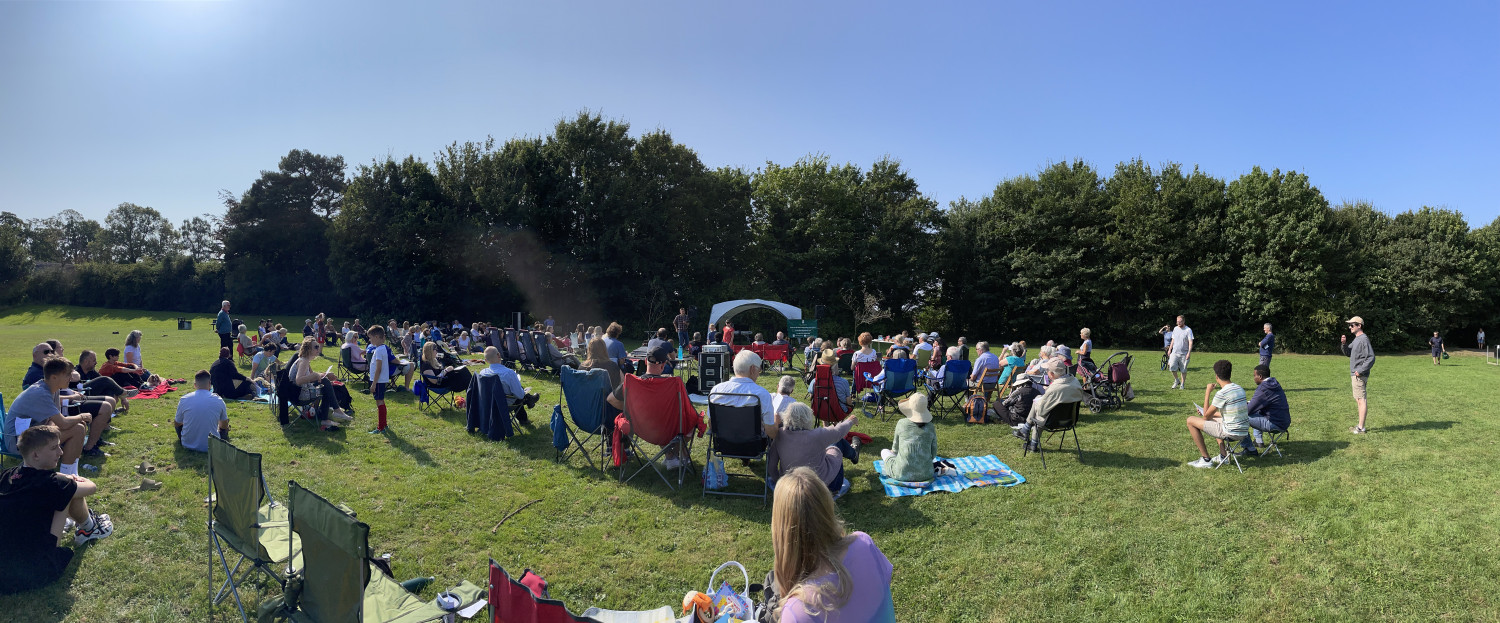 Quite a few of our churches across the Diocese of Leicester have been taking advantage of the last days of summer sun to hold services and gatherings outdoors in recent weeks.
As a safer approach to getting together once again in bigger groups, the fresh air and clement weather has been quite the tonic for sharing the word of God with church congregations and the wider community.
Over in Thurnby, St Luke's Church brought together more than 125 people in an open air Sunday service on Manor Park earlier this month.
The event was an opportunity to gather as many of the St Luke's church community as possible in one place at the same time, to reconnect, to worship God together, and to show something of what the church is about to the community around them.
In a week that had predicted thunderstorms, the day ended up being the start of a mini-heatwave, which made the gathering all the more enjoyable – particularly the picnic lunch and games which continued after the service.
Revd Tom Devas is Associate Rector of the Cornerstone team and looks after the life of St Luke's Church. He said: "It was a real encouragement and a great way to reconnect with each other, worship God together, and give the community a little glimpse of what we're all about.
"We'd hoped to do something like this sooner but spent much of August building up our congregations and helping people to feel comfortable again, and when September came, it felt like the time to do something to bring as many of us together as possible that was easy for those still nervous about coming back into the church building."
Tom says there were both new and old faces among the crowd, and that a few church family members brought along friends and neighbours.
"My great joy was that it was truly all age – the youngest being a couple of months old and the eldest being well into their 90s, with everything in between," he says.
"We had the words of Luke 19 ringing in our ears, that there is a welcome for everyone from Jesus and that we don't need to have our lives sorted first – 'For the Son of Man came to seek and to save the lost.'"
The gathering also gave people space to rekindle friendships and catch-up after many months apart.
"I believe God's design for the Christian life is to never go solo," explains Tom. "Whether we like it or not, I need you and you need me. We belong to something bigger and as we met in the park, around the world brothers and sisters in Christ would have been gathering together. It's strange in a way that we're almost closer in relationship to them than our next door neighbours because of what Jesus has done in our lives."
Though the summer may be fading, there's nothing stopping us taking our church and communities outdoors among God's wonderful creation, embracing the ever changing seasons.
Tom recommends just going for it. "I think we're treading a fine balance between opening things up again in person and being sensible and safe," he says. "It's been 18 months this way, and they say it takes three months for something to become a habit. I think the habit of holding back from life together is one we as church communities need to break – to take the opportunities where they are, in our different contexts and communities."
What new ways are you engaging as a church and wider community? #everydayfaith