It may have been an unusual way to conduct things, via video call, but the licensing of Reverend Hilary Lomax as Hospital Chaplain in Leicester was a joyful occasion none the less.
Bishop Martyn conducted the ceremony remotely on Wednesday (July 1), and swore Hilary into her role within the University Hospitals of Leicester NHS Trust and Leicestershire Partnership NHS Trusts.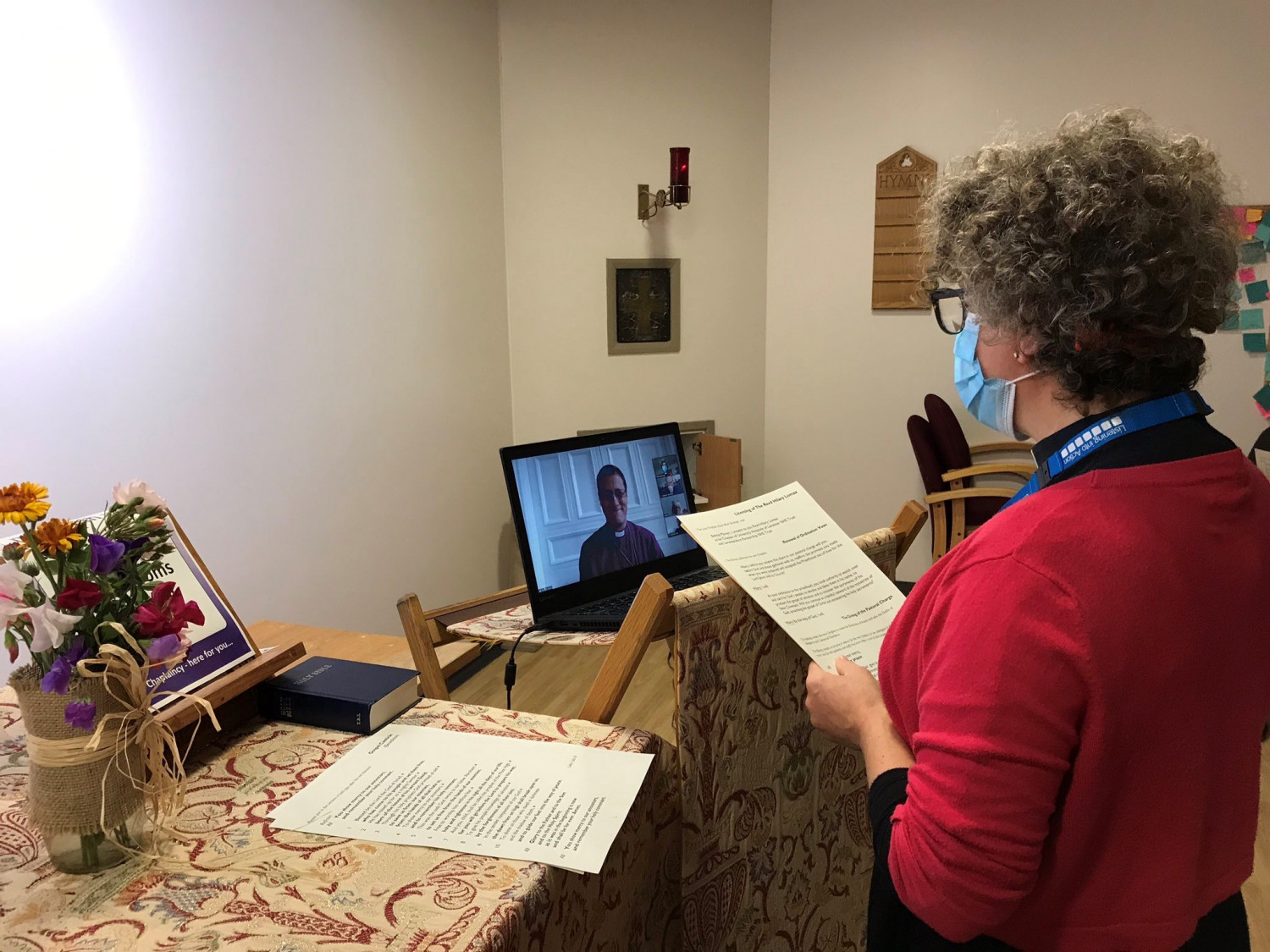 She says: "Though it would have been lovely to have been among the company of family and friends, it was still very supportive with many smiling faces scrolled across the pages. In fact, it probably enabled more people to be there who may not have been able to travel for the occasion."
Hilary was ordained in 2012 and has ministered at St Margaret's Church in the city centre, as well as spending three years as Coordinating Chaplain at De Montfort University.
She will work full-time as part of the Chaplaincy Team at the Leicester Royal Infirmary hospital, and be on call across the other hospitals in the city.
"I feel privileged and excited to be joining the Chaplaincy Team in these exceptional times" she explains.
"I did my first visit on Tuesday, with a Covid-19 patient, and prayed with him. He said, 'thank you for your visit, my spirits feel lifted.' I went away feeling good, that this is where I am meant to be.
"I'm a chaplain at heart and you do follow where you are being called, and this really seems like the right place."
During her studies at theological college in Cuddesdon, Hilary did placements in both hospital chaplaincy and mental health. Having enjoyed these experiences, she felt drawn back to the role.
"It wasn't out of the blue," she says. "There's something about wellbeing that very much connects with me. At DMU I was keen to stress the need for spiritual wellbeing, as well as mental, emotional and physical. Spiritual health is a universal need, wherever and whoever you are."
Hilary says Chaplaincy is there for patients and visitors but also for staff and volunteers. It is about responding to an individual at a particular time in their lives and connecting with their particular spiritual and pastoral needs, whatever a person's religion or tradition. God knows us as we are and not how we'd like to be or wish we weren't. God meets us where we are.
"And that is something to aim for," she says.
"The challenges ahead in my role as Hospital Chaplain are societal challenges," Hilary explains.
"I think it's important that what we've been going through - the trauma, the loneliness, the anxiety, all the effects of this crisis – are acknowledged, respected and addressed, not quashed in the rush to get back to 'normal'.
"That involves opening up conversations in order to move forward in a healthy way. Our wellbeing will look better in the future if we invest time in it now."