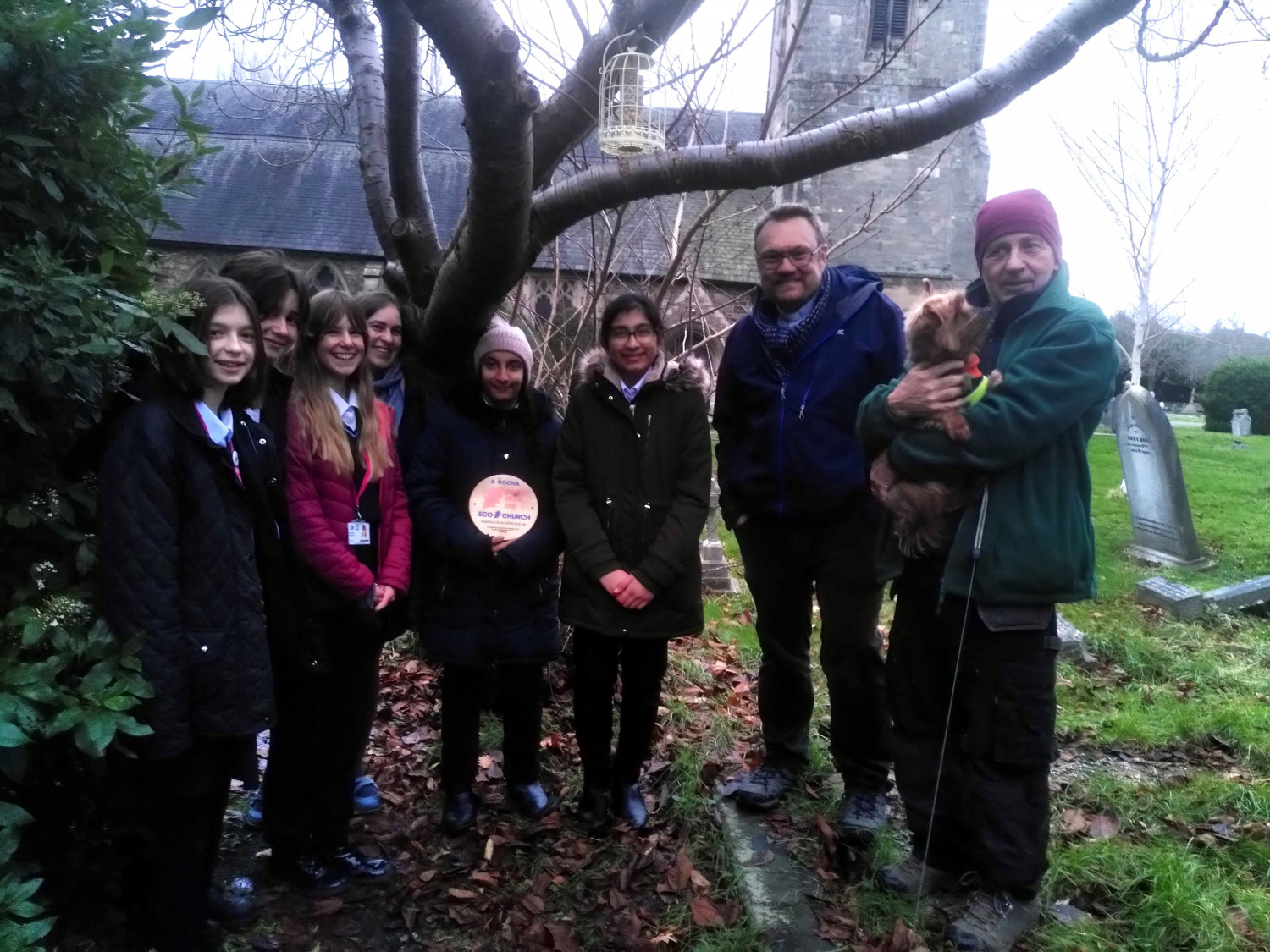 A course for Creationtide, a dash of inspiration from diocesan leading environmentalists, a lockdown-born youth eco club and a whole heap of hard-work from all corners of the community, have combined to help one of our churches achieve an A Rocha Eco Church Award.
St Mary Magdalen Church in Knighton received the Bronze accolade late last year and is gathering momentum in climbing the next rung on the Eco Church ladder.
From birdfeeders in the churchyard, to recycling bins, energy saving habits and Fairtrade refreshments, the church has made impactful changes and life-long commitments.
But aside of its exemplary eco-credentials, one of the most exciting things to come out of these endeavours are the new relationships and partnerships being forged between the church and community – particularly with young people.
Revd Matthew Gough, curate in the Knighton Benefice, explains: "Lockdown posed challenges for our youth group, who were unable to meet at St Guthlac's Church, as usual. Aware that mental health was a significant challenge for many young people, over the spring and summer of 2021, we formed an Eco Youth Group, to facilitate a greater connection with the natural world and address the wider youth challenges posed by climate strikes."
The group met and played games in the park, walked in their wellies in the river, and lit fire pits in Knighton arboretum.
A relationship has also been re-established and strengthened between the church and Sir Jonathan North High School for Girls in the parish, whose Eco Club is now responsible for the upkeep of wildlife feeders in the churchyard.
Revd Matthew says: "I came across their initiative through my involvement with a Leicester Citizens project, campaigning for mental health provision in schools. It was apparent that the school's Eco-Club was working wonders to help promote and protect the mental well-being of their students, and my ears pricked at the thought of how we could work together.
"By all accounts, the girls are very much enjoying looking after the wildlife feeders, and engaging with the community, which has become a practical and valued task for their own club."
The school is also storing the food and equipment, and working with local wildlife group, Knighton Wild, who ensure the churchyard grounds are maintained to the highest principles of eco-sustainable practice, encouraging wild flowers and natural species to flourish. The wilding and green spaces conservation group has managed the church grounds for several years.
We recognise that parish partnerships are important, and that from tiny seeds the fruit of God's Kingdom grows, so it's really exciting to see that this has been, and continues to be, a community-wide eco-effort in Knighton.
The school and Knighton Wild will be working with The Washbrook Project going forward, who will monitor water quality in the brook which runs to the back of the churchyard, and invest in making the water course more naturalistic and supportive of wildlife. This very brook is where legendary natural historian and passionate environmentalist, Sir David Attenborough, played growing-up!
Talking about the journey to this point, Revd Matthew says: "The most exciting thing for me was setting up a Creationtide series where we redesigned the liturgy and welcomed local guest contributors.
"We are fortunate in Leicester to have some leading environmentalists in Brian Davis, Anne Scott, Andrew Quigley, Miriam Stoate and Peter Yates, as well as local wildlife welfare activists from the community who have supported our Pet Blessing and Animal Welfare services."
The inspirational Lent group focused on the York Course 'Caring for Creation', by Brian Davis, and gave a theological grounding on which to offer practical follow-up for both Benefice churches to achieve something meaningful.
From there, the church family formed two core groups, with people of varying expertise in everything from church buildings, to sourcing cleaning products.
They were also supported in their launch by Anne Scott, Leicester Eco Diocese and Greenlight MSC Pioneer.
The Bronze award builds on the commitments the church has already made with Fairtrade, Toilet Twinning and regular international world development charity appeals, alongside themed services.
They raised money for things such as the bird feeders by holding a duck race in the summer, and to promote their congregation switching to greener lifestyles, they sought out financial incentives from companies, including those selling products such as eco detergents.
"Eco Church is exciting, creative, and forces you to think," says Revd Matthew. "One thing we've recognised is that we don't have to achieve everything all at once - that's what Silver and Gold are for.
"Our Creationtide series stimulated commitment across both churches to develop further climate change initiatives, and we have plenty of work to do going forward," he continues.
"The big wins will be in changing the way as church buildings and members we generate our energy and moderate our transport use. We need to do a lifestyle audit for the whole church.
"Meanwhile, we must maintain our commitment to LOAF (locally sourced, organic, animal friendly) when we put on catering events, using RSPCA assured or vegan and Fairtrade products."
Its sister church, St Guthlac's, in the Knighton Benefice, is also working towards the Bronze Award, with the two churches supporting one another and sharing in endeavours.
"Eco Church has proven far from a dull audit tick list to being a creative way to be surprised by how God's Kingdom grows through relationships with young people and groups which otherwise may be beyond the church," says Revd Matthew. "We have the found the process a fun, new way to engage while seeing the Kingdom grow in Knighton, through discipleship based teaching and study, to community environment groups and youth wellbeing.
"It has proved a catalyst for everyday action as well as tool to hold us to account," he continues.
"People look to the Church to provide moral leadership, and the climate crisis is the biggest moral crisis of our time."
Could your church be working towards becoming an Eco Church? For more information, visit: https://ecochurch.arocha.org.uk/