This week (Thursday, 18 May) marks the beginning of Thy Kingdom Come - the annual, global prayer movement that invites Christians around the world to pray from Ascension through to Pentecost for more people to come to know Jesus.
For 11 days, every person, household, and church, is encouraged to pray in their own way, across our diversity and differences.
The need in the world for the transforming power and mercy of God is as great as ever.
This year, TKC is asking: How can we partner with God, in prayer and mission, to see more people encounter the love of Christ this year? Mission always comes from the place of prayer, so how can we in this time go the extra mile, empowered by the Holy Spirit, to love and serve those we are praying for or others who are in need?
In the Diocese of Leicester, it's encouraging to see our church communities preparing to devote their time to the movement.
Youth worker, Lou McGoldrick, is an advocate of TKC and the opportunities it affords young people in our diocese.
She says: "Thy Kingdom Come, to me, is the reminder of our global church family and the power of prayer as we pray together across the world in all sorts of ways, reminded of the Holy Spirit at work in us and in the world."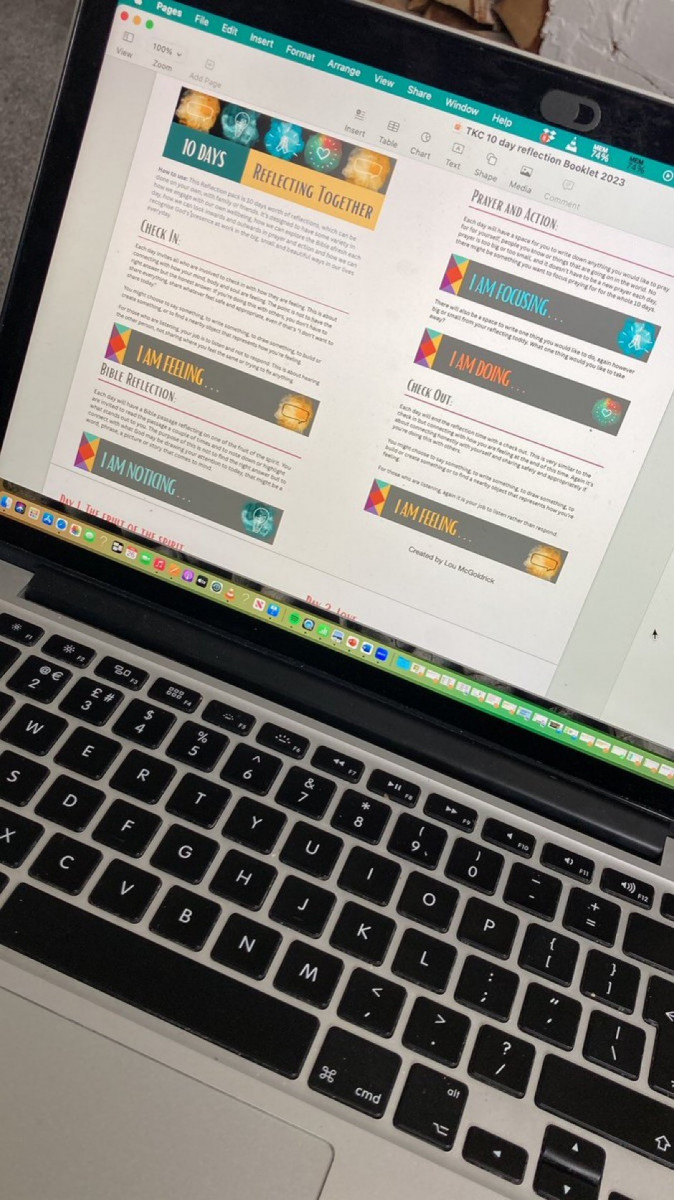 Lou has created a 10-day resource for young people to use on their own, or with friends or family, based around the fruit of the Spirit. It includes well-being check ins, Bible reflections and prayer, alongside achievable action points.
"I wanted to create something that a wide variety of young people could engage with; those familiar with faith, sceptical about faith, exploring faith and having a deep faith," she explains. "I also wanted something that could be used individually (if someone doesn't have friends or family that would/could engage with it), but also something that young people could use at home with family or via messages/video chat, and at school with friends."
Lou says she's tried not to be too prescriptive as to what the answers are, but has provided a framework that is simple, practical, and includes "creativity, a consideration of wellbeing and checking in with how we're feeling, some Bible that encourages noticing what is standing out to you today and how you might use that, and also an opportunity to form some prayer points that include ourselves, other people and the world."
She adds: "I think, as we reflect on the coming of the Holy Spirit, these verses on fruit of the Spirit are what the Holy Spirit looks like at work in us, and how we can grow in that. I hope the resource will be helpful - especially for those new to faith or exploring faith - to think about what faith looks like in everyday life and relationships."
Lou has kindly shared the resource with anyone who would like to use it, and the pdf is available here.
In the Framland Deanery, east of the diocese including the parishes of Wymondham, Hoby, and Croxton Kerrial, Pioneer Minister Revd Crystal McCallister has coordinated a programme called Beacons of Prayer, which will move from church to church throughout TKC.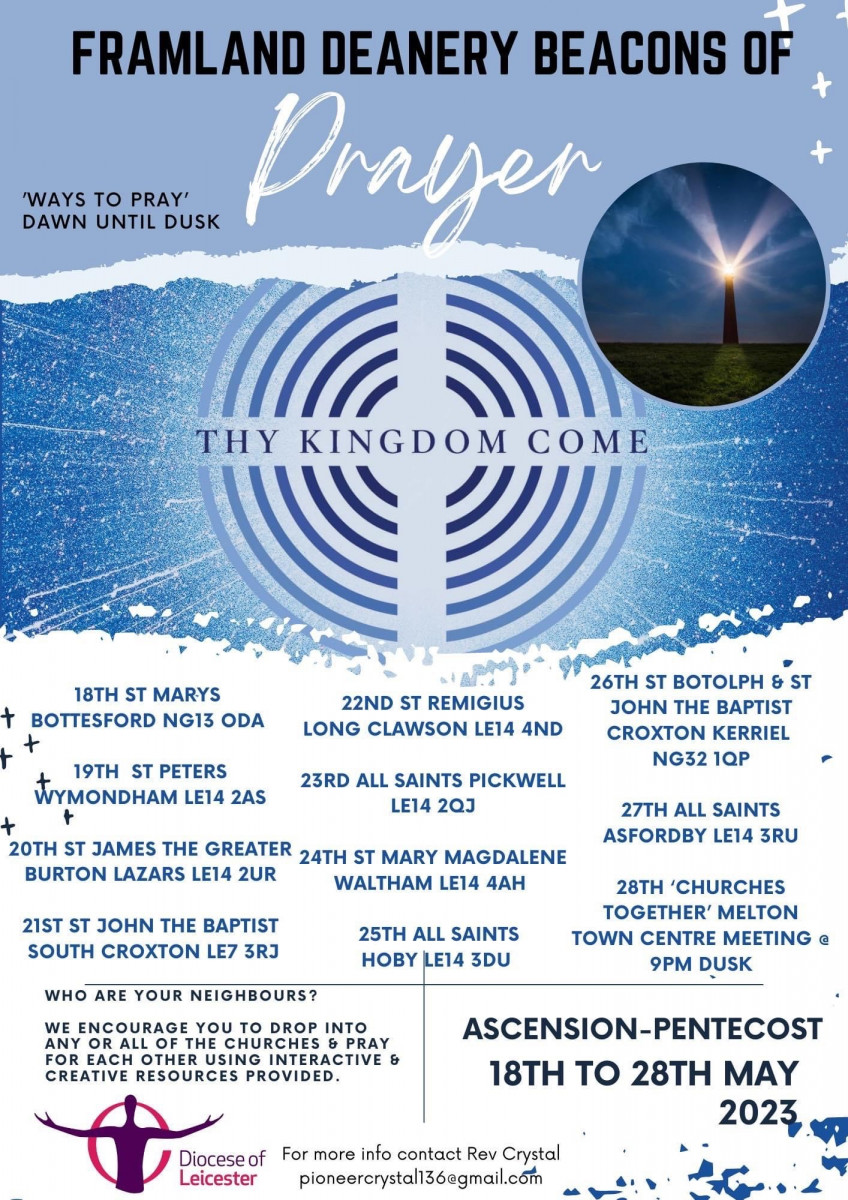 With the underlying theme of, 'who are your neighbours?', people are being encouraged to drop into any, or all of the churches, and prayer for each other using a series of creative and interactive resources.
Revd Crystal explains: "We all know that praying for one another is important but how often do we pray for own neighbouring churches, parishes and benefices? Thy Kingdom Come seemed like the perfect opportunity to get to know our neighbours better and to pray for one another."
Crystal believes that if ever there was a time for radical prayer for God's Kingdom to come, it is now: "In the midst of church life and everyday faith, with dwindling numbers in our churches, and a restructure of the diocese," she says. "Creating 'Beacons of Prayer' not only unites people, parishes, and benefices to come together, but I'm praying that boundaries will be crossed into neighbouring parishes too - a cross pollination of conversations with God and others, seeped in prayer and care."
Framland will be using resources from 24 -7 Prayer, along with Prayer Spaces in Schools and Thy Kingdom Come resources, while generating prayers from the 'Storyboards' they've produced as part of their 'conversations' in our diocesan Minster Communities process.
An artwork has also been painted by a local priest specifically for the passage of time from Accession to Pentecost, inspired by Beacons of Prayer.
"There is something for everyone of all ages and backgrounds to get started in praying for each other in new ways," says Revd Crystal.
For more info about Thy Kingdom Come, see: Thy Kingdom Come | Thy Kingdom Come