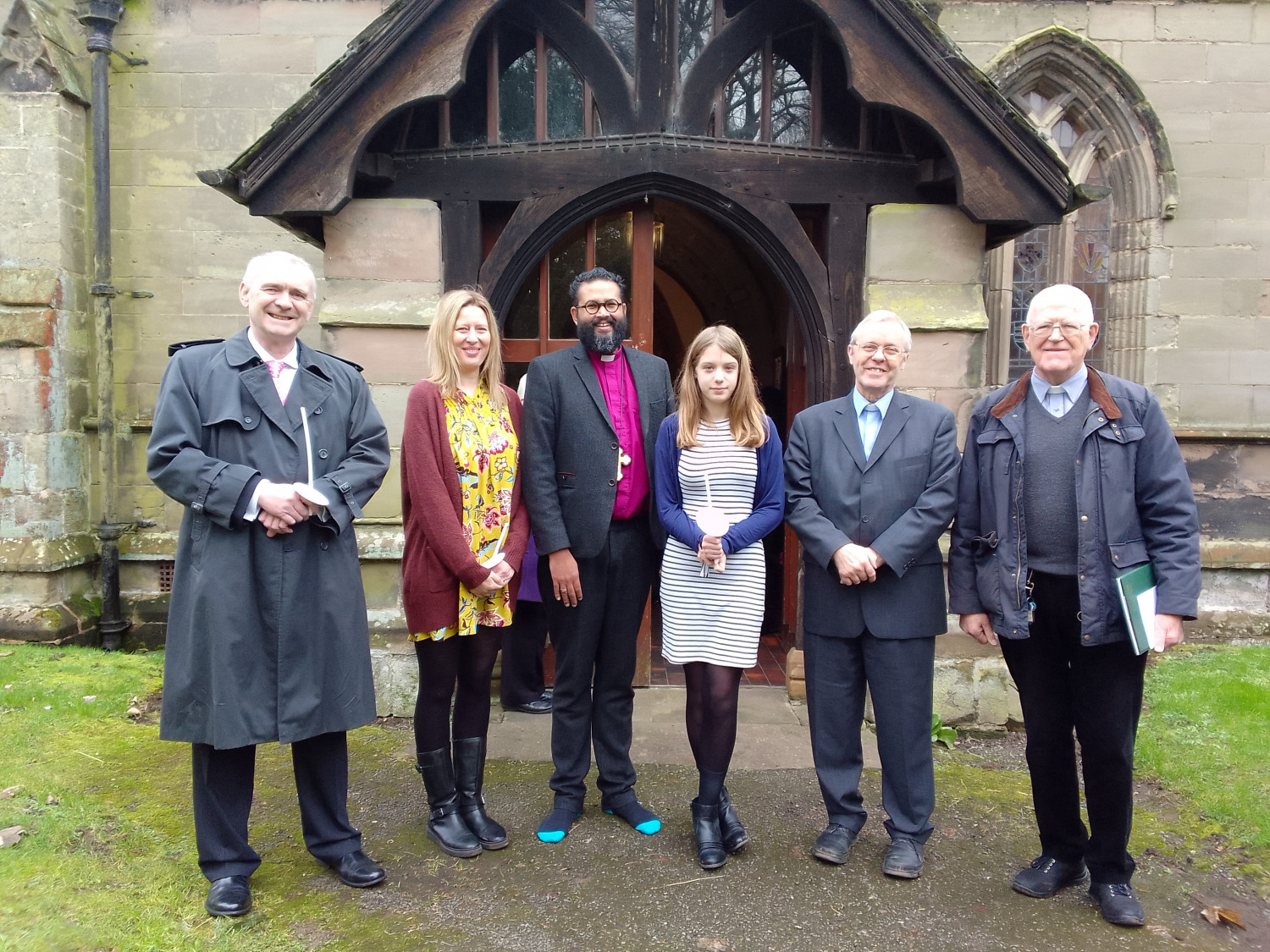 The year has kicked off with three services of confirmation across the diocese.
Andrea, Ellie and Brett were all confirmed by Bishop Saju at a service at St Deny's, Ibstock.
You can read their testimonies below:
Andrea: I was introduced to God/the Church at an early age. I continued to be a regular church-goer until my late teens. Unfortunately, at this time I stopped attending church but maintained my faith and belief in God.
After a number of years battling with my mental health and trying for a baby, my husband and I moved to Abu Dhabi. While we were there, we started on an IVF journey and during this time, perhaps due to being around other strong faiths and more religious people, I turned to the church for support and guidance, and began to attend Christian services again. This provided me with great comfort, and I would often talk and pray more to God which enhanced my relationship with Him.
When I returned to England with my daughter, I started to attend St Denys church for family services with Lily and the other members of my family. It was during these services that I considered taking the next step and proceeding to my confirmation.
Ellie: I have wanted to be confirmed for a long time as God and Jesus are with us always. Mum has always taken me to the Communion services since I was little. It is nice to get a blessing at the Communion Service at the rail, but now that I'm getting older, I think it's important that I can take the bread and wine for the body and blood for the actual Communion Service as I am growing up and this is an important part of the Church. God is with me every day as I speak to Him and He gives me courage. I am not nervous about the Confirmation Service as I am really looking forward to it, and I have my new friend Andrea as we have gone through all of the lessons together and we will be at each other's side on the day.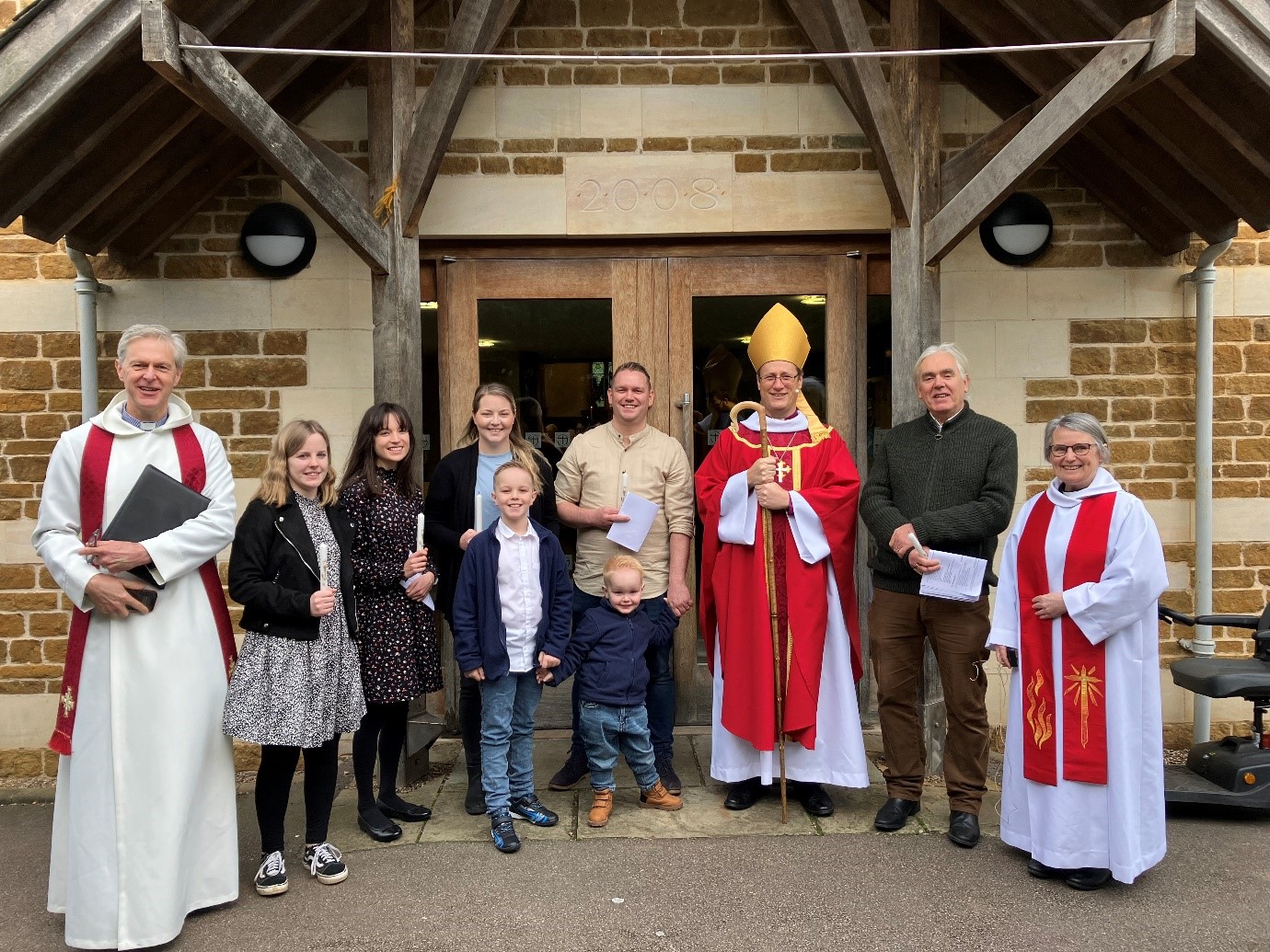 Bishop Martyn visited the Parish of the Transfiguration on Sunday for a baptism and 5 confirmations.
The congregations described the event as a landmark occasion because of the different routes to confirmation for the candidates.
Four generations of one St Hugh family came along to support Niamh, who has been encouraged in her faith journey through being a godparent and Messy Church.
Lottie was baptised as a toddler at St Nicholas and has continued with her family to worship in the church's 10am Communion service.
Mark is a valued member of the St Hugh community, involved with the re-ordering project, eco church and the development of the church garden, and this was just the right time for him to say 'yes' to God.
SNUGS, and more recently Early Church, have played a big part in Amy and Dave's journey to faith.
Their testimonies are below:
Amy: I want to say 'yes' because my faith faded over the last 2 decades when my family suffered multiple bereavements. Since rediscovering the church community I've been able to explore my faith, whilst being able to question my beliefs and understanding. This has reaffirmed my initial relationship with God and given me the tools to build a new understanding and gratitude which I fully accept and open myself to.
Dave: I have struggled to accept God into my life. Since being part of 'Early Church' I've realised that my faith journey isn't a clean cut "I believe, or I don't believe", there's more to it than that. I see that the faith I hold now is far greater than I ever have had, and I want to be confirmed so that I can continue to grow in my faith and accept God into my life.
Lottie: My faith journey started when I was baptised aged 1. My parents welcomed me into the Christian family and my journey began. I have been going to church all my life and over the past few years I've learnt a lot about my faith, and I have decided to continue being a Christian and say yes to God. The reason why I chose this is because I believe that no matter what happens in life, God will protect me, God will heal me and even when it seems like the whole universe is against me, God will love me, and will continue to guide me on this journey. God will also forgive me and take my sin and feelings of regret away. I see sin and regret as a coat, and that if we continue to wear the coat, those feelings will stay with us. And sometimes we will zip up the coat and put the hood over our heads and almost hide ourselves from God, but if we unzip the coat, put the hood down, and take the coat off, we will be free from sin and regret, and be able to open our hearts to God. Even when I am not sure where to go, or which path to walk, God will lead me, just like he did with the shepherds and the wise men on the day of Jesus' birth, and for so many other people. I know that one day I will die, but the thought of death doesn't scare me as much as it does for other people, it makes me think that I have come to the end of the path and then God will bring me into the Kingdom of Heaven. And as I continue the path that I have walked, I know that God will never stop loving and I will never stop believing as He has shone light in the darkest times and lifted me up even when I'm at my lowest. This is my faith journey and that is why I chose to say 'yes' to God.

Mark: I started to come to Church on a regular basis with my Mum, who wanted to be part of a community and to make a connection with God in her later life. It was for her benefit, but then it became for my benefit as well. Do I believe? Yes I too do now, and feel the time has arrived to make a stronger commitment, take a deeper dive and say 'yes' to God.
Niamh: I got Baptised when I was a baby. I went to Church when I was younger and as I grew older other commitments came my way – e.g. work. However, now I have William, my nephew, I take him to Messy Church when I can. I also attend other services e.g. Christmas. I am also Godmother to Isla and William, my niece and nephew, which I take very seriously.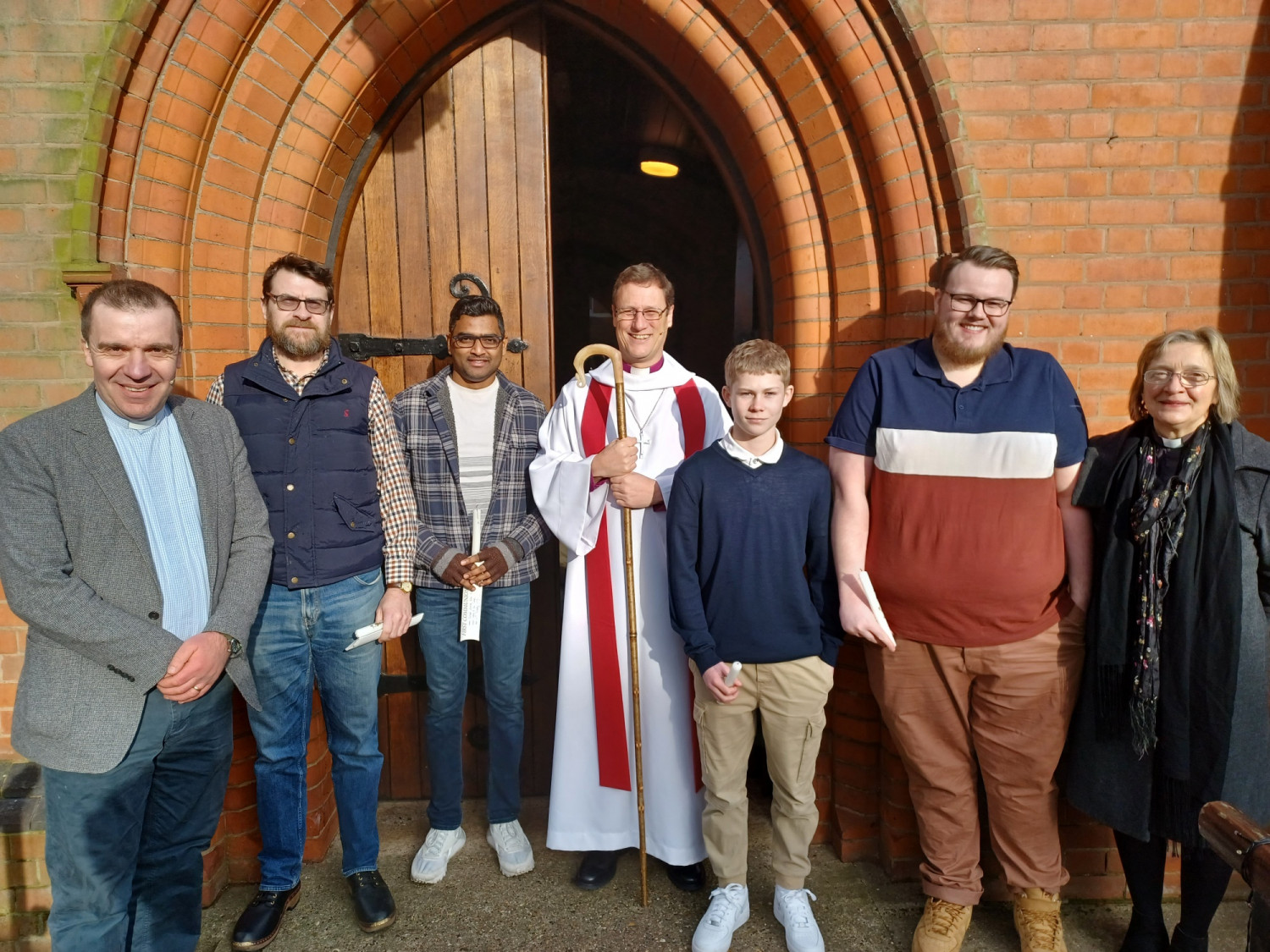 During a service at the The Church of the Martyrs, Leicester, candidates Noah and Oliver from St Andrew's, Aylestone, and Michael and Andrew from the Martyrs were confirmed by Bishop Martyn in a service full of joy and celebration.
You can read Andrew and Michael's testimonies below:
Michael: I was born and brought up in a traditional Christian family where my parents were active in the Church (CSI). Growing up I adopted a Christian way of living by watching my parents and during my holidays I accompanied my maternal uncle who is an ordained minister at a church. I observed his parish ministry and often took the opportunity to serve in the parish through home visits and rural ministry. My favourite season has always been Christmas: enjoying carol singing, visiting houses, decorating church & participating in nativity acts. As a result, I started involving in the church more actively, especially in youth ministry. During that time, I started asking questions about my faith while I was contemplating the injustice happening around me. There was a moment when I felt there is no God. In the year 2005, after a series of various events, my quest continued and, one day I was invited to a youth camp, those teaching were helpful for me to realize how much Jesus loves me & how I can receive God's forgiveness by faith & His grace. It was then, that I accepted Jesus as my Lord & Saviour, then onwards I have seen God's purpose so clearly. He is the Beginning and the End. He loves me unconditionally and gave me purpose and value in my life. I can't be good and find meaning without Jesus. He set me free from my sins and made me worthy, and He has given me the opportunity to become His heir and serve Him.
Andrew: I was brought by up in a Christian family. However, in my teenage years, I couldn't reconcile my education in science with the Christian faith. In my twenties I had discussions with my father about his faith, particularly what made him believe. He told me about a time when he was gripped by self- doubt and fear. He prayed to God to give him strength, and he described how he felt as the fear simply fell away and he was able to do what he thought impossible.
From that point I accepted God may exist even if all modern teaching suggests not. Far too quickly after this discovery I lost both my parents. My father developed Alzheimer's during which he lost his amazing mind and he told me, sobbing, that his faith had left him. I went to his church and asked if the vicar would visit him. What followed made me dislike and distrust the church.
For the next decade I was blessed with a loving wife and our son Jack. I tried to live my life as my parents did, being honest and caring for others. Then tragedy struck again when my wife was diagnosed with MND. In the darkest of times, it was my faith in God's judgment that pulled me through. So when my new partner Pippa told me she would like to start going back to her church again, I said I would join her.
After years of wanting to believe in the God my father had found, coming to this church has changed everything. From my first visit Bertin's faith shone so brightly I have no doubts in following it. The questions that troubled me no longer have any sway. This is why I know now I am ready to confirm my vows.