Bishop Saju travelled the western breadth of the diocese from Barwell to Beaumont Leys on Sunday as he received, baptised, and confirmed candidates from a number of churches and the cathedral.
The morning began at St Mary's Church in Barwell, where Heather, Abeaku, Gail and Jennifer professed their faith, alongside Catherine and Lynda from St Peter's Church in Market Bosworth.
Later that afternoon, the Bishop of Loughborough joined congregations at Christ the King in Beaumont Leys for a celebratory service of baptism and confirmation as part of their patronal festival, whilst also welcoming the touring Leicester Cathedral Together community.
Bishop Saju presided over and prayed for those being baptised and confirmed, who were Luke, Precious, Olivia and Anthony from St Martins Cathedral, Melissa and Camille from St Luke's Stocking Farm and Christ the King, and Dorothy from the Church of the Resurrection - who was presented by Christ the King's former minister, Revd Steve Delaforce.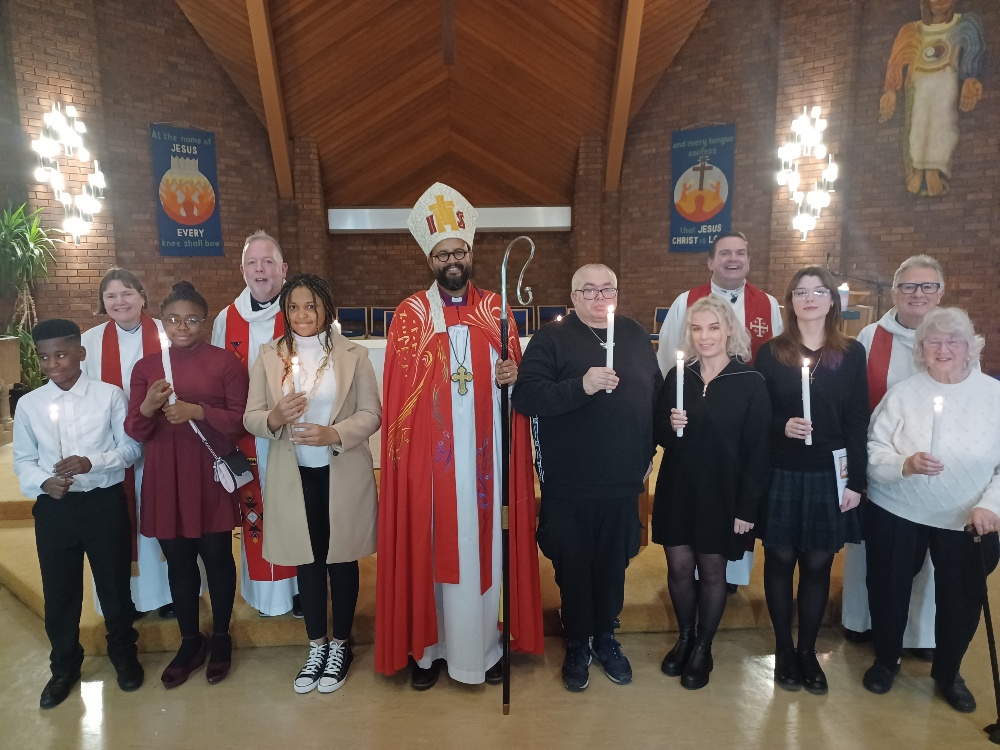 There were also milestones and memories to mark, with a long service award presented to Malcolm Cowell, who has been a server at the church for 50 years, and the attendance of Fr Terrence Bryon, the first vicar (and curate) of Christ the King whose vision helped build the church during his years of 1976 to 1986.
The current vicar, Revd Rob Hinsley, also publicly thanked Dean of Leicester David Monteith for all his support of the parish during its vacancy over the Covid period.