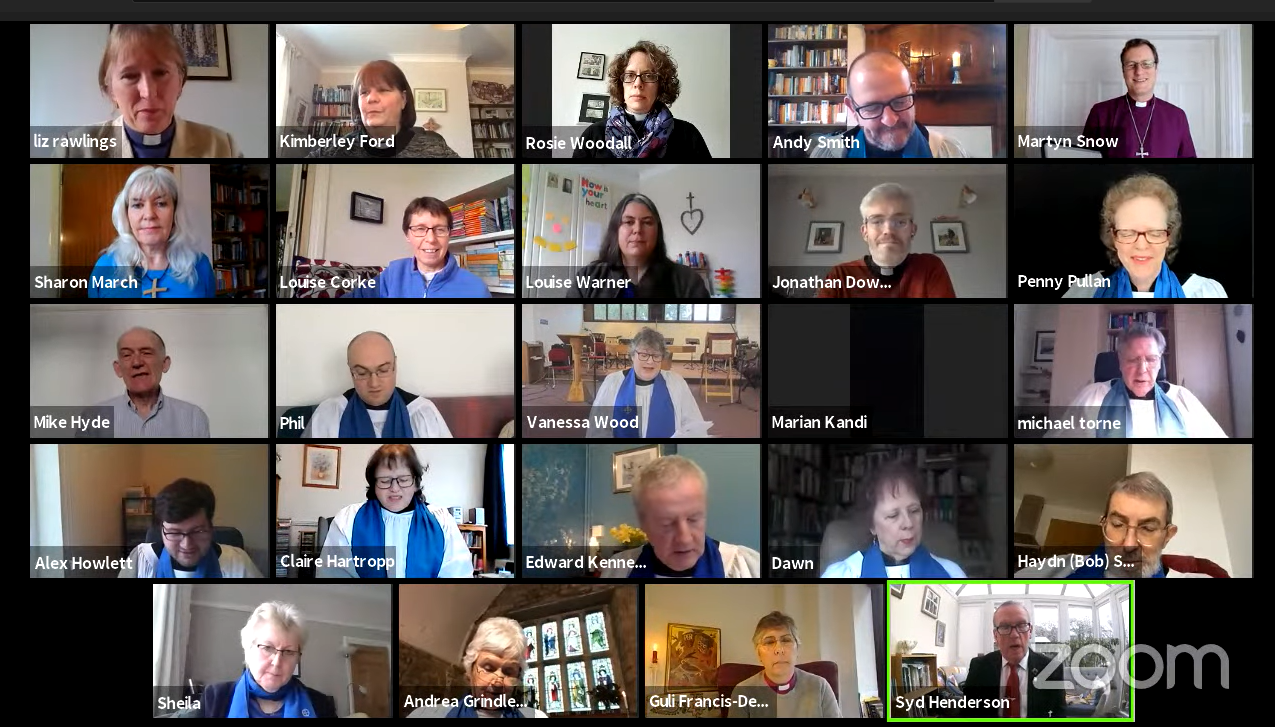 On Saturday 23 January our annual Called Together Service took place on Zoom. This service should have taken place in October 2020 but was delayed due to the pandemic. Every year this service celebrates the incredible variety and contribution of lay ministers to the Diocese of Leicester. It also gives us the opportunity to pray for the new ministers and encourages us all to consider our own gifts and calling.
Seven new Readers and one new Pastoral Assistant were licensed by Bishop Martyn as part of the service. Alongside them, five Readers and one Evangelist were relicensed to new parishes. You can read the biographies of all of those licensed below.
Marian Kandi - Originally from Zimbabwe, the daughter of an Anglican priest. She is married to Laban and they have 3 sons and 3 granddaughters. Her work is providing support services for older people. Marian gives all glory to God as she begins her new journey to participate in The Great Commission as a Pastoral Assistant at Leicester Cathedral.
Michael Torne – has retired and have returned to U.K. after living in France where he was licensed by the Diocese of Europe and has now been re- licensed as Reader to Shepshed and Charnwood.
Sheila Roberts - A retired teacher, married to David with one daughter and two grandchildren. For 18 years she has been a Reader at St. John the Baptist, Clarendon Park Leicester. Two years ago Sheila felt a calling to become Sacristan at St. James the Greater, Leicester, during which time she also had the privilege of preaching and leading services there so is transferring her license as Reader to St. James.
Vanessa Wood - Previously worked at the local infant school, supporting children with speech and language needs and behaviour issues. She is married to Colin and they have two grown up children. Her passion is to share the love and joy of Jesus, through whatever means available, and to be a bridge between the community and the church. Vanessa has been licensed as a Reader to All Saints, Thorpe Acre.
Syd Henderson- A Church Army Evangelist who is being licenced to St John's Hinckley to serve as Police Chaplain in the Hinckley area and to assist the parish in mission particularly in their Canal Connections outreach ministry.
Philip Harper - a secondary school teacher who first began to discern a call to explain the Word of God in his student days. Married to Ros, who is a Curate, they have a daughter Flora. Philip finds strength in Ignatian Spirituality and seeks God in those off the edges of society. He is being licensed as a Reader in Burbage with Aston Flamville.
Penny Pullan – Runs a consultancy for virtual leadership, and write books. She is married to Malcolm who is shielding in New Zealand. Their children are both students. Penny feels called to preach and teach and is exploring doing even more theology having loved Reader training! She will be licensed as a Reader to All Saints with Holy Trinity in Loughborough.
Alex Howlett – Licensed as a Reader to Emmanuel, Loughborough, Alex is currently training to be a physics teacher. He is recently married to his wife Lisa since March 2020. His passion is for students and young adults and to see them grow in their faith in Jesus Christ."
Andrea Grindley - to be licensed as a Reader to St John the Baptist in Billesdon, part of the Coplow Benifice. In a previous life she worked as a consultant occupational therapist and spent 32 years being a magistrate in Leicester. She is married to William, with 2 married daughters and 3 grandchildren. For fun she used to fly aeroplanes and still makes period dolls houses. She wants to share the comfort and joy that understanding and faith in Jesus brings to her life.
Dawn Daley – has transferred her Reader license to Quorn where she is assisting her church's family worker Wendy Walker to produce the weekly online children's Worship Workshop and a monthly online family service, with a view to taking over some of her role when she leaves later this year.
Ed Kennedy - A retired Local Government Officer, widowed with two grown-up sons – Joe and Dom. He was brought up in faith as a first generation Irish Roman Catholic, lapsed, then reignited by the welcome of church. His ministry is rooted in inclusive community and volunteer chaplaincy for LOROS hospice. Ed has been licensed to All Saints, Long Whatton.
Claire Hartropp - Is delighted to be joining Leicester Diocese since originally being licensed in Oxford Diocese in 2009. She is joining the churches of St Denys, Ibstock, and St John the Baptist, Heather, where her husband Andrew is incumbent, and will be ministering within those areas.
Bob Smith – A Reader who is transferring his licensed to All Saints in Loughborough and is really looking forward to being as much a part of the Ministry Team as needed. At the moment he leads Morning Prayer live on Facebook every Monday morning.
Mike Hyde - After a career in the logistics and distribution industry and having recently retired Mike wants to serve the local church and community in he and his wife have lived for 31 years by sharing the gospel, encouraging people in their walk of faith and providing pastoral care. Mike has been licensed as a Reader in the Barrow and Wolds Group to serve primarily in Wymeswold.
You can watch the service on the diocesan YouTube Channel here.
If you would like to explore more about your calling visit the vocations webpage here.