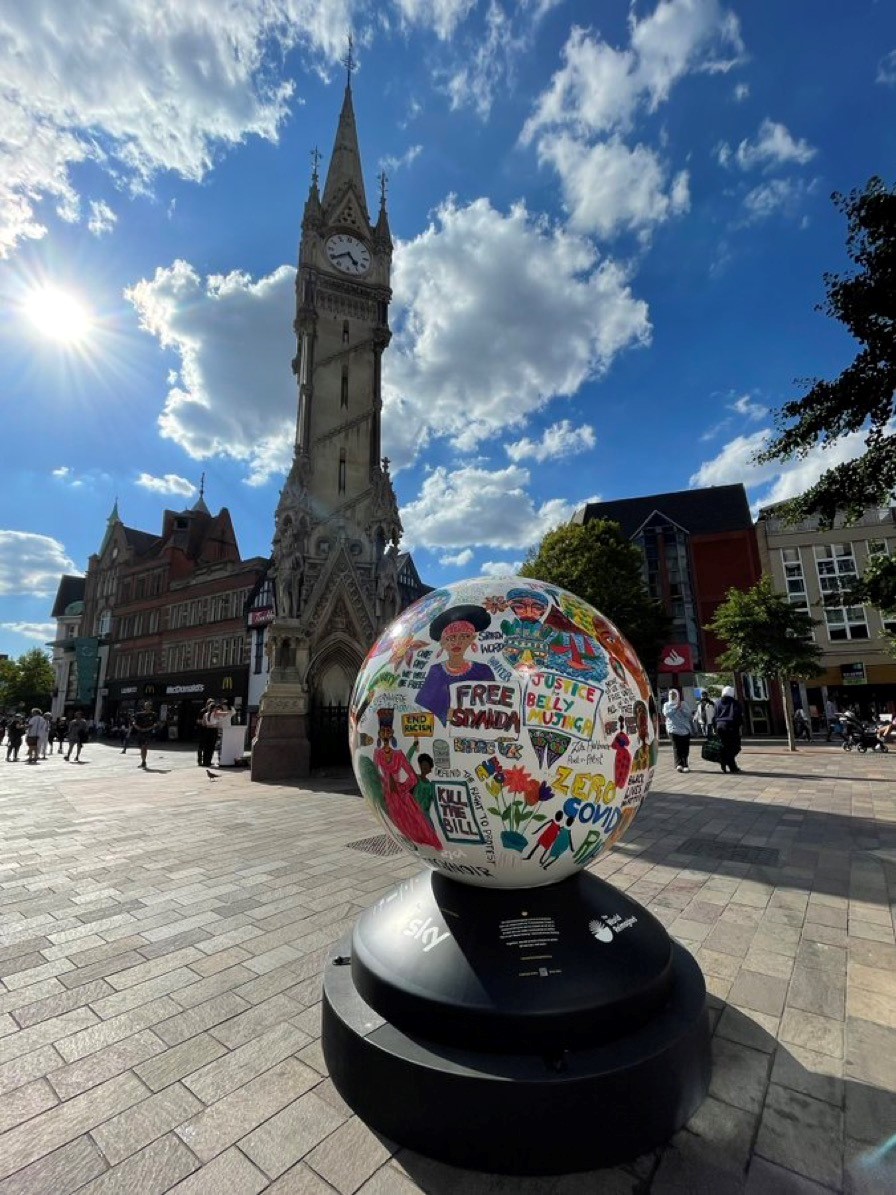 If you've been out and about in Leicester lately, at its landmarks and outside its museums and educational facilities, you may have noticed a series of brightly coloured globes.
The 3D works of art are part of a project called The World Reimagined and are set as a trail around the city comprising 10 spherical sculptures, designed to explore racial justice, history, Britishness and the transatlantic slave trade.
With themes such as 'Mother Africa' and 'The Reality of Being Enslaved', the fibreglass globes are installed at locations including Leicester train station, the Clock Tower, the Highfields Centre and Victoria Park, helping to highlight the reality and impact of the transatlantic slave trade on enslaved Africans.
As disciples, and as a diocese, celebrating diversity and upholding racial justice and equity, is a significant priority. Perhaps it's something already on your heart, or maybe you want to understand more? Either way, taking this trail is an opportunity to learn and use each globe as a place to pause, and pray.
Assistant city mayor Cllr Sue Hunter, who leads on work to tackle racism and disadvantage, said: "This national project will help improve our understanding of a dark period of history that is perhaps not talked about enough – and by learning about the mistakes of the past, we can ensure they aren't repeated in the future.
"Today, Leicester's diversity is its strength and I hope that this stunning trail of artworks will inspire us to come together and imagine a future where everyone is treated with dignity – and where equality, diversity and racial justice are universally cherished."
Leicester-based artist, Jarvis Brookfield, whose globe 'From Roots to Fruit' is in Town Hall Square, said: "As someone who is bi-racial, this project gave me an opportunity to be part of a collective effort to turn the atrocities inflicted by our extended family on our ancestors into something beautiful.
"I hope my work will offer people an opportunity to reflect on the things that unite us, as opposed to what divides us, and I hope that all 10 globes will serve as a source of inspiration and learning for all the people who will be interacting with these works on the streets of Leicester."
Jessie Tang, Intercultural Ministry Director for the Diocese of Leicester, said: "For better or for worse, we are the product of our pasts, and must not shy away from history.
"I'd like to encourage us to take this opportunity to use the trail as a prayer walk – interceding on behalf of the themes highlighted in the art and for our diocese.
"Do take some time at each globe to pause for reflection and repentance where appropriate."

O Lord,
as we embark on this journey,
open our eyes to see you in the faces of those who you have created.
Make us aware of where we have fallen short of lovingly representing you,
and lead us to listen to others who are different to ourselves.
Amen.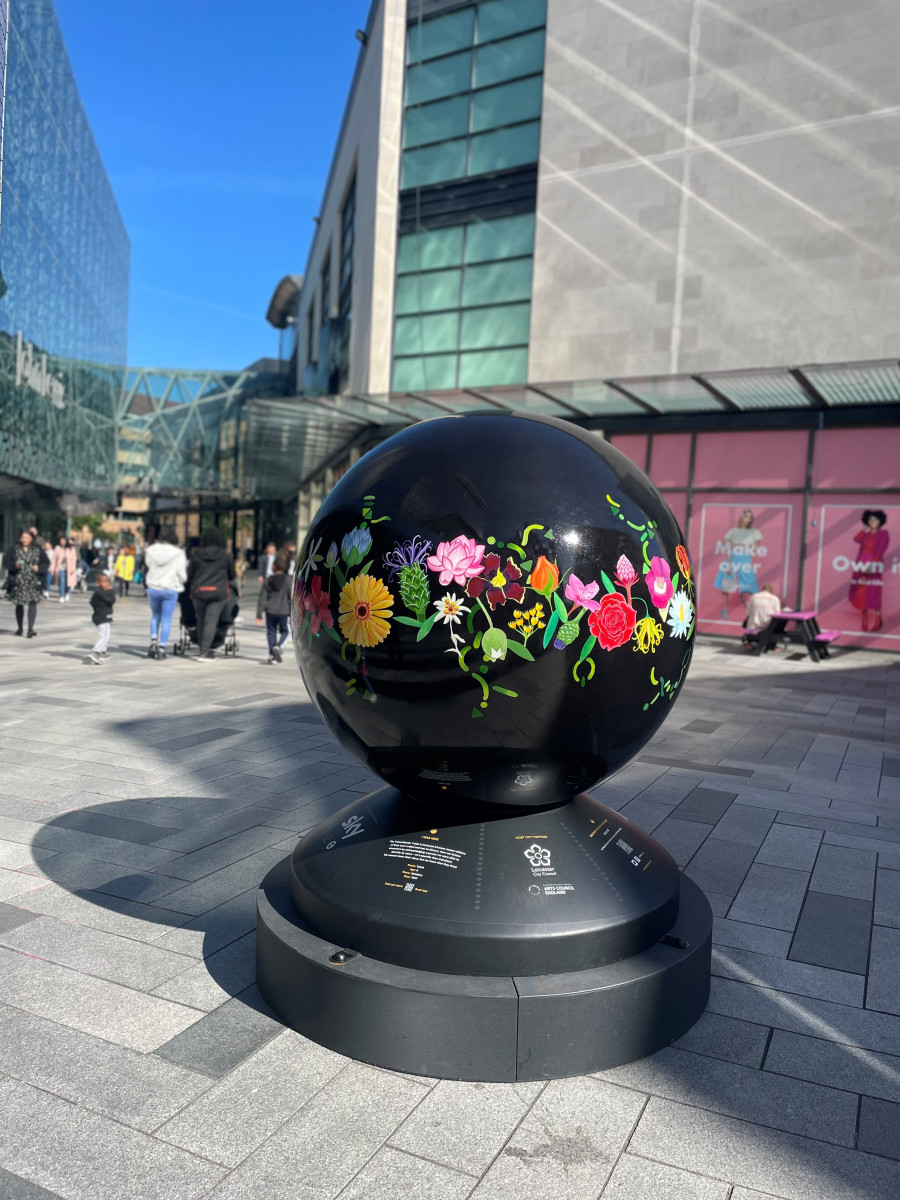 The 10 globes, their artist, theme, and location, are as follows...
Natasha Muluswela: Leicester Community Globe – Victoria Park
Laura-Kate Pontefract: Mother Africa – Leicester Museum & Art Gallery (moving to Leicester train station next week)
Roy Meats: The Reality of Being Enslaved – Leicester Museum & Art Gallery
Lou Boyce: Stolen Legacy: The Rebirth of a Nation – outside Medway School
Marcus Dove: Abolition & Emancipation – Highfields Centre
Richard Rawlins: A Complex Triangle – Orton Square
Zita Holbourne: Echoes in the Present – The Clock Tower
The Mighty Creatives: Still We Rise – St Peter's Square, Highcross
Lakwena Maciver: Expanding Soul – Stephen Lawrence Research Centre, DMU
Jarvis Brookfield: Reimagine The Future: From Roots to Fruit – Town Hall Square
A QR code at each site links to a map showing the locations of all 10 globes.
The globes will be in place until October 31. For more info, see The World Reimagined
In addition, and as part of Black History month (which runs throughout October), Global Voices – an event series put on by the diocese and Cathedral - will be screening After the Flood, a documentary made by the Movement for Justice and Reconciliation. The featurette explores how the 18th century Church became embroiled in chattel slavery, how it justified this involvement and the lasting impact it has had. It aims to be educational and redemptive, addressing the historical neglect of slavery in British Christian History, and looking at biblical principles for racial reconciliation in our churches today.
Bishop Martyn, who watched this film at the Lambeth Conference, said: "It is powerful and honest in its portrayal both of the past and present. I highly recommend it."
Following the screening, there with be a question and response panel, hosted by Jessie, and including panellists Revd Les Isaac, Louise Isaac, Dr Elizabeth Henry and Bishop Saju Muthalaly.
Jessie added: "We will be exploring such themes of the British church, slavery, and racial reconciliation through watching the 'After the Flood' documentary and Q&A panel discussion with special guests.
"As a diocese, we are growing in upholding racial justice and equity, so knowledge of our history and its repercussions is important."
The event takes place at St Martins House, Leicester, at 7pm on October 12.
Booking is essential (although tickets are still free!) and can be done on Eventbrite here.