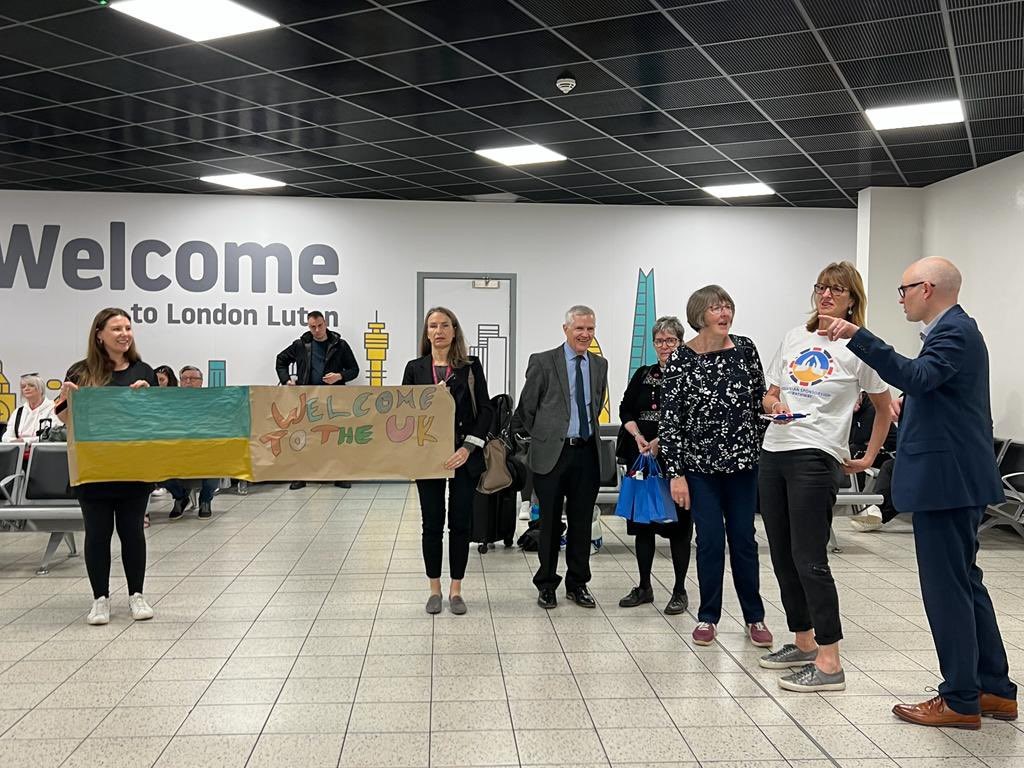 Christians from around the diocese have been engaging with the Ukrainian crisis in a number of ways. We've heard about churches sending items to Ukraine via a range of different charities and groups, church members travelling to neighbouring countries to aid with distribution of food and supplies to refugees fleeing Ukraine or goods being transported into the country, and even one clergyperson who has travelled into Ukraine itself.
There are a number of families from churches within the diocese hosting Ukrainian families in their homes. The diocese is partnering with Citizens UK to welcome Ukrainian guests across the diocese. The Diocese of Leicester is one of a number of strategic partners working with Citizens UK whose Communities for Ukraine programme is a collaboration between two charities, Citizens UK and Ukrainian Sponsorship Pathway UK (USPUK). The scheme has been awarded 'Recognised Provider' status by the UK Government to match refugees with host sponsors under the Homes for Ukraine scheme. The programme provides an 'end-to-end' supported process for Ukrainians and gives dignity and agency to refugees from the time they consider coming to the UK, through to their arrival and resettlement in a new home. This is made possible by the crucial role of strategic partner organisations who each commit to find hosts for 50 refugees in their network.
All our hosts are registered on the government Homes for Ukraine scheme. Attention has been paid to ensuring that training and processes for hosts are robust, and there has been close cooperation with our Diocesan Safeguarding Team. Each host has the support of a local Welcome Team to support providing a wide welcome and network of relationships from people with a range of expertise and experience. The hosts and welcome teams have participated in a variety of training including safeguarding, 'what to expect in the first few weeks' and 'how to support people who have experienced trauma'. They have met online with others who have already hosted, and meet regularly on zoom to share experiences and learn together.
Our first cohort comprises 12 hosts and 8 hosts have now been matched (following an online meeting, sometimes with a translator) and their guests are in the Visa process. Two more have online meetings this week with potential matches . The first arrivals have landed and more will come over the next couple of weeks.
Canon Karen Rooms, who, along with Anna Bland a member of the Community of the Tree of Life, has been heavily involved in the project reports that "We have been very well supported by Citizens UK and there have been beautiful moments of connection between some of the hosts and their guests. Our hosts have expressed how reassured and supported they feel by the training and processes we have used, and also appreciation for the matching opportunities, given the slowness of the government scheme inside which all of this work is being done."
If you would like to consider hosting, or think this is something you could do as a parish, please get in touch with karen.rooms@leicestercofe.org or anna.bland@leicestercofe.org to find out more.