While many people take a holiday to relax, be self-indulgent and do as little as possible, Kathryn Lewis is beginning her break in the Isle of Wight this summer with an epic walk to raise money for 'Passion' - a Christian community hub in Shepshed that supports young people.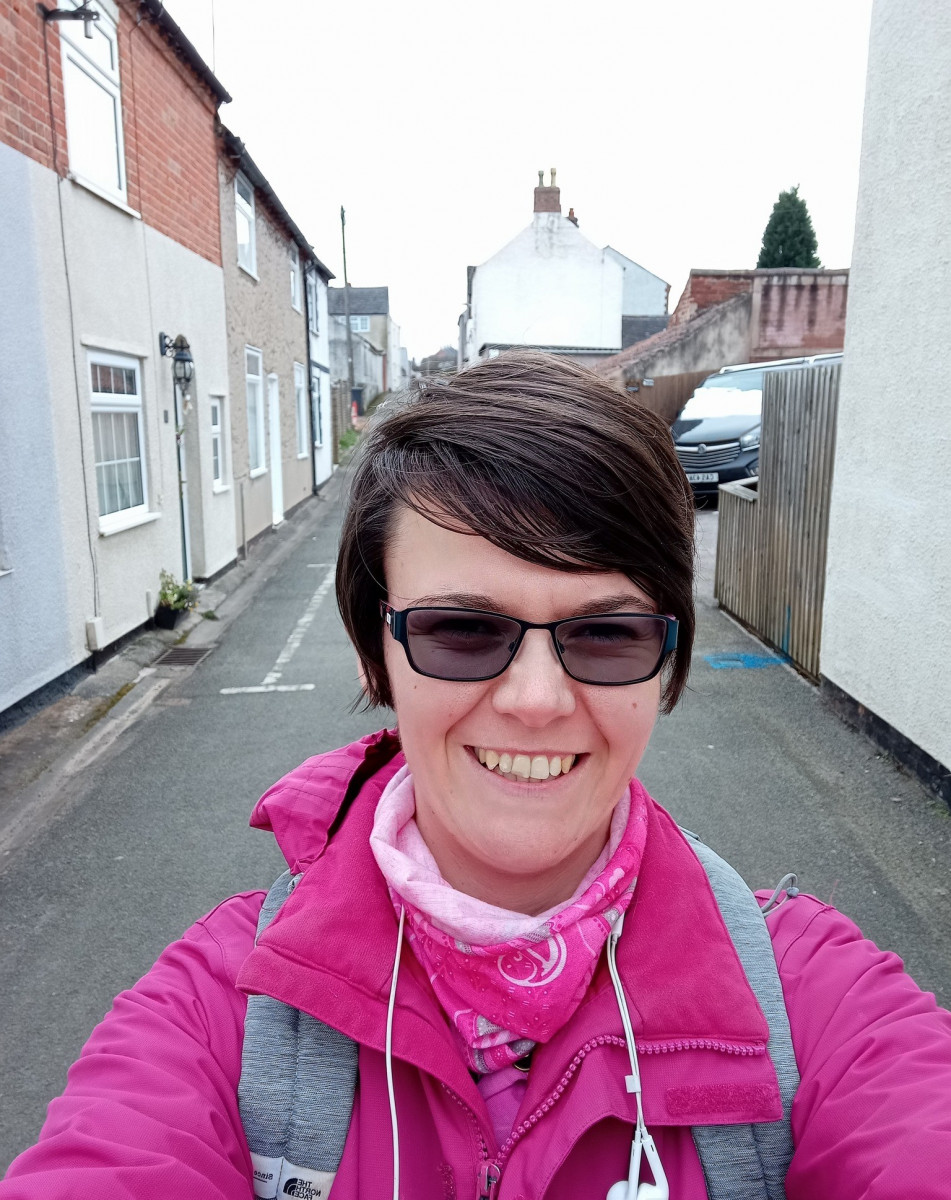 Kathryn has set herself the challenge of walking 30 miles of coastal path from Cowes to Brighstone in just one day and will be striding more than 100 miles in total as she builds up to the island walk in July.
She says: "My reason for this challenge is to raise awareness within my community, and beyond, about the fantastic work that Passion does with young people and the service it provides to the community.
"I hope the walk will raise money to assist their work and the continued investment into young people's lives."
Passion was created by Churches Together in Shepshed and has been responding to the needs of young people in its community since 2009. It's a hub where anyone aged 11-18 can drop in during the week to relax or receive support with their homework, exam revision or help towards preparing for an interview at college.
Passion also opens its doors to the community for a warm hub on a Thursday, which operates with the support of young people completing an alternative educational placement and working towards an NVQ qualification.
On Saturdays and Sundays, it's a community café run by the young people, as they learn about how a business operates and showcase their skills and talents.
After visiting the café over many weekends with her family, Kathryn noticed how hard working and polite the young people were, and was inspired to volunteer, offering to wash dishes a couple of weekends each month.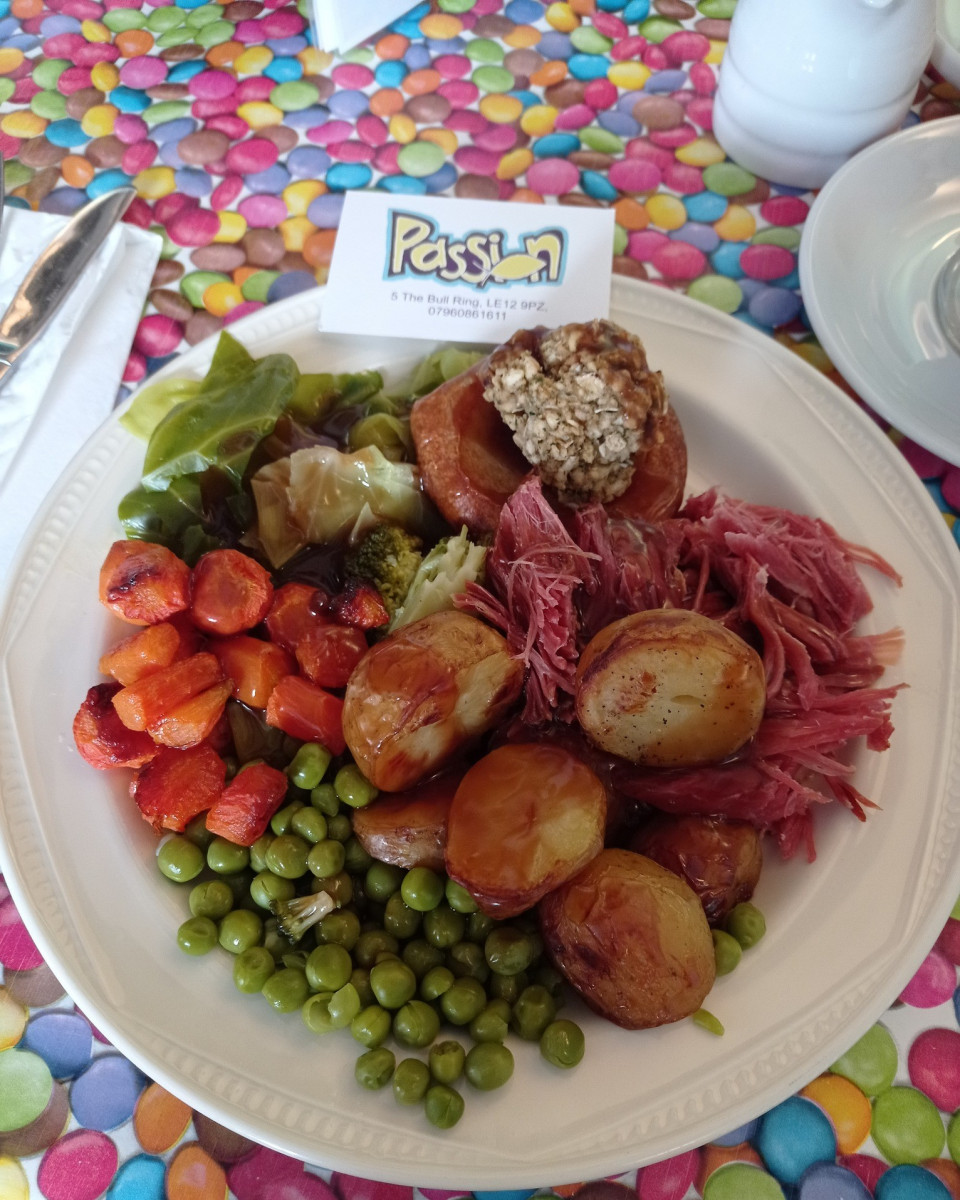 The café is extremely busy on Sunday, and the young people do an incredible job of meeting the demands and fast-paced environment, explains Kathryn. "Whilst washing the dishes, I have been able to interact more with the young people and get to know them on a personal level," she says. "It's an absolute privilege to hear about the young people's week, their interests and what they look forward to when school breaks up in the summer."
Kathryn is currently in the diocesan discernment process for ordained ministry and loves interacting and being around people. An important part of Passion is being a role model in young people's lives and providing them with opportunities to reach for their dreams and showcase their gifts and talents.
She says: "It's important to me to give something back to the community in which I live and investing a few hours over the course of the month offers additional support to Passion, and I look forward to washing the dishes so I can catch up with the young people."
Kathryn is admittedly going a little out of her comfort zone to complete the challenge, but is committed to training, and the prospect of a few blisters. "When I was researching the length of the island, I discovered that the distance was too far for my fitness abilities, so I decided upon the challenge of 30 miles in 24 hours," she explains. "My training has consisted of regular spin sessions, a 10-mile walk in March and a further 15 miles last week. The plan now is to increase the miles per walk to build up to the target of 30 miles, and closer to the time I'll need to refresh my map reading skills!"
Kathryn aims to start walking at 7am and will (hopefully) be finished around 8pm. Her partner and five-year-old twin daughters will be walking the first mile alongside her and will meet her at the halfway point, "hopefully with a sweet treat for energy and to make sure I'm not lost!" she says.
And it will all be worth it – not just for the beautiful Isle of Wight views, but knowing God is at the heart of both her walk, and the work of Passion.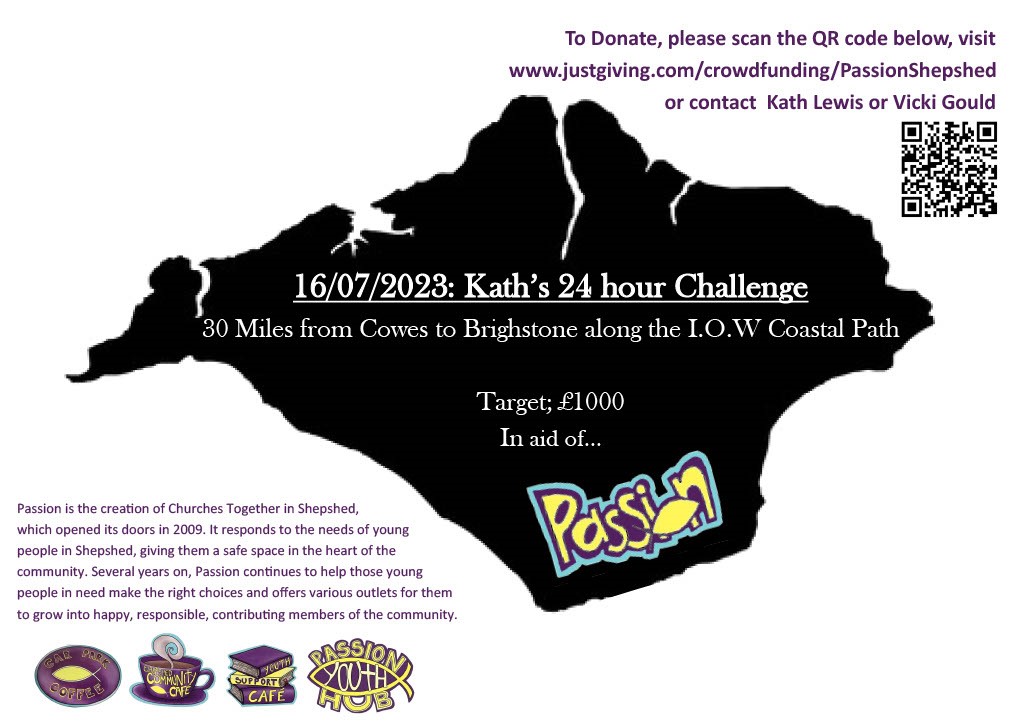 "For me, God's presence is seen in the heart of this community with the flourishing of young people and how their confidence is growing as they learn new skills," says Kathryn. "God is made known through the kindness of local businesses that supply local products for the café and the kindness of individuals who have donated items needed for the café. There are many people who work behind the scenes, and those who are a visible presence, and God is certainly at work in these people's hearts and minds."
If you would like to sponsor Kathryn's walk, visit: www.justgiving.com/crowdfunding/PassionShepshed
For more information about Passion, see: Home | Passion (passion-shepshed.co.uk)