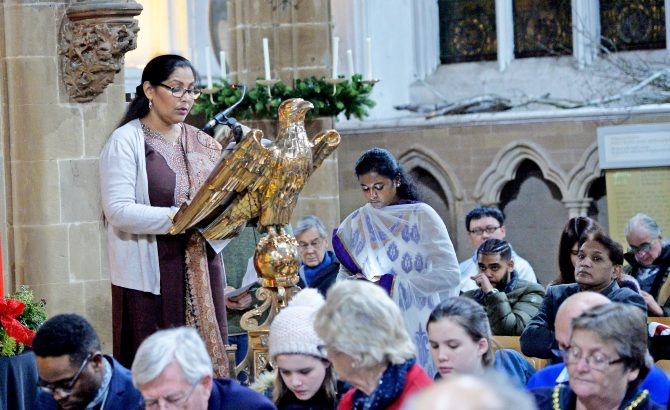 The Church of England has awarded a major national Strategic Development Fund (SDF) grant of £1.54m to help the Diocese of Leicester better serve people from our diverse communities over the next five years.
Our plans include creating six new Intercultural Worshipping Communities (IWC), with the aim of enabling more participation and leadership in church life by black, Asian and minority ethnic (BAME) worshippers.
The scheme is among projects across the country being supported by more than £12m Strategic Development Funding, a key part of the Church of England's drive to re-imagine church ministry. See more by clicking here: Renewal and Reform.
The project aims to encourage more BAME heritage Christians to get involved and lead in a range of areas in Anglican parish and diocesan life, including lay leadership and ordained ministry.
Working with some of our existing churches, and new church plants, we hope to welcome up to 900 people of BAME heritage to be active worship8pers who are encouraged to explore opportunities in their local Church of England church by 2024.
An IWC is a church community where people from different cultural and ethnic heritage deliberately interact with one another in order to deepen their understanding and experience of God and of each other. They learn and grow together to build communities which are transformed, shaped, and moulded from each other's experiences.
Speaking about all the SDF projects, the Archbishop of Canterbury, Justin Welby, said: "These projects are moving the heart of our mission to where it should be, recognising Jesus beyond the borders of the institutional church. The Good News of Jesus Christ cannot be contained within existing worshipping communities. We want everyone to know how much they are loved by God."
You can read more about our work supporting BAME Christians in the Church of England in our diocese: by clicking this link.
Photo credit: Adam Shaw.
The Diocese of Leicester's BAME Mission and Ministry Enabler, Lusa Nsenga-Ngoy, said:
"Imagine a family living in Leicester. Mum from one part of the world and dad from another. They have children identifying with multiple cultural heritages.
"In this household a variety of languages are used daily and interchangeably. Sounds and smells at meal times feel like a journey around the world, and hospitality from different cultures naturally co-exists. In this family, the starting assumption is that of equality of purpose, valuing each other, their ages, their cultures, and integrating these into daily life.
"Multiply this many times, and you begin to see the heart of this project. The Diocese of Leicester wants to create such a church community: 'All one in Christ Jesus, Belonging to Christ'.
Bishop of Leicester, Martyn Snow, said:
"This is a priority for me and the whole diocese and it is exciting to see the national Church getting behind what we want to do here.
"From its inception in 1926, the Diocese of Leicester has witnessed a radical transformation to the context in which it is called to minister the gospel. Today it is serving a cosmopolitan population with people from diverse geographic, cultural, religious, and ethnic backgrounds.
"Alongside what we are learning from our Rural Commission work, building upon our fresh expressions of Church projects and aligning aspects of this strategy to our Resourcing Churches strategy, we have embarked upon a long term project that has the potential to fundamentally transform our ability for mission and ministry."
One church worshipper, interviewed as part of the research for the SDF bid, said:
"I had never expected the BAME programme to be relevant to what I thought was my mostly white parish but having engaged with it I realised that there were many ways in which I could build bridges within my local parish."
Vicar of Church of the Martyrs in Leicester, Bertin Hermo, said:
"I believe Intercultural Worshipping Communities, when invested into with intentionality, humility and much prayer, will create a space which will enable more people of diverse backgrounds to thrive and to exercise their God-given gifts in the life of the church.
"I believe what needs to be changed in many of our existing church communities is an increasing self-awareness to recognise where and when we are not being as inclusive as we think we are, and then to initiate changes in the way we 'do church'."
Bishop of Loughborough, Guli Francis-Dehqani, said:
"One important element of my role as Bishop of Loughborough is to encourage Christians from BAME backgrounds in all areas of church life as we strive to better reflect the diverse communities around us.
"So I'm very excited about the opportunity to develop IWCs. My own experience and background give me some understanding of the issues that arise out of bringing different cultures together. We need to be positive, hopeful and willing to take risks. We must create a culture that enables people from different backgrounds to feel part of the church at every level, including in positions of leadership."
Why the project is needed and what it will involve:
Our SDF-funded research on the status of BAME mission and ministry within the diocese highlighted the following key insights which have shaped the project:
Active presence and participation of people of BAME heritage is limited within Anglican worshipping communities, and at all levels of leadership within the current governance structures of the diocese
Very few Anglican churches in the diocese consider BAME mission and ministry as a priority or have a clear understanding/experience of what specific resources and strategies are available/required
Cultural and ethnic homogeneity is the current strategy for church growth
Cultural assimilation, not integration is the leading assumption in BAME mission
Limited resources (people, time, finances) are allocated to BAME mission
Immigration and 'transfer' were the main sources of BAME growth in churches across denominations. There is low engagement with established BAME communities
BAME leadership gifts do not seem to be effectively harnessed, developed, and released in our churches
No systematic and consistent measuring and monitoring of ethnicity
Building on our research findings, we want the IWC project to:
Develop two different models of church that will be intentional in fostering cultural and ethnic integration. These models of church will be known as Intercultural Worshipping Communities (IWCs)
Build on the opportunities for effective BAME mission and ministry within the Diocese of Leicester as a whole, focussing our energy in those contexts where we have discerned significant missional energy
Effectively set a process towards a long-term diocesan culture shift in respect to ethnic and cultural integration
Key Pillars of the project:
To create a network of six Intercultural Worshipping Communities (IWCs) in key areas across the diocese with high energy for BAME mission and ministry. This network will be made of:
An inner core comprising three inherited churches and one IWC plant. These churches will receive additional capacity and resources and would typically aim to plant/graft a new IWC by year five of the funding. These will be:
All Saints with Holy Trinity, Loughborough
Church of the Martyrs, Leicester
St Paul and St Peter Team Ministry, Oadby
Mosaic Church, Leicester City Centre (an IWC church plant)
An outer core comprising two additional churches with missional energy for BAME ministry in which some capacity and resources will be invested:
Benefice of St Peter, Highfields and St Philip, Evington in Leicester city
Hope Hamilton (a 15-year-old fresh expression of Church located in a school outside Leicester)
To work with another 15 identified inherited (traditional) churches in a process of building trust to slowly transition towards a more culturally and ethnically integrated expression of Church. These churches have already demonstrated a degree of energy and vitality in BAME mission and ministry by engaging with our research and attending a discernment evening
To produce a set of resources and provide opportunities for mutual learning in order to encourage greater confidence and engagement in BAME mission and ministry for those Anglican Church communities with low/no energy for it
Exact investment will be tailored according to the context and vision of each IWC, but in broad terms the whole provision over five years, will consist of:
Five new Pioneer Minister posts to help grow discipleship capacity and vision
Three stipendiary Pioneering Curates
A centrally deployed Intercultural Worship Enabler
A Project Lead (already in place)
Six context-based ordinands
A Project Manager to add capacity and expertise in planning, execution and delivery
A full time Project Administrator (currently part time in post)
Extra support to help IWCs participate in the diocesan Mission Apprentice Scheme
In the wider context, the SDF funding will also help:
Establish a Community of Practice for IWCs to share learning across the churches at the core of the project (and a resource for the wider diocese and national Church)
Provide coaching and mentoring expertise to support IWC's and Leadership Teams
Work with one or more external partners
Provide research and measurement
Facilitate storytelling to ensure that learning can be shared with the wider Diocese
Leadership development and capacity building
Further Details on the Intercultural Worshipping Communities Project
Key Outcomes
Our key objectives for the project align to the three key questions of our diocesan strategy Shaped by God and Everyday Faith:
Number of Disciples – Everyday Witness:
A network of at least six intercultural and intergenerational worshiping communities whose mission and ministry will enable greater integration of those from the global diaspora
Up to 15 inherited churches participating in relevant areas and seeing growth in BAME presence, representation, and participation
Develop discipleship pathways offering a global perspective in engagement with faith and society. The aim will be to lead to all members of our churches to visibly deepen their discipleship and encouraging others into discipleship, especially those of BAME heritage. As a result, we would expect to see an increase in baptisms and confirmations of people of BAME heritage
By the end of 2024, we would anticipate:
Seeing close to 900 new people of BAME heritage worshiping in Anglican churches within the diocese (including at least one third aged 18-30). Of this number, we expect that almost 50% of new BAME Anglicans will come from the churches closely aligned with the objectives of the project
The remaining 50% is expected to be drawn from growth resulting in greater confidence in BAME mission and ministry engagement across the wider diocese. Through a ripple effect, we anticipate to see all churches in the Diocese of Leicester witness measurable growth of the BAME make up of their congregations
Depth of discipleship – Everyday Prayer:
Our aim is to see:
At least 50 new BAME lay leaders in licensed and authorised ministry, a leadership that truly reflects context (Reader, Pastoral Assistant, Pioneer, Evangelist, Children's/Youth Worker etc)
100 new people of BAME heritage involved in the governance structures at diocesan and parish level (Synods, Diocesan Committees, PCC, Church Wardens etc)
20 people of BAME heritage exploring vocation to ordained ministry with the hope that at least 70-75% will be recommended for training (in line with diocesan forecasts)
An increase in BAME heritage clergy applying to roles in the diocese and being appointed to incumbent roles. While an ideal outcome would be diversity in clergy numbers that would reflect the local context (currently below 3%), our long term aspiration is for the proportion of BAME clergy in incumbent roles to be at least double the national average (currently just over 3%). This is expected to mean at least an additional seven BAME heritage incumbents by 2024
Loving Service of the world/community – Everyday Action:
We anticipate seeing:
a deepening of diocesan partnership with our four Anglican link dioceses in India, Africa and the USA
stronger links with majority BAME/BAME-led congregations meeting on Anglican premises and possibly other unattached ones. This increase in levels of partnership will be evidenced in the wider engagement with issues of social justice and social need in context (e.g. leadership development, money matters, translator services etc)
contribution to missiology (the practice of theology) that recognises and responds to changing demography both locally and nationally
the publication of the results of our learning and its dissemination through seminars, workshops and champions