Bishop Martyn and VIP guests visited St Mary's Church in Congerstone, near Market Bosworth, to celebrate its restoration and new building works.
Composer George Frideric Handel is reputed to have stayed at the nearby Gopsall Hall on a number of occasions and a new stained-glass window, funded in part through a Heritage Lottery Fund grant and installed in 2014, commemorates these connections.
The Rt Hon Frederick Richard Penn Curzon, 7th Earl Howe, Countess Howe, Her Majesty's Lord-Lieutenant of Buckinghamshire and local MP Dr Luke Evans and his wife Charlie were amongst those attending. The Bishop of Leicester, the Rt Revd Martyn Snow led the service of rededication accompanied by Revd Mark Poskitt and Revd Ann Hall. The reading was given by Helen Baxter.
The rededication service was followed by a presentation from Lord Howe who spoke about his family's connections with St Mary's Church whilst they were in residence at Gopsall Hall in the 19th and early 20th centuries.
In order to recognise the connections between St Marys' Church and Gopsall Hall which had been one of the grandest Georgian houses in Leicestershire, the service hymns included 'Rejoice the Lord is King' to the tune of 'Gopsal' by Frideric Handel, and the organist Ruth Webb played a selection of Handel melodies on the Henry Willis organ which was donated to the church in 1914 by the 4th Earl Howe. Handel used to visit Gopsall Hall in the 1700s to see his friend Charles Jennens, who wrote the words to many of Handel's musical compositions.
The celebrations ended with a selection of songs from members of the Musical Village Choir which included a solo performance of Handel's' 'Ombra Mai Fu' by Sylvia Holt.
The restoration and new building works were carried out by skilled craftsmen from Midland Stonemasonry Ltd, an award-winning local building restoration and conservation company. The terne-coated stainless-steel roofs, which replaced the lead stolen from the nave and north aisle roofs in June 2015, were fitted by Warren and Neale Ltd. The east and south chancel stained-glass window panels were re-leaded and cleaned, and the painting restored by Ark Stained Glass and Leaded Lights Ltd. The building works were overseen by the Nottingham architects Peter Rogan Associates Ltd.
The building works and heritage activities were supported by a £300,000 award from the National Lottery Heritage Fund, by grants from the Diocese of Leicester's Capital Fund, the Market Bosworth St Peter's Fund, the LeicesterShire Historic Churches Trust, the Wolfson Foundation, the Allchurches Trust, the Jack Patston Charitable Trust and the Edith Murphy Foundation, and by generous donations from local people.
For advice about church building work and possible sources of funding for your local church, please contact the diocesan Histoci Churches Support Officer in our Church Buildings Team on Simon.Headley@LeicesterCofE.org
A church has been on the present site in Congerstone since 1179. St. Mary's has historic links to the Curzon-Howe family and to Gopsall Hall which was once one of the grandest Georgian houses in Leicestershire. The church organ was built around 1860 by Henry Willis who built the original Grand Organ in the Royal Albert Hall. There is also a monument to Georgiana, Countess Howe (wife of the 4th Earl) which was created by Sir George Frampton, whose works include statues of Queen Victoria in Calcutta and Winnipeg and a statue of Peter Pan in Kensington Gardens.
Thanks to PCC Treasurer Gill Lawrence for this information.
Group photo left to right – Revd Ann Hall, Countess Howe, Her Majesty's Lord-Lieutenant of Buckinghamshire the Rt Hon Frederick Richard Penn Curzon 7th Earl Howe, Dr Charlie Evans, Dr Luke Evans MP, Bishop Martyn Snow Bishop of Leicester, Mr Geoff Frisby Church Warden, Dr Gill Lawrence Project Co-ordinator and St Mary's Church Treasurer, Revd Mark Poskitt Rector St Mary's Congerstone.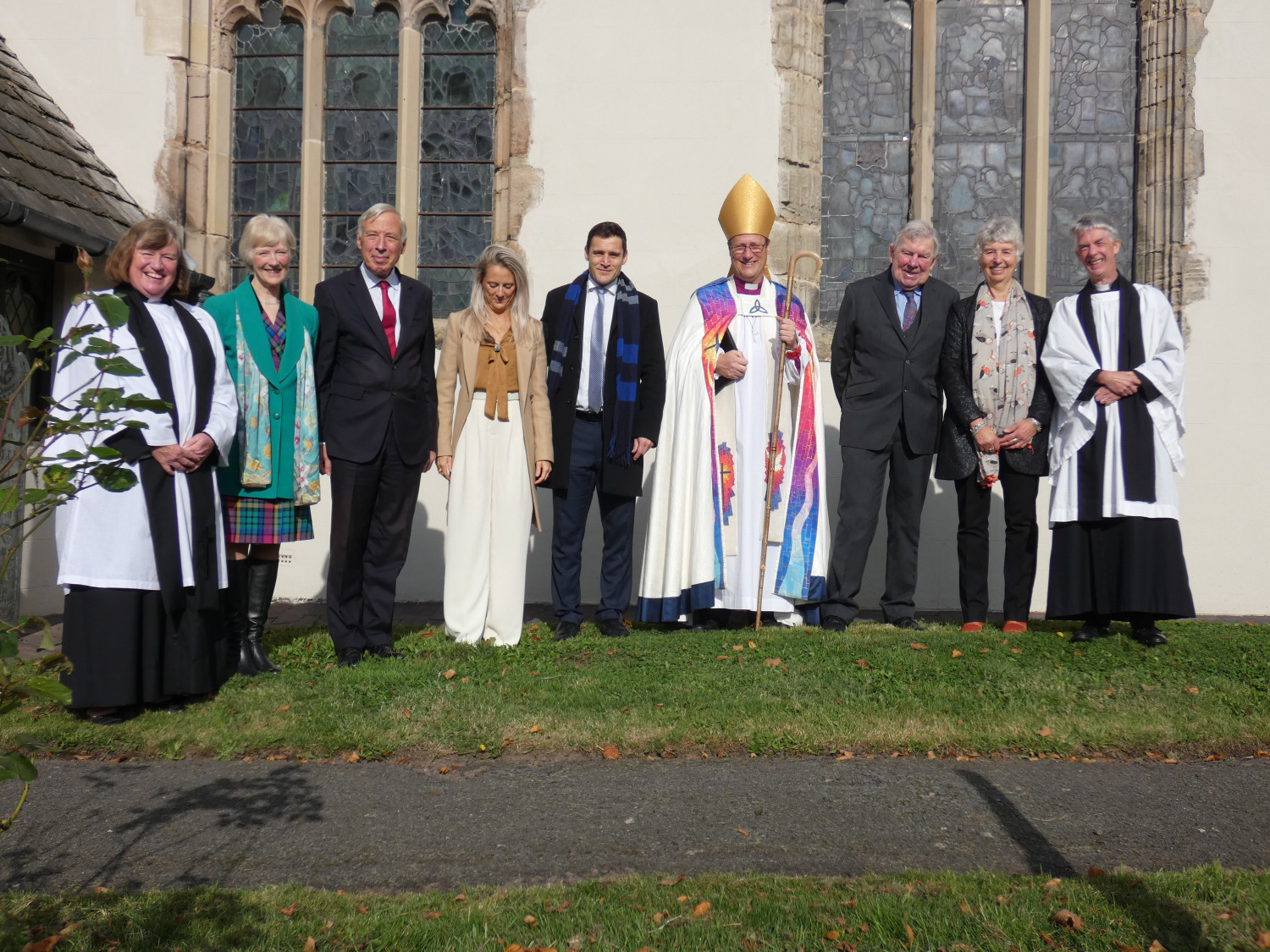 Musical Village Choir members (left to right - soloist Sylvia Holt, Penny Booth-Smith, Ruth Barnes, Denise Gillett, Gill Blackburn, Gill Teperek):